The saga of Westminster Palace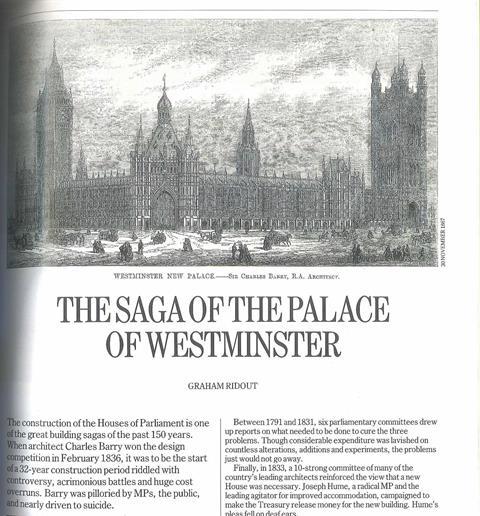 The saga of Westminster Palace
This fine magazine celebrates its 175th birthday this year, but it seems only yesterday we were sipping the bubbly and releasing a special anniversary edition to mark Building's 150th.
Back in 1993, the magazine reflected on the past century and a half by publishing a look back at the biggest stories it had covered. The issue showed that though there were no glossy skyscrapers or BIM and very little health and safety, some things never change.
Take the "saga" of how the Palace of Westminster came to be completed in 1852 – St Stephen's Chapel, home to the House of Commons in the early 19th century, suffered from "lack of space, inefficient ventilation and inadequate protection against fire" but it took six parliamentary committees over a course of 40 years to report on what needed to be done. Sound familiar?
When a fire forced the rebuild, the palace was supposed to take up to seven years to complete but actually took 31 years and the final cost was not £500,000 as suggested, but £2.4m. But I'm sure that the current process to refurbish the home of parliament, beginning in the 2020s, will be far more efficient and stick strictly to budget…
To read the full article from February 1993, click on the pdf below.