We look at the costs of prefabricated buildings, 15 years ago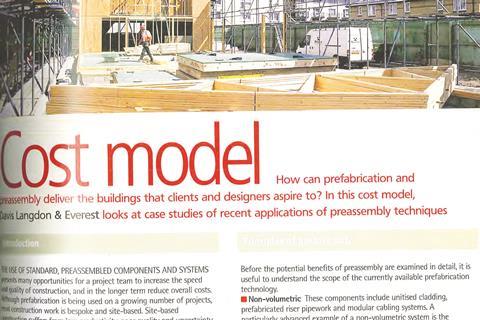 Cost model: Prefabrication
Last week's long-awaited housing white paper singled out modular housing as a way to help solve the housing crisis. Back in 2002 Building was weighing up the pros and cons of prefabricated construction in one of its regular economics slots.
Different builds were compared to see whether non-volumetric, volumetric or modular preassembly worked best. The article focused on glamorous projects such as 91 toilet pods for a City of London office, but what's good enough for a City worker's toilet will surely be gladly embraced by the rest of the population. The internal finishes did integrate granite, slate and glass.
A modular 750-bed block of student housing was built at top speed to "ensure completion for the start of the academic year". Other reasons for choosing that mode of building included "avoidance of delay", "cost certainty" and "achievement of high-quality construction at a reasonable cost".
One problem highlighted for developers, however, was ™dealing with planners∫ who tended to favour traditional materials. Presumably that is now a thing of the past º
To read the full article from 15 February 2002, download the PDF below