Building wrote that the construction industry had finally worked out how to get its voice heard by government 15 years ago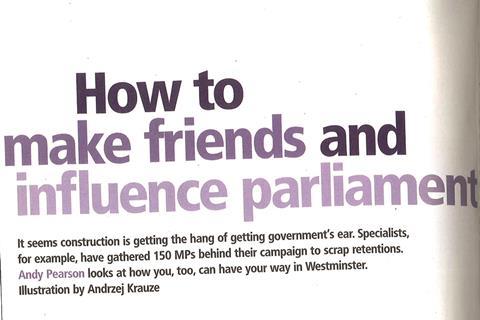 How to make friends and influence parliament
In 2002, Andy Pearson wrote that the construction industry had finally worked out how to get its voice heard in parliament via the "black art of lobbying". If it thought it had a struggle on its hand then, that was nothing to wading through the shifting sands of government today and trying to work out who might still possess an effective voice in six months' time.
So, here are some lobbying tips from those innocent days (spoiler: they don't include giving an acting MP a plum job).
"You don't win an MP's support by saying you don't agree with the government's agenda," said Rudi Klein, legal adviser to the CLG. "Instead, sell your agenda as a way of enhancing the government's." He also suggests spoon-feeding politicans with facts to make it simple for them to take the case forward.
Communications experts predicted one surprising element of lobbying might be in danger because of its high costs - the lobbyists themselves. "Things are starting to move over to digital campaigning," said one expert.
Luckily for them, by 2017 lobbyists have also learned to use the internet.
To read the full article from 22 March 2002, download the PDF below.