Interactions between government and home building firms in 2002 were a little more heated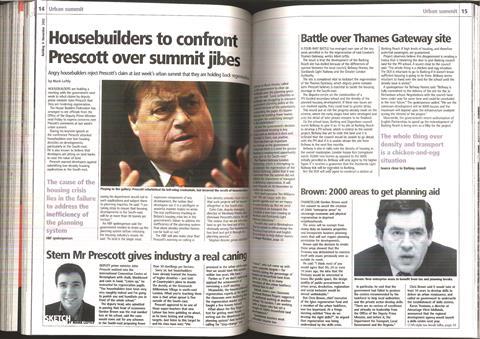 Housebuilders to confront Prescott
This week, Building has predicted that housebuilders should do well in the upcoming Autumn Budget, as Theresa May vowed to focus on housing in her conference speech, pumped £10bn more into Help to Buy and welcomed mass housebuilders to Downing Street, where she and ministers were reportedly in "listening mode", writes Helen Burch.
Interactions between government and home building firms in 2002 were a little more heated. Deputy prime minister John Prescott attacked housebuilders over low housing density in the South-east and was known to believe that companies were land banking. The House Builders Federation had arranged to see Prescott to express concern over these comments. A spokesperson said the government's "failure to address the inefficiency of the planning system" was at fault. We reported that "stern Mr Prescott" had given the industry a "real caning".
Of course, only a year ago communities department minister Sajid Javid also berated housebuilders for land banking, so who knows how long the Conservatives' use of the carrot rather than the stick will last.
To read the full article from 8 November 2002, click on the pdf below.