Building visits Constructionarium course, an education scheme founded by Stef Stefanou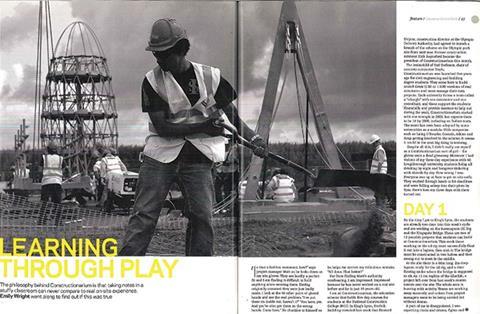 Learning through play
While this week's interview with Stef Stefanou takes a large focus on his time spent with specialist contractor John Doyle, it also makes reference to his role as founder of Constructionarium, which he launched in 2003. The education scheme, set up for engineering and building degree students, has teams build and project manage scaled-down (1:50 or 1:100) versions of real structures. To find out more, Building visited one of the five-day courses held at the National Construction College in King's Lynn, Norfolk in July 2008.
"This week's cycle are working on the Ravenspurn Oil Rig and the Kingsgate Bridge. These are two of 13 possible projects that students can build at Constructionarium. This week those working on the oil rig must successfully float it out into a lagoon, then sink it. The bridge must be constructed in two halves and then swung out to meet in the middle.
"At the site there is a 60m-long, 2m-deep lagoon ready for the oil rig, and a river flowing under where the bridge is supposed to sit. An 11.1m replica of the Gherkin, a project left over from last week's course, towers over the site."
For a larger version of the article click here.