Many specialist contractors are seeing margins recover, but wariness about future work remains. David Blackman examines the theory behind the figures in this year's specialist contractor tables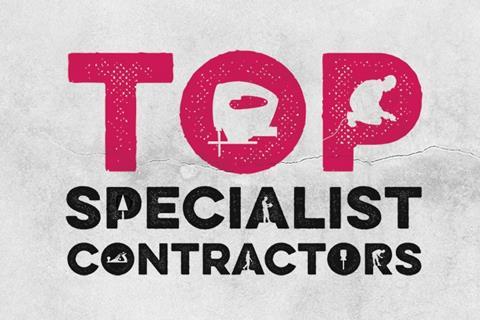 It was all starting to come together for the UK's specialist contractors – at least until 23 June.
After years of suffering wafer-thin margins following the 2008 recession, profitability increased in 2015/16, according to an analysis of the most recent accounts of Britain's top specialist contractors, compiled by Building and data company Barbour ABI.
This year's table of the 15 biggest firms in each of the nine most important trades shows that average margins were up to 4.4% for 2015/16 based on pre-tax profits of £485m. This represents a substantial improvement on the figure of 1.7% from last year's exercise.
Judging by this year's results, the risks involved in scaffolding were worth the rewards last year, with margins more than doubling from an already relatively healthy 4.9% to 10.8%. The next most buoyant trade to be in was steel cladding, where the 15 biggest firms recorded an average margin of 7.3%. Flooring and demolition also reported margins of more than 5%.
It's all about margin and not volume although, if you do it right, the volume follows

Vince Corrigan, Keltbray
Groundwork missed this benchmark by a whisker on 4.9% as Keller's UK operation and Cementation Skanska returned to profit after recording substantial losses in 2014/15.
At the bottom of the table in terms of returns was the fit-out sector, where the 15 biggest firms recorded an average margin of 2.6%, due to anaemic profits across the board rather than losses. Steel contractors just pipped their fit-out colleagues with an average margin of 2.7%, weighed down once again by Mabey Bridge, which reported a loss of £13.5m. The heavyweight sector of the specialist world – M&E – showed an average margin of 3.1%.
Rudi Klein, chief executive of the Specialist Engineering Contractors' (SEC) Group, says he was pleased that profitability levels are starting to recover in M&E, which remains by far the biggest specialist trade sector in terms of total turnover.
A reduction in the number of firms competing for work will probably have helped following a series of high-profile exits from the sector, he says: "We lost a lot of companies during the recession because of insolvencies, so the competition is slightly lessened."
However, for many firms across M&E, margins remain "horrendously low", he says: "If our members are making more than 2% per annum, they are lucky."
Conor Leyden is managing director of the North-west based remediation specialist LK Group. He says that, despite the relatively "buoyant" state of the market over the past year, pushing up margins remains a struggle.
Unless we improve the sustainability of the specialists, we may not have the extent of expertise we have now

Rudi Klein, Specialist Engineering Contractors' Group
"Overall, our profit margin is increasing but it's still quite tight and competitive. Lots of clients still have a recessionary mindset so are always looking for the best possible price."
David Hurcomb, chief executive of M&E contractor NG Bailey, emphasises that it is a mistake to chase turnover by taking on poor-quality contracts.
"We've seen too many companies grow so rapidly that they can't meet their commitments," he says.
There is a balance to be struck when running a business, he acknowledges: "You are here to make a profit and, if you don't, all other things will fall away."
For Vince Corrigan, group executive director at Keltbray, healthy profitability is essential for maintaining the fleet of expensive equipment required by a company like his. "It's all about margin and not volume although, if you do it right, the volume follows," he says.
Despite recovering margins, the ability to support future investment is a headache for M&E contractors, says Klein. "Unless we improve the sustainability of the specialists, we may not have the extent of expertise we currently have in the sector," he says.
A more immediate worry, though, is the ramifications of the UK's vote to leave the EU.Klein says he is yet to see much evidence of a Brexit impact on his member firms' workloads.However, pointing to figures showing that the number of contracts being let is about 10% less than it was this time last year ago, he says that firms are right to be wary about future workloads.
Lots of clients still have a recessionary mindset so are always looking for the best possible price

Conor Leyden, LK Group
"There is an undercurrent of concern about where we will end up in a year or two. The concern is that there could be knock-on effect on demand."
LK's Leyden says he is seeing little impact from Brexit-related uncertainty on the housebuilders that he works with.
"One client paused momentarily to see how the dust would settle but within a few weeks, things were back to normal," he says.
And Gary Sullivan, co-founder of Wilson James, was relieved by AXA's recent decision to press ahead with its 22 Broadgate tower project in the City of London, which the logistics specialist is working on.
Like many other specialists, Sullivan was heartened by the government's recent decision to finally give the green light to the third Heathrow runway and the replacement nuclear plant at Hinkley Point in Somerset.
For the time being, he says, the firm is turning away enquiries. "Not being too smug but we want to be able to serve the clients we have long-term relationships with."
His main worry about the UK's withdrawal from the EU is the impact it will have on access to skilled labour. He says: "We are concerned about what's going to happen with migrant labour. I don't imagine Theresa May is going to tell people to pack up their bags but, if she does, it will cause problems."
David Frise, chief executive of fit-out association FIS, agrees that labour is a big concern, given his sector's reliance on skilled workers.
Another headache for his members is escalating costs of imported materials from the rest of the EU following the post-referendum crash in the value of the pound.
Factors like this suggest that the recent relief is likely to be short lived for Britain's army of specialist contractors.
Direct contracting: Horses for courses
Is one way to improve margins to cut out the middleman by forging direct relationships with clients? It is taking longer than anticipated for such relationships to get off the ground, admits Rudi Klein of the Specialist Engineering Contractors' Group. "It's not something that has increased to the degree that I thought it might," he says, adding that the government could take a lead by contracting directly with specialists where the level of work justifies it, as already happens in the Republic of Ireland.
Direct relations with clients are more common for firms at the front end of the construction process, says Keltbray's Vince Corrigan, who estimates that 75-80% of the work that the company picks up is directly with clients.
He adds that Keltbray – which has been diversifying from its demolition roots into other specialist areas like piling – has been expanding the scope of these so called "enabling package" over the past five or six years.
Handing over this work as a job lot gives the client more leeway to fine tune the elements of the work that are above ground, he argues.
NG Bailey's David Hurcomb says that working directly with clients should be approached on a "horses for courses" basis.
"Sometimes it makes sense to contract directly when there are big packages. If you are building a data centre in an existing building, the reality is that 80% of the work will be M&E. However, there is still place for main contractors to co-ordinate everybody."
Vince Corrigan on Brexit
Being fleet footed will be essential for coping with the consequences of Britain's withdrawal from the EU, says Keltbray's Vince Corrigan.
"For the next 12-18 months, we've got a reasonably good work book but, like a lot of other businesses, we are waiting to see what happens so that we can respond to whatever comes," he says.
The past year has been good for Keltbray, capped by winning specialist subcontractor of the year at the recent Building awards. The biggest landmark was the company's acquisition of the bulk of the assets of collapsed concrete frame and superstructure specialist Dunne Group. This has helped Keltbray to expand beyond its origins in demolition, which now accounts for just over half of the company's total turnover.
The company is yet to experience any problems due to Brexit, says Corrigan: "There hasn't been a material downturn."
The company's exposure to non-commercial projects should help keep it busy, notably its expertise in dealing with coal-fired plant decommissioning, which has to happen almost regardless of the economic cycle.
However, the ex-McAlpine veteran sees the warning signs of a downturn, which could hit Keltbray more rapidly than other specialists due to its position at the beginning of the construction process.
"Most of the services we provide are front end in the process, so we would feel it sooner than many others," he says.
David Hurcomb on Nuclear
It's snowing heavily the West Yorkshire town of Ilkley when NG Bailey's David Hurcomb speaks to Building from the company's headquarters.
While margins remain tight, the prospects for the specialist M&E contractor are a lot sunnier though, he says.
NG Bailey is providing the electrical package for the Hinkley C nuclear plant, to which the government recently gave its long-awaited go-ahead. This work should leave it well positioned for the rest of the nuclear programme expected to follow in the wake of the Somerset plant.
The company's turnover in 2015/16 was up 17.7% from 2014/15's figure of £364.6m, although NG Bailey didn't hit its target of 2% margin in 2015-16, which was 1.5% on total revenues of £407.5m.
However, the picture is improving, says Hurcomb, adding that NG Bailey has worked through the bulk of its low-margin legacy projects left over from the recession. "We've only got one problem job on the books, which is a lot better than it was a few years ago."
So far, the ramifications of Brexit have not had an impact on the company's pipeline of work. This is not surprising, given that Hurcomb describes M&E contractors as the "tail-end charlies" of the construction process; the projects that the firm is working on were generally confirmed years ago.
In addition, he says, NG Bailey is not heavily exposed to the London commercial and residential markets where the post-referendum jitters have been most severe.
However, Brexit is a cloud on the horizon, he acknowledges: "Early in our pipeline, there are projects that are being reviewed or looked at again."