Do you want to know the future of sustainability for construction?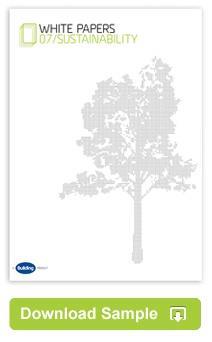 The Sustainability White Paper is a great resource for businesses are who are trying to understand sustainability in the built environment.
The report contains in-depth commentary, exclusive survey and market data from key sustainability professionals, and is relevant to all levels of professional in the built environment.
Contents
The report provides a straight-talking guide to sustainability - what it costs, what clients think about it and what's coming next - and is a perfect primer for green building.
Full analysis of the impact of changing government policy on clients and developers
In-depth examination of the business case for investing in sustainable buildings
Expert advice on future proofing new building portfolios
Extensive survey of occupiers in association with CoreNet revealing priorities and budgets for sustainability improvements
In-depth survey of developers in partnership with the British Property Federation, revealing sustainability priorities on new and existing buildings
Key information on what developers are looking for from their supply chains
Extensive post occupancy survey revealing occupiers' attitudes towards building performance and post-handover support from construction teams
Exclusive survey of more than 300 specifiers showing what matters to them on price, product selection and innovation - enabling manufacturers to target resources to win work
Find out who the top performing clients, consultants and contractors are in sustainability based on the achievement of top BREEAM ratings
Exclusive cost information on the impact of the proposed Part L changes from leading experts AECOM, showing the impact on project budgets and the most cost effective way to comply
Analysis of international opportunities in sustainability
Comprehensive guide to sustainability regulations, ratings and rankings
Who is this report for?
This report offers an ideal overview and introduction to sustainability in the built environment so will appeal and be relevant to all levels of professionals who need to educate themselves on the key issues and drivers underpinning this area.

"A very good read. I was surprised at the level of detail and the coverage. There is a lot here for clients consultants, contractors and the supply chain especially if they are drafting their business plan or identifying their strategy over the next year or so. Essential reading for policy makers directors and clients involved in construction."
Peter Caplehorn
Technical Director, Scott Brownrigg

"The Sustainability White Paper is a well written, succinct but comprehensive commentary on the current state of play in sustainability in the built environment. It is backed up by well researched facts and comment and will be a useful resource for all those working in the property and construction sectors."
Nick Cullen, partner at Hoare Lea
To purchase your copy:
Click here to be taken to our payment system where you can purchase your report. Alternatively, contact Kathryn.langley@ubm.com to discuss alternative purchase options.