Up to 600 SMEs to sign-up to umbrella body aimed at enabling small builders to access full range of Green Deal opportunities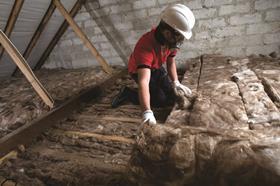 Up to 600 small and medium firms are set to sign-up to a new umbrella body set up to enable small builders to access the full range of opportunities through the government's flagship Green Deal retrofit programme.
The Green Deal Conduit, which will comprise a consortium of small to medium businesses, backed by a range of trade bodies, will enable SMEs to access opportunities through the Green Deal programme by allowing them to offer Green Deal finance packages to households.
Under the Green Deal, only approved providers are able to offer Green Deal finance. However, the process to become a provider is complex, with only larger firms, such as the big energy firms, expected to take on the role, prompting concerns that SMEs may not be able to maximise opportunities for work through the programme.
But the Green Deal Conduit will allow SMEs to access Green Deal finance to provide it to their customers without having to take on the role of Green Deal provider.
Russell Smith, managing director of Parity Projects who has been leading the development of the conduit, said that 300 of the 600 firms which had expressed interest had said they would immediately sign-up to the organisation when it launches in April 2013.
He also said 25 local authorities were among those looking to join the organisation. "Our business plan is to generate £75m of work a year and that's very modest. That's based on having 5,000 members at the end of year five," he said.
He added that there had so far been little promotion of the project and he expected the pool of potential members to significantly increase in the build up to April.
Brian Berry, chief executive of the Federation of Master Builders, which is a supporter of the scheme, said the response demonstrated the appetite for such an organisation among SMEs. "The problem has always been that SMEs didn't have an entry into the Green Deal because they don't have the capacity to become providers," he said.
Andrew Mellor, director of environment at PRP architects, added that the market for construction was tough and so smaller firms were looking for opportunities. "I'm not surprised to see there's an appetite to get involved," he said.
Among the ten organisations supporting the conduit's development are the National Federation of Builders, the Royal Institute of British Architects, the Royal Institution of Chartered Surveyors and the Federation of Small Businesses.