£10m body to drive adoption of offsite housebuilding revealed in Budget documents
A taskforce designed to stimulate housebuilding using modern methods of construction (MMC) and backed by £10m of government funding was announced by Rishi Sunak today.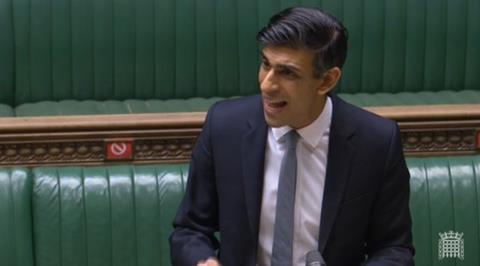 The chancellor (pictured, right) revealed the measure in Budget documents published by the Treasury following his speech in the House of Commons.
The documents said a new taskforce will be established by the housing ministry with £10m of "seed funding", designed to "accelerate the delivery of MMC homes in the UK".
The document said the body will "consist of world-leading experts from across government and industry" and be designed to "fast-track" the adoption of modern methods of construction.
The new unit will be based in the MHCLG's new office in Wolverhampton and will work closely with local authorities and metro mayors, including the West Midlands Combined Authority and the Liverpool City Region.
The taskforce is the latest in a series of initiatives from government designed to promote growth in factory-built homes. Mark Farmer was appointed in 2019 as an MMC champion and millions of pounds of public investment was pumped into deals with MMC firms including Ilke and Urban Splash.
Dave Sheridan, executive chairman at modular housebuilder ilke Homes, said the announcement was "a sign that ministers continue to place their faith in offsite manufacturing as a means of ramping up housing delivery, creating green skills and lowering emissions from the UK's housing stock."
Jordan Rosenhaus, chief executive at another modular housebuilder, TopHat, said it was "great" to see the government continuing to champion modern methods of construction in the Budget with the creation of the tTaskforce. He said: "Unless more homes are built in factories, we won't meet net zero or new house building targets."
The announcement came alongside a "super deduction" tax break which will make it much cheaper for businesses to invest in plant and equipment used in MMC manufacturing processes.
Farmer said on Twitter that the tax break was "good news for those construction businesses wanting to invest in their future through modernisation".