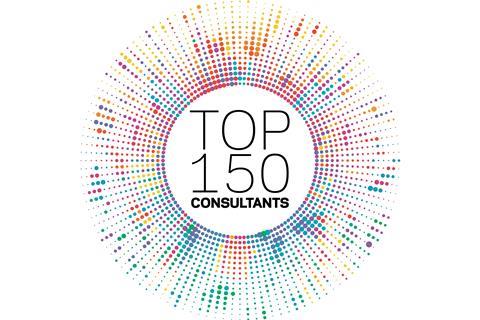 Read Joey Gardiner's analysis: Top 150 Consultants 2019 - upping the digital game
Top 50 Engineers 2019
Rank
UK chartered engineering staff
Total UK chartered staff
Total UK staff
Offices
2019 rank
2018 rank
Firm
Total
Civil engineers
Structural engineers
Mechanical engineers
Electrical engineers
Other
Non-chartered / technical engineers
2018
2019
2018
2019
UK
Worldwide
1
1
Mott MacDonald Group
2,042
1,213
198
288
250
93
1,639
3,697
3,647
7,115
7,242
38
135
2
2
Arup1
1,818
904
309
288
180
137
2,579
1,901
2,059
5,599
6,073
15
na
3
3
Aecom
1,656
922
154
201
149
230
1,338
2,767
2,743
6,054
6,769
42
630
4
new
Jacobs
1,362
950
85
40
35
252
1,498
na
1,827
na
8,966
34
300
5
9
WSP2
1,097
561
122
94
144
176
4,214
na
1,208
7,191
8,100
57
456
6
6
Ramboll
725
157
170
45
32
321
298
706
770
1,293
1,328
17
300
7
4
Arcadis
707
442
20
34
4
207
277
1,789
1,688
3,351
3,763
26
292
8
7
Hoare Lea
370
0
0
236
116
18
378
369
370
859
919
11
2
9
8
BuroHappold
366
37
77
44
28
180
318
340
366
1,029
970
5
18
10
10
Mace
316
59
16
241
0
0
0
1,556
1,553
1,556
1,553
na
na
11
new
Hurley Palmer Flatt
222
6
9
105
102
0
58
116
224
147
303
7
3
12
14
Cundall
212
23
58
69
39
23
351
200
212
601
636
6
16
13
15
Pick Everard
185
21
10
14
20
120
46
362
396
510
541
13
0
14
16
Hilson Moran
145
0
0
64
46
35
42
157
145
246
223
4
2
15
17
Curtins Consulting
118
50
58
0
0
10
200
105
118
400
431
13
1
16
19
Royal HaskoningDHV
114
57
5
6
3
43
65
178
232
524
552
13
74
17
20
BDP3
101
5
27
47
0
22
87
529
586
878
980
6
7
18
18
JNP Group Consulting Engineers
97
39
43
0
0
15
18
91
97
123
134
5
0
19
new
Hydrock
91
28
10
11
12
30
298
69
91
398
440
16
0
20
21
AKT II
75
15
29
1
0
30
167
79
75
268
318
3
0
21
new
Elliott Wood Partnership
66
na
na
na
na
na
41
50
66
143
146
3
0
22
new
Robert Bird & Partners
64
29
34
0
0
1
84
49
64
202
238
1
11
23
25
CampbellReith
62
8
36
0
0
18
69
53
62
153
150
5
1
24
23=
Clancy Consulting
59
19
29
7
4
0
101
58
60
191
197
10
0
25
23=
Price & Myers7
56
8
48
0
0
0
87
57
56
196
191
3
0
26
new
CBRE
54
0
1
23
4
26
0
na
277
2,077
2,021
17
480
27
26=
Ridge and Partners
46
9
12
10
15
0
116
231
264
632
660
11
0
28
30
Meinhardt (UK)
36
3
23
2
3
5
37
35
38
85
93
2
51
29
35=
DSSR
31
0
0
22
8
1
41
24
32
90
96
4
0
30
35=
Foster + Partners
30
0
4
9
4
13
60
395
426
1,064
1,202
1
16
31
43
McAndrew Martin
28
4
4
9
9
2
1
47
69
71
88
3
0
32=
31=
NPS Group
27
4
4
2
8
9
36
202
185
727
533
18
0
32=
34
Clarkebond (UK)
27
10
12
0
0
5
50
26
27
84
91
3
0
34=
new
Black & White Engineering12
23
0
0
12
11
0
0
na
23
na
30
2
5
34=
40
Civic Engineers
23
3
20
0
0
0
36
16
23
76
80
4
0
36
39
Elementa Consulting
21
0
0
10
8
3
45
21
21
69
75
2
15
37=
29
TSP Projects
19
7
2
1
3
6
179
46
25
422
351
5
1
37=
48=
NDC 2000
19
0
0
9
6
4
0
17
19
37
38
3
0
39=
new
Ingleton Wood
17
0
4
8
4
1
34
57
79
187
209
6
0
39=
new
CTP Consulting Engineers
17
8
9
0
0
0
21
13
17
44
43
1
0
39=
new
Whitby Wood
17
1
16
0
0
0
30
10
17
27
51
4
1
42=
45=
Webb Yates Engineers
16
3
11
1
1
0
27
19
20
62
56
3
1
42=
44
Lyons O'Neill Civil & Structural
16
2
14
0
0
0
10
14
16
23
27
1
0
44
35=
Gleeds
15
10
0
0
2
3
0
583
472
1,233
1,093
21
50
45
new
Tuffin Ferraby Taylor6
14
0
0
7
5
2
4
76
87
126
146
7
0
46=
new
Riley Consulting
13
0
0
6
4
3
19
109
109
220
227
13
2
46=
new
QODA Consulting
13
0
0
8
5
0
38
9
13
46
58
4
0
48=
new
Gardiner & Theobald
12
0
0
0
0
0
0
668
703
813
907
9
3
48=
new
Hollis
12
0
12
0
0
0
21
147
162
367
408
18
5
48=
45=
Rolton Group
12
0
7
1
3
1
42
11
12
74
72
4
0
Methodology and notes
Close to 300 firms were contacted for this year's Building Top Consultants Survey. They were sent a survey form asking for details on the number of chartered staff, non-chartered and technical staff, and domestic and worldwide fee incomes. Practices were also asked questions relating to: staff recruitment, wage patterns, margins, areas of work, and work expectations.
All data in the tables are taken directly from firms' replies.
The survey does not claim to list all the top consultants, as it relies upon firms completing and returning the annual survey form. For a variety of reasons, firms sometimes decide not to take part. Only those firms completing and returning the survey form are included in the survey. Firms having any questions about the survey, or wishing to be included in the 2020 survey, should contact Martin Hewes at Hewes & Associates: www.hewes-associates.com.
NB: "New" is used to mean that the company was not in the 2018 Top 150 consultants table.
Arup: Income data for 2019 is unaudited and provisional
WSP: UK chartered total includes 1,193 other chartered, not identified in any questions
BDP: Totals include other chartered staff
Stride Treglown: Other engineers includes town planner, landscape architects and MCIAT staff
Paragon Building Consultancy: 2018/19 figures take account of 2018 merger
Levitt Bernstein: Income figures are estimates
Price & Myers: Fee income for 2018 is estimated
TowerEight: 2018 income is an estimate
Robinson Low Francis: 2018 income is subject to audit
Procom Construction Consultants: Fee income for 2019/20 projected as £5m
Exigere Project Services: New company for 2019
Black & White Engineering: Fee income for 2019 are estimates, based on seven months of data
Iesis Group: Fee income for 2019 is estimated. July year end