Firm reports increase in pre-tax profit but fall in revenue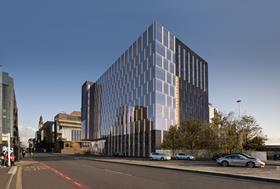 Contractor Bowmer and Kirkland has reported a 7% rise in pre-tax profit to £23m.
In accounts filed at Companies House, Bowmer and Kirkland Limited reported a pre-tax profit of £23m for the year to 31 August 2013, up from £21.5m the previous year.
However, the firm also reported a fall in revenue to £662m, down from £678m the previous year.
This was driven by a drop in UK revenue, which fell 2.5% to £642m in the year to 31 August 2013, down from £658m the previous year.
Revenue from the USA also fell 6% to £15m, but revenue from Europe increased to £2.3m in 2013, up from £71,000 in 2012.
Revenue from the rest of the world increased to £1.4m from £1m over the same period.
Writing in the accounts John Kirkland, chair of the firm, said: "Turnover continued to be affected by the length of time taken to get contracts to site but as always our main focus has been quality of earning rather than chasing sales."
He said that "continued enforcement of rigorous financial controls" had been behind the firms increase in profitability.
Kirkland added: "There will still be challenges in 2014 as we are seeing upward pressure on supply chain costs and skills availability.
"However the directors believe that the group is well placed to achieve the goals we have set ourselves for the coming year."
The average number of staff employed by Bowmer and Kirkland fell to 1,351 in 2013 from 1,405 in 2012.