Exclusive: Finance boss of Network Rail's infrastructure division to step down in third high-profile departure in recent months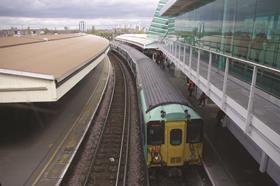 The finance boss of Network Rail's infrastructure division has stepped down, Building can reveal, in the third high-profile departure from the rail operator in recent months.
David McLoughlin, finance and commercial director of Network Rail's infrastructure projects division, is set to leave the business in the coming months.
His role will be filled by Martin Arter, who is currently the infrastructure division's programme & technical services director, on an interim basis.
McLoughlin is understood to be joining a firm within Network Rail's supply chain.
Network Rail declined to comment on McLoughlin's departure.
His departure is the third high-profile departure to hit the rail network operator in recent months.
At the beginning of the year it lost chief executive Sir David Higgins to HS2. That was followed by the announcement of the impending departure of Simon Kirby, Network Rail's managing director of the infrastructure projects division, who will be taking up the role of chief executive at HS2.
Meanwhile, Nick Elliott, regional director for the infrastructure division's southern region, has been appointed managing director of the new National Supply Chain and will now report to Patrick Butcher, Network Rail's group finance director.
Butcher, said he was "delighted" that Elliott was taking this "important and challenging appointment".
He said: "The National Supply Chain has a key role to play in the successful delivery of our plans for Control Period five and Nick will be a great leader for the organisation."
Network Rail has been tasked with achieving savings totalling £2bn from its operations between 2014 and 2019, known as Control Period Five.
As part of this it has to save 15% from its salary budget for management grade staff and consultants and is currently undergoing a round of redundancies to save costs.
The scale of the job losses is not yet known.