Greater London Enterprise Group to take stake in affordable housing developer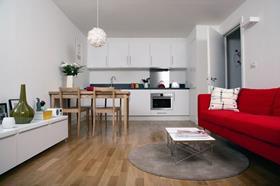 Housing developer Pocket has sold 10% of its shares to the Greater London Enterprise Group.
The developer did not disclose the sum of the investment from the Greater London Enterprise Group (GLE), a commercial investment company started by 33 London local authorities, but said only that it was "significant".
Pocket recently secured a £21.7m loan from the Mayor of London to build around 4,000 affordable homes in the capital over the next ten years.
Marc Vlessing, chief executive of Pocket, said the investment was a "powerful vote of confidence" in Pocket's business model which targets house buyers who are not eligible for social housing but find it difficult to afford property on the open market.
He added: "As we significantly scale up our operations across London, and help many thousands more Londoners own their home outright."
Martin Large, chief executive of GLE, said "As a company whose members are the London local authorities and with a focus on supporting growing businesses especially in areas where there is market failure, I am particularly pleased to announce our investment in Pocket.
"Pocket has a proven track record of helping those currently locked out of home ownership, and our investment will help support the expansion of the Pocket model into a greater number of London local authorities."