Crossrail programme director appointed as chief executive of Thames Tideway Tunnel developer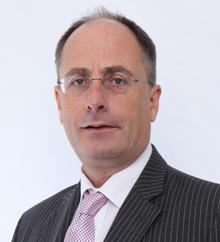 Thames Tideway Tunnel has poached Crossrail's programme director and appointed him to the post of chief executive.
Andrew Mitchell will lead the development of the £4.1bn super-sewer project, which is currently in the process of appointing contractors.
Mitchell, an engineer by trade, has worked on a variety of infrastructure projects across the globe including the Hong Kong Airport and the Hong Kong West railway.
From 2001 he worked at Network Rail delivering its southern power upgrade project and its Thameslink programme.
At Thames Tideway Tunnel he will report to the recently appointed chair Neville Simms. Simms said Mitchell's skills would be "instrumental" in ensuring the project "showcased all that is best about Britain's capability to deliver complex civil engineering projects, on time and to budget".
Mitchell, said: "Having been closely involved in its establishment at Crossrail, I am particularly looking forward to developing the Tunnelling and Underground Construction Academy at the Thames Tideway Tunnel, ensuring the country has a ready and available pool of engineers capable of meeting the infrastructure challenges the country faces over the next few decades."