Exclusive: Consortium of three firms beats four rivals to key role on £720m-plus Palace of Westminster project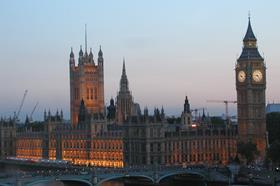 A team comprising consultants Deloitte, Aecom and architect HOK has won a key role on the £720m-plus Palace of Westminster refurbishment scheme.
The firms will conduct a feasibility study of the options for refurbishing the Grade I listed building and bringing it up to modern standards.
The consortium saw off competition from four other teams, including: Mace, WSP, KPMG and Donald Insall Architects; Parsons Brinkerhoff, Sweett Group and HLM Architects; and two further teams headed by Turner and Townsend and EC Harris respectively.
Building understands the bidders have been told the Deloitte, Aecom and HOK consortium is the preferred bidder, but the contract is currently in a two-week standstill period.
The palace, which was built in the mid-1800s, has decaying roofs, cracked guttering, extensive corrosion to its stonework, cramped and hot service areas, and asbestos throughout.
Parliament's estate arm is hoping to upgrade all the heating and electrical services, restore the cast iron roofs, remove the asbestos, install improved fire safety systems, upgrade the IT systems, repair crumbling stonework and restore the windows.
The winning bidder will appraise three options for how to carry out the programme of works:
Continue with running repairs while the building is in use over an indefinite time period
Embark on a defined, rolling programme of more substantial repairs and replacement over a long period
Relocate Parliament's day-to-day operations so a shorter and more intensive period of work can take place
Whichever course of action is recommended, the programme will likely have to be approved by a vote in both the House of Commons and the House of Lords.
Speaking ahead of the selection of a bidder for the appraisal, Richard Ware, director of the Palace of Westminster Restoration and Renewal Programme, said: "We are looking at something that might kick off in 2020. We are very much keeping an open mind about what option is the best."
The Parliamentary Estates Directorate declined to comment on the outcome of the tender process.
Aecom, Deloitte and HOK have been contacted for comment.