Justine Greening lobbies Planning Inspectorate to push for incresed use of river transport on £4bn project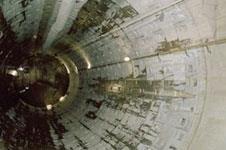 The construction of the £4bn Thames Tideway supersewer must make extensive use of barges to transport materials and waste, conservative MP for Putney Justine Greening has said.
The Planning Inspectorate is currently assessing the planning application for the sewer which will run from Acton in west London to Stratford.
The project will involve construction work across 24 sites in the capital.
As Building reported in October, UK contractors Balfour Beatty, Laing O'Rourke, Costain and Morgan Sindall are among eighteen firms shortlisted for £2.25bn of construction work on the project
In a letter to the Planning Inspectorate, Greening, the former transport secretary who is now secretary of state for international development, said developer Thames Water should "maximise the use of the river throughout the entirety of the project".
She added: "I would ask that Thames Water ensure that barges are used as much as possible to bring in materials and to transport soil out so that the local transport network is as unaffected as possible."
She said it was "vital" that Thames Water "ensure that every measure was taken to reduce impact [of construction] locally".
Although she expressed support for the project she said there were "real concern about the physical end product of the project".
She said: "There will be extensive work undertaken on the river frontage at Putney Bridge, with a permanent hard structure being constructed, as well as the sites themselves.
"I would urge Thames Water to continue to consult with local residents and Wandsworth council when finalising the design for any permanent structures and restoring work sites, and to ensure that any lasting structures are designed to be in keeping with the existing environment."
Greening added that Thames Water should have a contact point open 24-hours a day seven days a week so local residents could get information about the progress of the construction programme or the project in general.
A spokesperson for Thames Water said the firm was "committed to using river transport as much as possible and that we will continue to offer a point of communication for all those affected by the works".