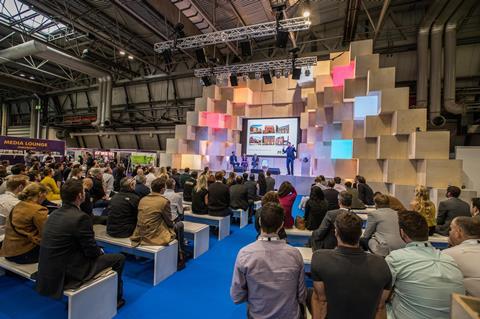 Trends come and go but buildings stay put. That's why construction professionals must stay ahead of the trends and build for the future – an easy task at this year's UK Construction Week (UKCW) at Birmingham's NEC between 9 – 11 October.
More than 10,000 innovative products and 650 exhibitors, seminars, CPD sessions, an Innovation Trail and networking opportunities fill Birmingham's NEC between 9 – 11 October, across nine shows: Build Show, Energy 2018, Timber Expo, Surface and Materials Show, Building Tech Live, HVAC 2018, Civils Expo, Plant and Machinery Live and Grand Designs Live.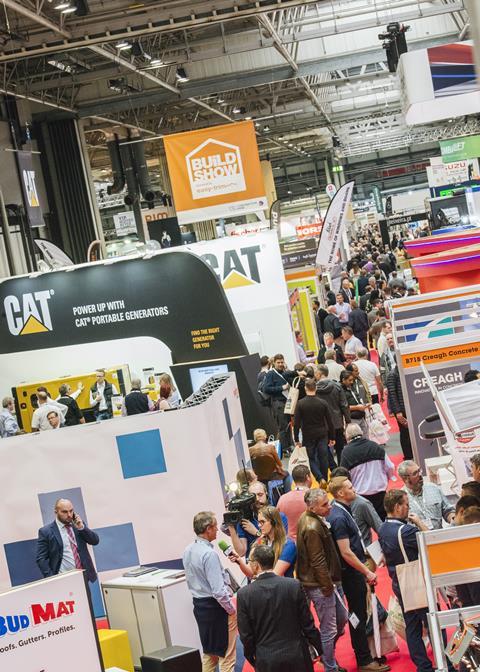 Preparing for the future
This year's 'Future of Construction' offers numerous opportunities to see, touch and hear about what's driving the construction industry forward.
The Future of Construction Hub, in collaboration with Birmingham City University, provides an immersive opportunity to discover digital construction, 3D printing, robotics, AI and AR and modern methods of construction. Then, get out to work as a site manager, with Coventry University's virtual reality simulator.
An Innovation Trail takes visitors on a journey of the latest innovative ideas, products and systems from companies including: Canon, Containex, Kore Wireless, Okappy, Soudal, Timber Structures, Velux and Yu Energy.
Gooee will host the Internet of Things (IoT) Arena at Building Tech Live, with its partnered companies, including Aurora Lighting.
Finally, with offsite construction and tiny homes pitched as the future, visitors can experience them first hand. Visit Vision Built's two-story modular apartment at the Offsite Theatre, supported by the MPBA and STA; Offsite Solutions' high-end bathroom POD, destined for an upmarket Canary Wharf hotel at the Offsite section; and Carwyn Lloyd Jones' tiny timber frame home at Timber Expo.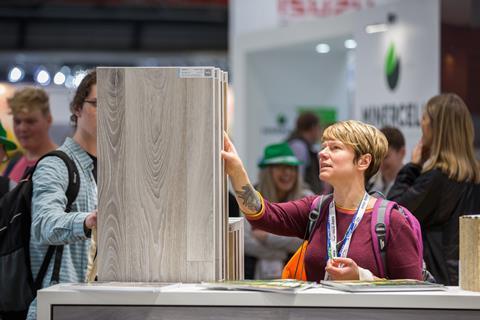 Be inspired
With more than 650 exhibitors exhibiting their latest products and services, it's well worth looking at this year's exhibitor list.
New products include Velux's curved glass rooflight and futuristic smart window system; The Builder's Pal's networking tool; Ecovolt's electric heating paint; Magnum Heating's dry build system, Magnum Heatboard; new ground shoring products from RMD Kwikform; Styrene's Stylite inverted roof insulation system; and OnLevel has two new product launches to add to its range.
Bruag will showcase its decorative panels for both internal and external use; Fibo will display its wall panels that provide an instant and affordable waterproof alternative to tiles; Fischer Fixing will give virtual reality training; Gewiss will give live demos of its reclosing device for electric circuits, ReStart; Marsh Industries will advise on its main drainage products; Rawlplug will educate on its comprehensive site testing service; Rockwool will share the latest on insulation; Solecco Solar offers its sleek solution for solar energy; Soyang will bring its range of award-winning printable solutions; and Quinn Building Products will showcase its latest building materials.
EON Energy, Libra Energy and Rolec EV will be advising professionals on the latest in the energy sector, including proposals for electric vehicle charging points to be standard in all new builds.
With so much to see and do at the show, use your time wisely and arrange a time and date to meet exhibitors at the show via their profile page on the UKCW website.
Digging deep into the big issues
The UKCW Stage provides high-level discussions around important industry issues. Speakers include:
Barbara Res, the project manager behind Trump Tower, sharing insights into her experiences as a female in construction. Advanced booking is essential;
Lord David Blunkett, discussing how technology and diversity can turn the skills gap into a thriving industry; and
Kunle Barker, property expert and TV presenter, leading a discussion on political correctness gone mad;
Beyond the UKCW stage, each of the shows will host seminar programmes, including:
Regeneration Hub, sponsored by Easy-Trim, exploring planning for growth and Passivhaus at the heart of regeneration;
Digital Construction Hub, delving into BIM maturity and project management. Speakers include: Alex Giles from Action Sustainability and Ivan Gasparetto from BIM Direct;
Building Tech Live Theatre, delivered by Voltimum and ECA, bringing topics such as cyber security and market networks, from the University of Wolverhampton and ECA;
Sustainability Hub, covering air quality and centralised LPG connections for residential developments with HygroMatik and Flogas;
Timber Focus Theatre, delivered by TRADA, covering how tall we can build in wood and how specifiers research and source timber products with speakers including Anthony Thistleton from Waugh Thistleton Architects and Daniel Kreissig of ZÜBLIN Timber; and
Infrastructure Hub, discussing major UK infrastructure projects and industry issues including Crossrail and how to win that construction bid, with Hawkins Brown and Purpol Marketing.
Other highlights include: the REA Theatre, Confederation of Timber Industries (CTI) Time for Timber workshops and the Surface and Materials Hub.
Building up your industry knowledge
Following the fully-booked CPD sessions last year, there are three hubs across this year's UKCW, plus an additional hub supported by the Access Industry Forum, dedicated to Working at Height.
Topics include:
Building Regulations – update post-Grenfell with the Chartered Institute of Architectural Technologists;
High rise and high-risk buildings with Rockwool;
Are you fire door sure with the British Woodworking Federation; and
Sound insulation with H&H Acoustic Technologies.
Opportunities to unwind
The Beer Festival, sponsored by Velux, will take place throughout the event, alongside the Hall 11 Central Bar, sponsored by Elliott Group, and the Hall 9 Bar, sponsored by German Trade & Invest.
Registration, sponsored by Total Gas & Power, is live. Get your free visitor tickets from www.ukconstructionweek.com