The architect, writer and founder of Makespace is an authority on British mosques. He admires good builders and site managers but is less impressed with pessimists and Buckingham Palace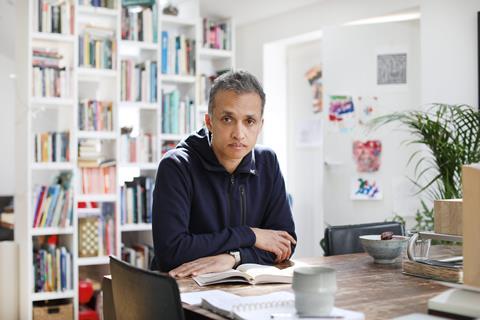 Why did you choose construction as a career?
I was always drawing as a child, and making all kinds of things out of materials lying around the house, a lot of cardboard and Sellotape - most of them didn't last long! So I was always steered towards the arts, and design and architecture seemed to cover my interests in making and drawing.
What are you most proud of in your career to date?
For any architect to see a building that they have designed being built as they intended it is a huge achievement, no matter how modest. I can say this about the mosque that I designed in Hackney Road in east London – it's a simple building but has managed to capture the ideas that were behind it.
The most important thing about it, however, is that the mosque users love the building, it is not what they expected and they enjoy the positive attention that they get.
What has been the biggest challenge of your career to date?
Writing the history of the mosque in Britain (The British Mosque, published by Historic England, 2018) was a long and challenging project that took eight years as I was running a practice and teaching and had young kids - so there was a lot going on.
There was no precedent to work from, so I was creating a historical narrative from scratch. It was challenging but also very rewarding as everything I was finding was new knowledge.
If you could change one thing about the industry, what would it be?
It would be good to see attention on how users experience buildings and how they are actually used, rather than focusing on the form and materiality of buildings at a single point in time - ie when they are built.
I would like to see a more expansive and holistic representation of architecture, looking at modest and everyday projects by a range of practitioners, which emphasises use and how people relate to their buildings.
What is the most helpful advice that you have been given?
When writing, not to describe something as "interesting", because if it wasn't interesting, you wouldn't be writing about it - so find another way to describe it.
When designing, to allow people to spend time putting forward and listening to their design ideas. I have found that design solutions often emerge from unexpected places through this process.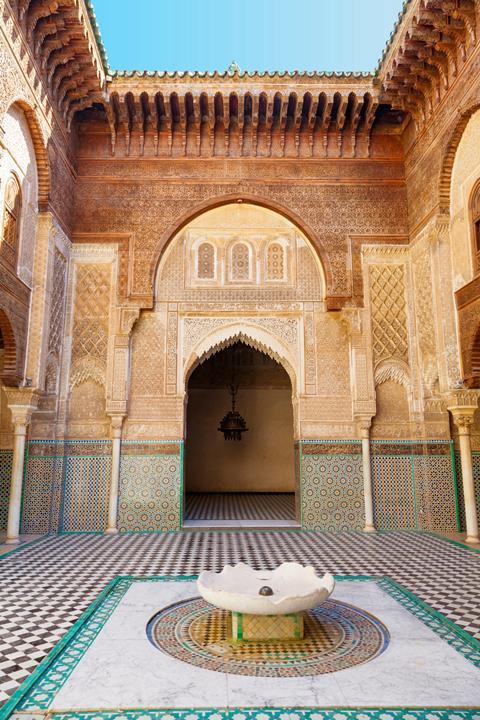 Name your favourite building in the world?
I have never really been able to choose a single building as a favourite, but one that took my breath away when I first walked into its courtyard some 30 years ago was the Al Attarine Madressa in Fez. The buildings in the old city have no real exterior so you experience them when you walk in – the courtyard is the showpiece where the building announces itself. The proportion of the space and intricate carved wooden panelling and plasterwork was astounding.
Which famous building do you most dislike?
Buckingham Palace – I find it very bland and uninspired for the home of a monarch. It could make more of an effort…
Which famous building do you wish you had worked on?
Perhaps Le Corbusier's church of Saint-Pierre at Firminy that was built after he died. The concrete shell structure is beautiful and looks like a real feat of engineering.
What single piece of advice would you give to someone starting out in your profession?
Find those things that you are genuinely interested in and can get passionate about, and find your own take on them.
Identifying a line of research has allowed me to explore complementary facets of practice, combining the practice of architecture with teaching, writing and curating. This direction has introduced me to a network of academics, artists and collaborators that I would not have otherwise had the opportunity to work with – artists Hoy Cheong Wong and Simon Davenport on our installation Nūr at Folkestone Mosque as part of the Creative Folkestone Triennial 2021 and V&A curators Ella Kilgallon and Christopher Turner who I worked with on the Venice Biennale installation Three Mosques.
Who do you most admire in the construction industry?
There are many people from (some) clients to the occasional planning officer. However, I always appreciate those builders and site managers who interpret drawings and understand the design intention.
They have to find creative ways to make the drawings work, and to be adaptable to tweaks and adjustments as the project materialises. The combination of high technical skill and creative thinking is always inspiring to see.
What is it like being you (and doing your job)?
I feel very fortunate that I have a range of work between practice, teaching and research. It does take quite a lot of juggling and can be overwhelming sometimes, but it is enriching and rewarding as I can take on different roles in each discipline and have a range of responsibilities to different people - from students, to clients, to builders.
It gives me quite a holistic view of the industry and a sense of how different parts are interconnected.
Do you have a life philosophy?
Not yet, I'm working on it!
What do you think your best quality is?
I would have to ask someone about that – and they would probably lie to make me happy.
What trait do you most dislike in yourself?
Not reading fiction – must try harder
And in other people?
Probably pessimism – but I'm told that my optimism is a sign of denial
Name three things that you like
Camping with my kids, a good podcast, wandering aimlessly (that's an aspiration)
Tell us about a secret skill that we don't know you have?
I can juggle with three oranges
What is your most prized possession?
As you get older, health, memory and teeth become ever more precious.
Early bird or night owl?
I tend towards the night owl, though I go through phases of trying to reform that.
What is your favourite food?
Well, I grew up eating rice, so that will always be a default
What would your superpower be?
Reading a book by looking at it (I have many unfinished books)
Shahed Saleem is an architect and writer and founder of Makespace, a London-based studio. He is a studio tutor at the University of Westminster and co-curated Three British Mosques at the V&A Pavilion in the Venice Architecture Biennale 2021.