Former construction adviser says in Edge commission report that professional bodies must find common voice and leadership or risk being irrelevant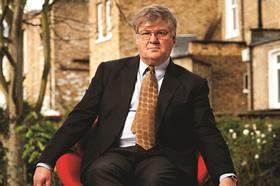 Former chief construction adviser Paul Morrell has warned that professions within the built environment are in danger of losing their status within a decade unless they get together to respond to changing ways of working.
Morrell (pictured) was speaking in advance of the publication next week of a report on the future of the professions that he has written for built environment think tank the Edge. It is set to highlight a loss of respect and trust in the industry's traditional institutions, the rise of mega-consultancies and changing patterns of employment as presenting a huge risk to the status of construction professionals such as architects, engineers and surveyors.
The report, called Collaboration for Change, will recommend that professional institutions develop a standardised ethical code of conduct across built environment professions (see story below), give greater focus on the quality of education, and collaborate to give shared views on the most important matters in the public interest, if they are to continue to be of any value to their members.
It will say that the threat to the professions from the changing industry are "not yet existential, [but] are real and profound, and demand change".
However, speaking to Building, Morrell said: "The professions have proved themselves to be adaptable in the past, but they are now facing a moment where it is increasingly difficult to set professions apart from other people and companies offering similar services. If they're not careful then within 10 years they'll just become servants of a construction delivery process which they're no longer able to control.
"If they do nothing then in 10 years they'll be screaming because government is cutting them out of policy decision-making, but their right to be heard and their right to demand a certain fee will all be lost."
Professional institutions were largely developed in the Victorian period to give customers a guarantee of quality while helping to protect fee rates for qualified members. They include the RIBA, the RICS, the Institution of Civil Engineers and the Royal TownPlanning Institute.
Morrell said their "gold standard" status was being undermined by the growing power of contractors set against a failure of the professions to work together on uniform education, ethical, and enforcement policies that justified their status to prospective clients.
Morrell said the problem was exacerbated by the failure of the institutions to collaborate on common public responses to major built environment issues - in particular climate change, the gap between as-designed and as-built performance, and wider industry reform. The report will call for the collaborative response from the institutions to be led by a "rebooted" Construction Industry Council, which is the existing umbrella body for built environment professionals.
It will say: "The Construction Industry Council [CIC] can and should be developed and empowered as a shared vehicle for joint initiatives, and encouraged to initiate the consideration of issues beyond those passed down from individual institutions."
CIC chief executive Graham Watts said he accepted the professions faced challenges, but that they were nowhere near as severe as suggested by the Edge's report, and that professions were already working on many of the issues identified, such as a common ethical code. Watts said: "This says a lot of things we'd agree with. Morrell is right to create an agenda for change, but to say that in 10 years time it'll be a life or death situation is a huge exaggeration."

Key recommendations of the report
Develop and standardise a national code of conduct/ethics across the built environment professions
Make public and clear the procedures for complaint and the institution's sanctioning process, details of members who have been sanctioned, and the grounds for doing so
Commit to a cross-disciplinary review of the silo nature of the education system, to encourage greater integration
Improve the 'guarantee' of a particular quality of individual - for example by benchmarking the expertise of members
Become agents for disclosure as guardians of quality
Establish a think tank to pool the resources of the institutions to conduct research and develop policy
Develop and empower the CIC as a shared outlet for joint initiatives and announcements, lobbying and campaigning
Present a shared view on matters that are too big for any one institution, such as industry reform; performance of built assets; and the impact of the built environment on climate change.