Nine months after announcing a total overhaul of its management approach and a new chief executive, family firm Sir Robert McAlpine is once again without a boss. So, what happened, and can things be different for the next person to take the job?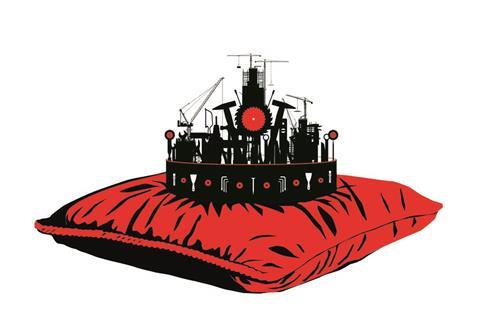 Last November, family-owned construction firm Sir Robert McAlpine announced a significant change in direction. For the first time in its 147-year history, the tight knit family dynasty running the business entrusted it to an outsider by appointing a chief executive, in the form of former Roche and Laing executive Tony Aikenhead, the man who oversaw the successful construction of the Olympic stadium after joining McAlpine in 2007. And for a company with a long-held policy of refusing to speak to the press, the very fact it was making an announcement at all was almost as surprising as the statement itself, signalling, perhaps, there was to be a new way of doing things. The decision came after a thorough review of the business and the appointment of a new executive team to run the firm's all-important construction board. The former chairman of that board, David McAlpine, said at the time he had "absolute confidence in the vision, energy and focus of the new Construction Board."
Nine months on, and clearly something has changed. The firm announced late last month that Aikenhead had stepped down from the business two years early, claiming he had already completed his task. This latest senior level change comes after years of turbulence at the business, which the accounts show has been forced to make £60m in provisions as it has slumped to consecutive £50m-plus losses in the last two years. These losses, mostly due to the troubled Fitzroy Place contract for developer Exemplar, follow on from a £41m provision against an earlier problem job in the business' Caribbean subsidiary. While all contractors have been challenged since the credit crunch and subsequent recession, the blue chip Sir Robert McAlpine has been hit far more than most, seeing a more than 50% turnover drop that has moved it from being the UK's seventh to the UK's twentieth-largest contractor. Its much-publicised involvement in the blacklisting scandal has added to the sense of a firm under pressure.
If you're getting continual interference in the running of the business day to day then you can't be a real chief executive

Senior industry colleague
So what clues can explain why Aikenhead really left the business? And what does his departure mean for the chances of it turning around its recent decline?
Surprise
Certainly Aikenhead's decision to leave has taken the industry completely by surprise, particularly coming so soon after the firm in May unveiled the agreed new strategy he had devised. This plan was in part to take the firm back to its historic civil engineering roots - the company made its mark with its pioneering use of concrete on jobs like the Glenfinnan viaduct in Scotland made famous by the Harry Potter films. Twenty per cent of its turnover was to come from infrastructure, and its building business was to diversify into public sector and framework-based contracting, while eschewing the risky high-end residential sector that had got it into so much trouble. Several sources close to the business confirm that - while not made explicit - the thinking was that the business had become overly reliant on the highly cyclical London commercial market, and Aikenhead's strategy provided a route to tackling that. According to the May statement, the reformed firm was already turning itself around, and was trading profitably again beyond expectations.
What made the reverse even more unexpected was that Aikenhead's appointment was part of an important - but less noticed - generational transition in control within the McAlpine clan. On the same day his appointment was announced, the family members who had been controlling the business for the last decade - David, Cullum, Ian, Richard and Andrew - all resigned from the board of the trading company. While they retained influence through the "supervisory board" running the group parent company Newarthill, they were superseded at Sir Robert McAlpine Ltd by Cullum's sons Hector and Gavin (who became non-exec chair), and David's son Edward. This shift also meant that on-family members outnumbered McAlpines on the construction board – another McAlpine first.
The evidence to support the official explanation for Aikenhead's departure is that the business has undoubtedly won some big commissions during his tenure, including the new M&G headquarters in the City of London for Generali, a 20-acre extension to Pinewood Studios, and the design and construction of a retractable roof for Wimbledon's Court No 1. Turnover, it said in May, was set to rise this year. All of which suggests a business turning itself around. And despite the firm's commercial travails, it has seemingly lost little of its reputation for engineering expertise. One former senior employee says: "The difference with McAlpine has always been its ability to deal with technical challenges, and to tackle them head on in a very hands on way." While the lives of the eccentric and reclusive millionaires running the business piques the interest of many industry observers, it is the firm's engineering expertise that has kept it one of a very short list of those able to take on the industry's biggest and most complex construction jobs. Lipton Rogers partner Peter Rogers says: "I'd still see them as technically absolutely the best builder about."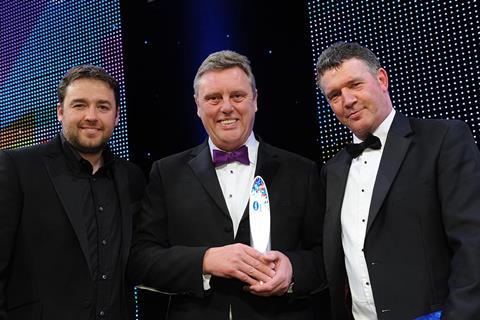 Excuse
Nevertheless, few in the industry give the official explanation for Aikenhead's departure much credence. Given how secretive and influential a business Sir Robert McAlpine still is, however, there are, equally, few willing to speculate on this in public. One senior construction observer, who did not want to be named, says: "Yes he's come up with a strategy but there's no way you can start delivering on that within eight months. No-one believes the explanation."
Nevertheless, a serious difference of opinion over the future strategy of the business with the family seems unlikely, given the board signed off on the new strategy. Underlining this, a spokesperson for the business has also made clear there is no intention to reverse the wider structural changes previously announced, and that Aikenhead will be replaced by another chief executive from outside the family.
Many in the industry are therefore speculating that he must have fallen out with the family to have departed so quickly. "His way of being chief executive was not what they expected," says one commentator; "they didn't like the cut of his jib," says another. Peter Rogers says: "He's a bloody good builder, and a pretty tough construction man. It may be that that didn't fit with the more gentle, sophisticated organisation that McAlpine is."
It is possible that Aikenhead, who was in part given a brief to restore bidding and project controls to the McAlpine business after the disaster of Fitzroy Place, may have overdone the introduction of corporate-style processes somewhat alien to the McAlpine style. "He's set up loads of processes and procedures, and has been very good at saying no to things," says one observer. "But ultimately if you don't say yes to anything then you won't have a business either. He's been too cautious."
However, others who know him, say the very well respected Aikenhead is not the type to start a fight. "He's very level-headed, with an even temperament, very pragmatic," says one senior industry colleague. "He's not a hot-head who doesn't listen. I can't see how he can have fallen out with them [the family]."
Thus the most likely explanation is actually less dramatic - that his departure simply represents the difficulty of a relative outsider coming in as chief executive of a business in which the family is used to being in control. Historically, McAlpine family members retained direct control of the business by different members partnering up with regional executives, such as David McAlpine's partnership with legendary London boss Benny Kelly. With the family at all times as a united unit, this meant that only the family retained an overall view of the business. One former employee says: "You have to understand that in a very real sense the family was the chief executive."
Family
The decision to change this historically successful approach was, according to insiders, based both on an understanding that the business needed to expand in a way that it would be impossible for the family to keep direct tabs on, and because of a sense it needed to modernise the way it presented itself to the outside world. But with this major change coinciding with the installation of a new generation of the family and all the recent trading issues, it has been an incredibly sensitive time for the family to suddenly step back. One former employee says: "I suspect that as an outsider coming in it has been quite tricky for everyone concerned. It's like when your children grow up and become independent - you still want to know what they're up to." The former industry colleague, who has worked alongside Aikenhead on cross-industry issues, says: "If you're getting continual interference in the running of the business day to day, then you can't be a real chief executive. Tony is the type who would get to a point where he would say 'either back me or sack me'."
They have to decide, are they a corporate machine or are they a family business

Senior construction observer
Any desire to interfere is likely to have been exacerbated by the need for the new members of the family to prove themselves. With a long roll call of senior executives to have departed the business since the retirement of Kelly in 2009, including London boss Vince Corrigan, his deputy Tom Barton, and commercial manager Grant McGregor, the new McAlpine generation may not have had time to build up the close relationships with trusted executives that defined previous eras. "The firm's success has been founded upon execs that the family get on well with," says one former employee. "The next generation needs to find its soulmates, and they'll be feeling exposed until they do."
The travails of Sir Robert McAlpine are in many ways typical of the difficulties of maintaining a family business ethos in a more corporate age. While family ownership has important benefits, such as the ability to base business on trusted personal relationships, to set a strong business ethos, and to respond nimbly without having to second-guess shareholders, business culture has become less tolerant of the negative characteristics found in many family firms, such as a lack of transparency, the lack of external scrutiny to prevent cronyism and nepotism, and the lack of adequate procedures to prevent family members putting the business at risk. "They have to decide, are they a corporate machine or are they a family business. We're in different times than we were 20 years ago and they need to decide where to position themselves for the 21st century," says one observer.
Challenges
Meanwhile it's not as if life is easy for any contractors, facing uncertain demand, shortage of subcontractors and labour, and clients who are asking ever sharper question about what value they get from employing contractors in the first place. "Tier 1 contractors aren't sure what they should be anymore. Are they a builder or construction manager? Where do they benchmark themselves?" says the same observer. "There's a bit of a sea change in terms of procurement and hiring," says analyst Tony Williams, of Building Value, "and contractors are at the sharp end of it."
The question is where all this company upheaval and industry change will leave McAlpine in its mission to find a replacement for Aikenhead. The company has said that it is "well under way" with its succession planning and is hoping to be able to announce a new chief exec in "the coming months." However, some qualified candidates may be shy of working for the business if there is a sense they won't be allowed to do their job without interference. "A lot of people will be looking at what's happened and having a think," says the senior industry colleague. "If Tony can't hack this, the question is who can? And I've heard others asking the same."
But where some see difficulty, others see opportunity. "It's always tough coming in to a family business, you have to break a lot of new ground," says Building Value's Williams. "But sometimes the second guy in is able to make a better fist of it. It's quite possible the way will have been cleared for the new guy to have a better run of it. Certainly there are enough egos out there that someone will put their hand up and say they can do it."
However the hiring goes, this is clearly a difficult moment for a near 150-year-old McAlpine business that has been through enough turmoil in the last five years to last it for another century and a half. It is also a huge test for the family, now in its fifth generation, to see if this latest crop can repeat the success of its ancestors.