Event at Building's offices in central London attended by industry guests in the running for construction gongs
Around 200 industry guests from the Building Awards shortlist came to a party last Thursday to celebrate their achievements.
The event, held at Building's offices at 240 Blackfriars, was attended by industry figures such as HLM's chairman Chris Liddle, Ian Ritchie of Ian Ritchie Architects, George Humphreys, managing director of Hotchkiss, and the JCT chair Richard Saxon.
Guests were able to network with industry colleagues against a backdrop of stunning views of central London from the 19th floor. They also listen to a speech from Building's editor Sarah Richardson in which she congratulated them all on reaching this year's shortlist amid stiff competition.
"I know it's traditional at events like this to say that getting this far is an achievement in itself," she said. "But this year, it really is outstanding… as I'm pleased to say we had our highest number of entries in 10 years."
She also spoke about industry trends and said: "I'm not going to dwell on Brexit and its implications for the sector tonight (because this is a party, after all). But I will be dwelling on it - at length - at Building's other flagship Live event in November, our Building Live conference."
Many thanks to the sponsors for making the party possible.
The winners of the 21 categories at this year's Building Awards will be announced at a ceremony at London's Grovsenor House Hotel on Tuesday 8 November.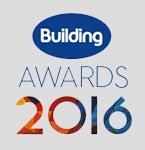 For more information about the Building Awards and to book a place go to www.building-awards.co.uk