The construction activity index suggests workloads are contracting again, tender prices continue on a downward trend and a general pessimism clouds the employment prospects index
01 / State of play
The construction activity index, at 43 points for July, suggests that workloads are contracting again, which they have not done since March. The repair and maintenance index, having tightened in Q2 of 2016, lost yet another three points to 42.
Both the residential and non-residential indices contracted sharply in July to 38 and 48 points respectively. These drops did not prove severe enough to lower their three-month averages below 50, yet this may well happen next month. In contrast, the civil engineering index ticked up by one point from 43 to 44.
The orders index dropped to 61 points in July, down six points since June and 12 points since its peak in April. That said, the index remains in positive territory, where it is expected to stay for at least the next month, given that tender enquiries are still growing.
The downward trend since February in the tender price index continued in July. The index now stands at 51 points, barely above deflationary territory. This is a level unseen since late 2013.
The employment prospects index dropped 12 points in July to 43 points, deep in contractionary territory, where it has not been since October 2015. Whether the general pessimism over the last couple of months will continue beyond the short term remains to be seen.
Despite the negative developments in the activity and employment prospects indices in July, nearly half of the survey respondents (45%) reported encountering no activity constraints at all. About a third of respondents saw insufficient demand as a negative factor, while 9% were troubled by financing issues. Only a small percentage of respondents encountered shortages of labour or materials.
02 / Leading construction activity indicator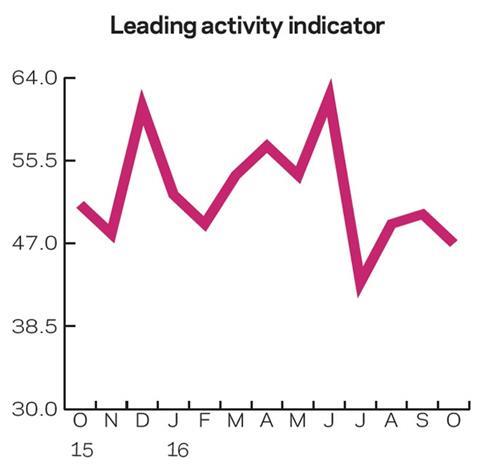 The CFR's Leading Construction Activity Indicator dropped significantly by 19 points in July to a level of 43. Experian expect it to improve marginally in the coming months through November, though to remain in the negative-growth to no-growth zone.
The indicator uses a base level of 50: an index value above that level suggests an increase in activity, while one below it highlights a decrease.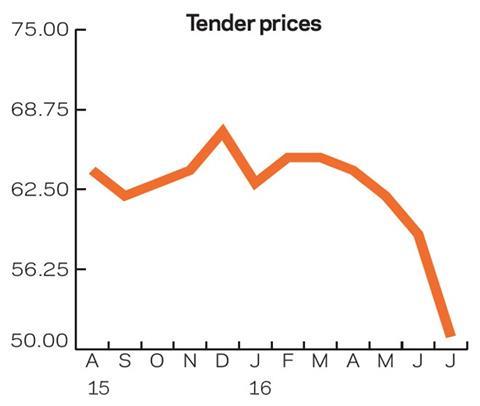 03 / Labour costs
In July, none of the respondents in the residential and non-residential sector reported falling labour costs, and just under a third of respondents saw inflation of between 0% and 2.5%. By far the largest fraction of respondents (53.3%) saw labour inflation between 2.6% and 5%, while a sixth of respondents experienced inflation higher than 7.6%. In the civil engineering sector, 100% of respondents saw labour costs rising between 0% and 2.5%. As always, the relatively smaller sample size of this pool of respondents should be considered in analysing these results relative to those of the residential and non-residential sector.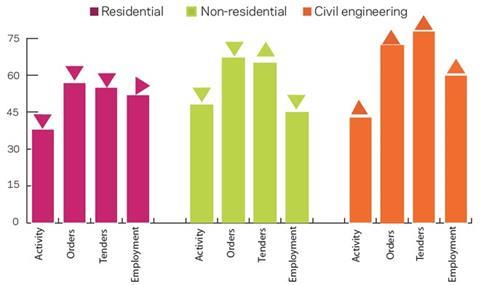 04 / Regional perspectives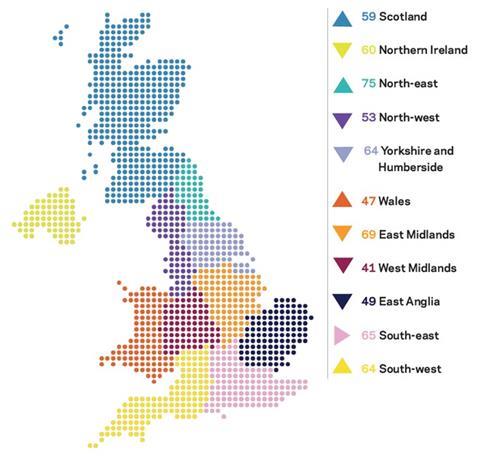 Experian's regional composite indices incorporate current activity levels, the state of order books and the number of tender enquiries received by contractors to provide a measure of the relative strength of each regional industry.
When looking at their composite indices, the most improved UK regions in July were the North-east – the current leader in growth, South-west, Scotland and especially Wales. Despite its improvement, however, Wales' index still remained below 50.
The index for the South-east remained unchanged at 65 points, while all remaining regions saw drops of between three and six points in their indices. The West Midlands in particular continued its sub-par performance with another drop of five points down to 41. East Anglia's index also dropped to a level just shy of zero growth for the first month in over two years.
The UK index, which looks at firms in five or more regions, fell again in May, this time by nine points to 58. This is the lowest value since the turn of the year.
This an extract from the monthly Focus survey of construction activity undertaken by Experian Economics on behalf of the European commission as part of its suite of harmonised EU business surveys.
The full survey results and further information on Experian Economics' forecasts and services can be obtained by calling 0207-746 8217 or logging on to www.experian.co.uk/economics
The survey is conducted monthly among 800 firms throughout the UK and the analysis is broken down by size of firm, sector of the industry and region. The results are weighted to reflect the size of respondents. As well as the results published in this extract, all of the monthly topics are available by sector, region and size of firm. In addition, quarterly questions seek information on materials costs, labour costs and work-in-hand.