Construction output in Q1 of 2018 was 3% below that of a year ago, with public housing contributing most to the fall – while private housing showed healthy growth again. Experian Economics reports
01 / Overview
The latest figures from the Office for National Statistics showed UK GDP grew by 0.1% quarter-on-quarter in Q1, in line with the preliminary estimate. This is the smallest increase in more than five years and represents a 0.1% contraction on a per-head basis. In the rest of 2018, GDP growth is expected to remain muted in line with constrained consumer spending.
Between January and March of 2018 total construction output fell 3% to £38.26bn (in 2015 prices) compared with the same period in 2017. Public housing contributed to this with a 7% drop to £1.27bn. The sector is expected to grow by 3% annually on average over the next three years. Falling investment due to Brexit uncertainties could undermine social housing providers' ability to raise finance. While recent government announcements of plans to boost council housebuilding will drive some modest uplift in the forecast period, sector weakness is expected to persist, with near-record low orders in Q1 undermining prospects for 2018 in particular.
In new work, private housing posted the joint strongest year-on-year growth (alongside industrial), rising 6% to £8.44bn, making it the largest new work sector for the 10th consecutive quarter. The sector is expected to keep growing over the forecast period, albeit at a slower annual rate of 3%. Recent data on job creation and wage growth has been positive, but the impact is outweighed by high household debt, while stricter lending criteria and higher transaction costs continue to depress demand. The sector outlook is positive but restrained, though house price growth is still expected to average 2.8% a year up to 2020.
In contrast, infrastructure output exhibited a 5% drop to £4.53bn in Q1 of 2018, compared with a year earlier. But the sector is expected to experience the strongest annual average growth of all sectors, at 6%.
Rail expenditure aside from HS2 is projected to decline gradually over the current forecast period but remain relatively high throughout. Recent news that Network Rail's £47bn Control Period 6 will see a shift away from big projects towards maintaining the network will further dampen rail work prospects.
Public non-residential showed the largest year-on-year contraction, of 14% to £2.41bn in Q1 of 2018, the fourth consecutive decline by that measure. Output in the sector is expected to continue declining over the forecast period, averaging 3% a year, if at a gradually moderating pace. This is largely due to expected declines in the schools and health subsectors, as well as the smaller offices subsector. Further decline is expected to be mitigated this year and next by growth in the miscellaneous subsector, largely hinged on the Army Basing Plan, due to complete in 2019. Thereafter, a few large university projects are likely to be the main sources of output in the sector.
Industrial output increased 6% compared with the same period in 2017, to £1.11bn. Modest annual average growth is expected throughout the forecast period, with fairly robust expansion in 2018 being balanced out by weaker increases thereafter. Key drivers are the planned works on Jaguar Land Rover's Coventry factory and several warehouse developments.
The commercial sector made the largest negative contribution to overall output, with an annual decline of 7% to £7.05bn in the three months to March 2018. As also reflected in a Q1 fall in new orders of 28% year-on-year, the heightened uncertainty related to Brexit alone has led to a more cautious attitude by investors and developers to bringing new office projects forward. The impact on disposable incomes and thus consumer spending is also placing downward pressure on the retail subsector, which is set to experience the largest annual average contraction, of 4%.
02 / New work output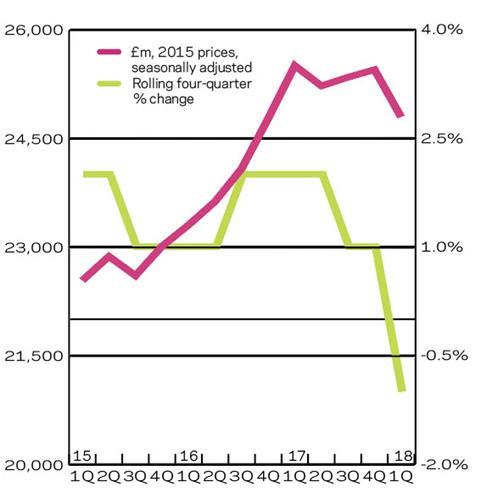 3 / R&M output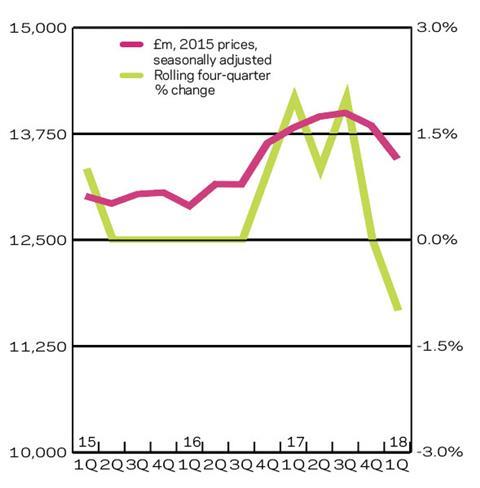 4 / New Work Orders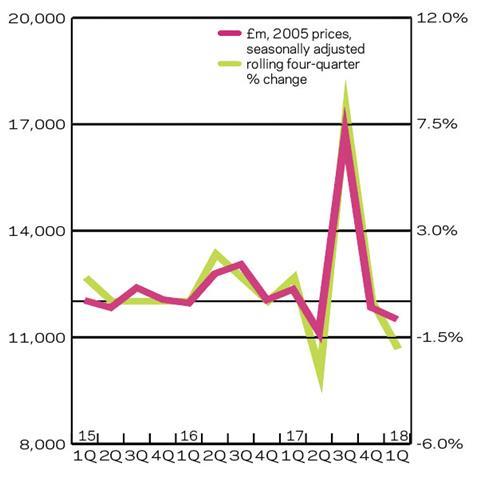 05 / 2018-20 Forecasts
The public housing, private housing, infrastructure and industrial sectors are expected to post annual average growth over the forecast period, with infrastructure output growth being particularly strong. The public non-residential and private commercial sectors are expected to post average yearly declines over the same period, however.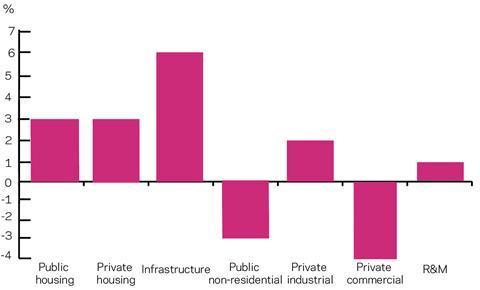 06 / Regional new work output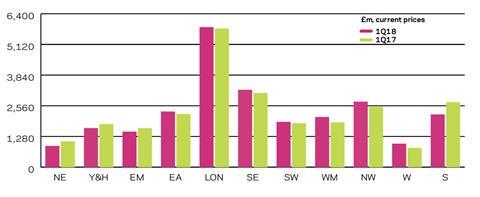 07 / Regional R&M output

08 / Regional new work orders