Output levels continued to head south in the second quarter of 2012, with - perhaps surprisingly - the infrastructure sector recording the sharpest falls. Experian Economics reports
01 / OVERVIEW
After a contraction of almost 6% in the first quarter of 2012 (1Q12), construction output continued to decline in 2Q12, falling by 3% from the previous quarter. Output was also down 9% year on year, at £24.5bn (in 2005 prices). Repair and maintenance (R&M) output fell by 1.6% over the previous quarter, while new work fell by 3.8% in the three months to June 2012.
Output declined across all new work sectors except industrial, which was unchanged at £815m.
It was the infrastructure sector that saw the most marked fall, with output declining by 6.7%, quarter on quarter. This was surprising considering the number of projects currently on site, although work has now completed on the £1.2bn M25 widening programme and a number of other substantial road projects. Activity is still building up on Crossrail, however, with tunnelling work from Royal Oak starting earlier this year.
The private housing sector fared equally badly, with a decline of 6.5% after output reached its highest level for two-and-a-half years in 1Q12. Ongoing credit constraints and weakness in the wider economy is affecting demand as potential homebuyers are unwilling or unable to take on mortgage debt while the prospect of rising unemployment remains.
Public housing output fell by 5.6% to £891m, the lowest level for over two years. Funding cuts to public housing are beginning to filter through to output, as housing associations are still adapting their business models to raising more money from private sources.
Public non-residential output fell by 4% during the quarter, as work continued to complete on the Building Schools for the Future "legacy" projects - those that escaped when the programme of work was axed in 2010. Output in the commercial construction sector fell by 1% after a decline of 11% in 1Q12.
New work construction orders dropped 8%, quarter on quarter, in the three months to June, following growth of 5% in 1Q12. At £9.8bn, orders were a negligible 0.3% lower than the second quarter of last year.
On a sectoral basis, public non-residential new work orders rose by 14%, quarter on quarter, reaching £1.9bn. It was an odd trend given the scale of the cuts in public funding that have already been announced. Public housing new orders also rose, albeit by a more modest 4%.
Infrastructure new orders fell by 20% during the quarter, although they were still up 39% on an annual basis at £1.9bn. Industrial construction orders fell by 26%, quarter on quarter, while the decline was 17% for the commercial sector.
With the full impact of public spending cuts yet to be felt in the construction industry and the continuing weakness in the wider economy doing little to encourage investment in the private construction sectors, the shorter-term prospects for construction remain downbeat. Overall output is not expected to return to growth until 2014, although sectoral performances will vary.
02 / NEW WORK OUTPUT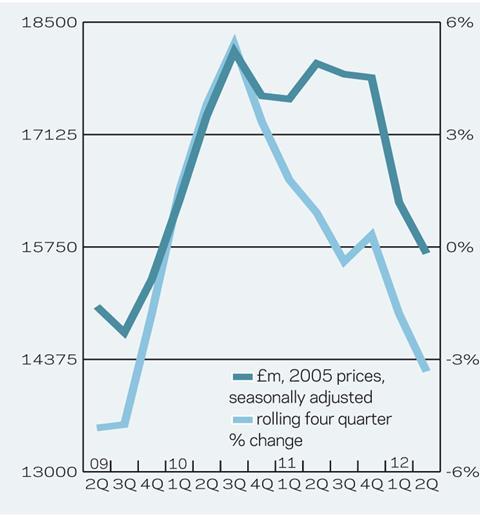 03 / R&M OUTPUT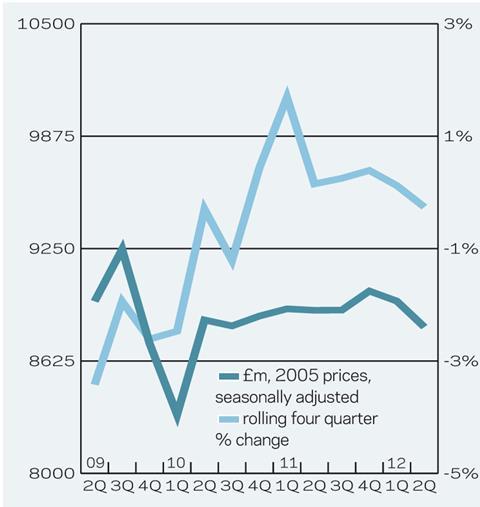 04 / NEW WORK ORDERS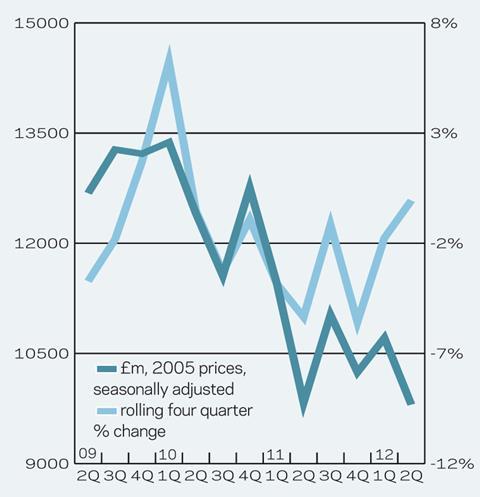 05 / 2012-14 FORECAST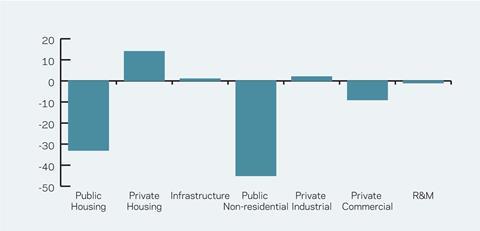 The chart (above) presents sectoral forecasts for 2012-14. With the number of affordable housing starts (and rehabilitations) falling by 68% in the year to March 2012, according to the Homes and Communities Agency (HCA), it is no surprise that the outlook for the sector is bleak, with output in 2014 expected to be 33% lower than its 2011 level. While the private housing sector is expected to grow over the period to 2014, it is likely to be modest at best as ongoing credit constraints and uncertainty in the eurozone dampen demand. Despite an increase of around 14% in private housing output over 2012-14, it is expected to still be only around 76% of its 2006 peak.
06 / REGIONAL NEW WORK OUTPUT

New work output fell across all the regions and devolved nations in 2Q12 compared with 2Q11. The weakest declines were in Greater London
(-2%) and the North-east (-3%), followed by Yorkshire and Humberside and the East of England, which both saw new work output shrink by 9% year on year. In contrast, output in the West Midlands, the North-west and Wales fell by 18% and the South-west saw a 14% drop.
07 / REGIONAL R&M OUTPUT

R&M output in Greater London saw a strong increase, rising by 23% year on year in 2Q12. Growth was also recorded in the South-west (5%), North-west (4%), Wales (3%) and West Midlands (2%), although the pace of increase in these regions and devolved nations was much more modest. At the other end of the scale, R&M output in the North-east dropped by 15%.
08 / REGIONAL NEW WORK ORDERS

Wales saw a steep rise in new work orders in 2Q12, increasing 72% on an annual basis, although this was compared with a weak outturn in 2Q11. Strong growth was also seen in the South-west (29%), the North-west (27%),and the West Midlands (+20%). New work orders dropped by 44% in the East Midlands in 2Q12 and fell by 20% in the South-east. In contrast, new work orders in Yorkshire and Humberside were broadly unchanged from a year earlier.