A slowing global economy and Brexit uncertainty continue to press down on economic growth but housing demand and infrastructure works remain strong drivers. Experian Economics reports
01 / Overview
Figures from the Office for National Statistics showed GDP increased by 0.3% (quarter-on-quarter) in Q3 of 2019. This is a 1% rise compared with the same quarter in the previous year, the weakest gain since the first quarter of 2010. A slowing global economy and entrenched Brexit-related uncertainty are expected to continue to hold back business investment in the coming quarters. GDP is unlikely to grow by much more than 1% in 2020 against this backdrop.
Construction output in Q3 ticked up by 1% to £40.95bn (in 2016 prices), against the same period in 2018. Public housing contributed to this with a 9% increase in output to £1.57bn – the largest percentage change of all new work sectors. Sector output is expected to grow by an annual average of 2% over the next three years. Following stronger estimated growth than expected in 2019, an initial slowdown is anticipated in 2020, given the downward trend in orders in recent quarters. Thereafter, sector output should pick up in order to reach the government's ambitious housing provision targets.
Private housing construction made a similar contribution to overall output growth in the third quarter, rising 2% in annual terms to £9.01bn, and remaining the largest new work sector for the 18th consecutive quarter. Given the challenging backdrop of macroeconomic weakness and insufficient resolution of political uncertainty, recent sluggishness in the sector is expected to continue in the near term. The political turmoil around Brexit, while considerably lessened following the Christmas election, will likely keep investment and activity in the housing market subdued despite fresh policy initiatives to bolster demand and boost supply. As such, we expect sector output growth to average just 2% over the forecast period.
The infrastructure sector made the largest contribution to overall expansion from the new work sectors by a sizeable margin, growing 8% in annualised terms in Q3 2019, to £5.74bn. It is expected to experience the joint-strongest annual average growth of all sectors over the forecast period, at 3%, alongside industrial. The HS2 rail project remains a key driver of sector growth, although apparent delays in early works have placed downward pressure on forecasts in the near term. Growth is expected to pick up in earnest from 2021, as output increases from the Highways England road programme and main construction on Hinkley Point C nuclear power station supports electricity output levels.
Output in the public non-residential sector faltered for a second consecutive period in 2019 Q3, contracting by 3% in annualised terms, to £2.38bn. The public non-residential sector is expected to see moderate growth in output over the forecast period, although this will not take it back to the level seen in 2016. This is largely due to gains in the sizeable schools and universities subsectors. Output is expected to average 2% expansion a year to 2022, albeit slowing throughout, with declines in health and offices output expected to weigh on growth by 2022.
After experiencing the largest annualised percentage fall in Q2 this year, output in the industrial sector recovered by 8% in 2019 Q3 compared with the same period of 2018, to a total of £1.35bn. Output is expected to continue rising throughout the forecast, albeit at a slowing rate, to average annual expansion of 3%. As the factories subsector continues to struggle, it is hoped the requirement for new distribution and logistics facilities will drive overall expansion, particularly if Brexit means firms are forced to hold more stock.
Following six consecutive periods of annualised contraction, output in the commercial sector recovered by 3% in Q3 2019, to £7.15bn. As the sector most exposed to Brexit uncertainties, commercial construction is not expected to stabilise until 2021. Assuming the UK can strike final trade deals with the EU in the near future, however, some certainty should return to the offices subsector, helping to drive a modest recovery by the end of the forecast period.
02 / New work output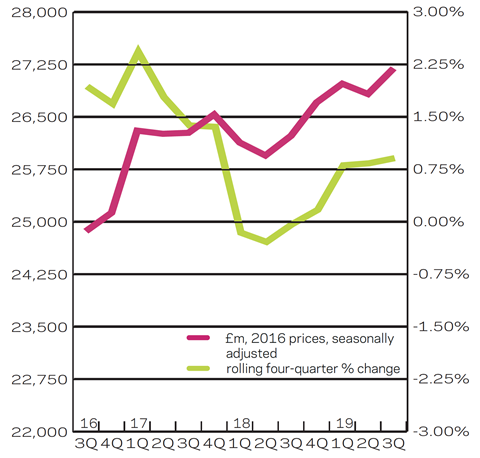 03 / R&M output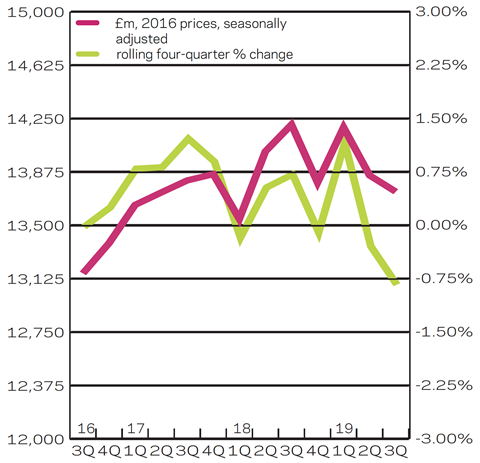 04 / New work orders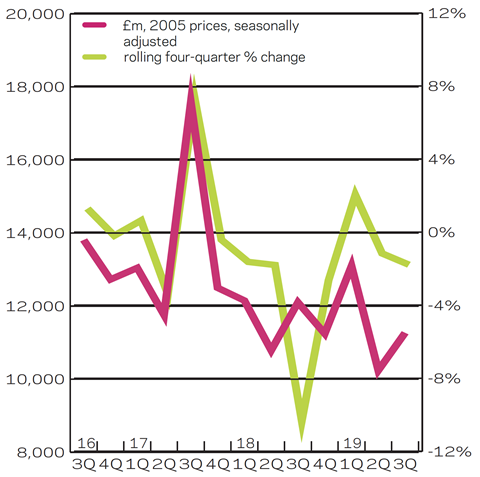 05 / 2019-21 forecasts
The public housing, private housing, infrastructure, public non-residential and industrial sectors are all expected to post annual average growth over the latest forecast period, with infrastructure and industrial output seeing the joint-strongest growth. Repair and maintenance (R&M) output is also expected to remain buoyant throughout. The private commercial sector is the only sector expected to post average yearly declines over the same period.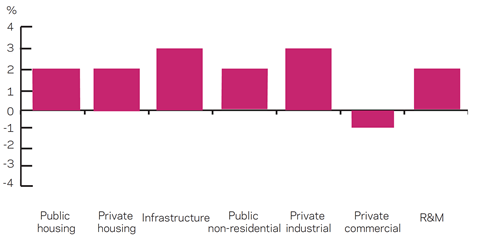 06 / Regional new work output
In the three months to September 2019, new work output in current prices increased in nine out of 11 regions and devolved nations on an annual basis.

07 / Regional R&M output
Output for the R&M sector increased in six out of 11 regions and devolved nations on the same measure.

08 / Regional new work orders
New work orders increased in six of the 11 regions and devolved nations on an annualised basis in the third quarter of 2019. The single largest change was the fall in orders seen in the East Midlands, relative to the placing of orders for Triton Knoll offshore wind farm in Q3 2018. The largest positive change, though less sizeable, was seen in Greater London and was shared evenly across the private housing and infrastructure sectors.