Public housing and infrastructure are keeping construction's nose above water, though the industrial sector's 40% fall in new orders is a drag
01 / Overview
The Office for National Statistics has recently published the first set of output data based on a new methodology for collection and analysis.
Total construction output fell by 1.1%, quarter on quarter, in the first quarter of 2010, largely because of to a 4.9% contraction in repairs and maintenance.
In contrast, new work rose by 1.3%, underpinned by strong performances in public housing and infrastructure.
The most buoyant performance was from the public housing sector where output rose by 13% during the quarter, the highest output for more than 19 years. This is not surprising given that work is under way on a number of projects that have received funding under the Homes and Communities Agency's Kickstart programme. There is also a significant council house building programme in Scotland.
The infrastructure sector saw a more moderate increase of 5%, as work continued on major projects including Thameslink, preparatory works for Crossrail and the Edinburgh tram.
Following five consecutive quarters of large falls, commercial construction output rose in the first quarter, albeit only by 1.5%. Demand for office space has increased slightly, and a number of developers have indicated that mothballed or postponed projects - such as the Cheesegrater and Walkie-Talkie – may restart during the second half of this year.
There was further bad news for the industrial construction sector in the first quarter, with output declining by a further 6% to a historic quarterly low. Although export demand remains strong, manufacturers are still cautious about investing in new facilities.
The public non-residential sector saw output fall by 1.4%, while the private housing sector saw a negligible decline of 0.3%.
New work orders rose by 0.6% during the first quarter, with the public housing and infrastructure sectors again the star performers. However, the private housing sector also fared well, with new orders rising by 9%.
Industrial construction new orders fell markedly, dropping by 40%, which suggests that industrial construction output is likely to have another bad year in 2010. Commercial new orders declined by 5%, following a slight uptick in the final quarter of 2009.
Conditions are still challenging and some uncertainty remains regarding government spending. The eagerly awaited spending review is due in October and this is likely to have a significant effect on construction.
02 / New work output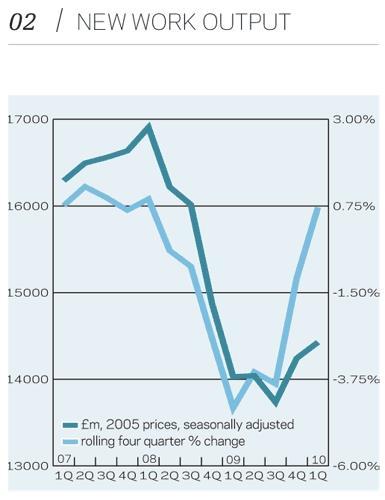 03 / R&M output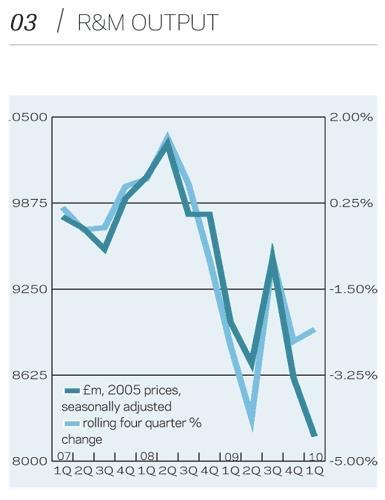 04 / New work orders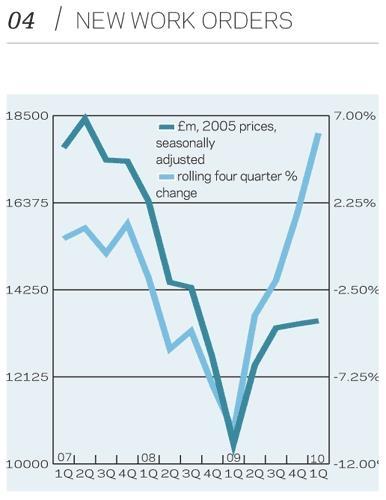 05 / 2010-12 forecast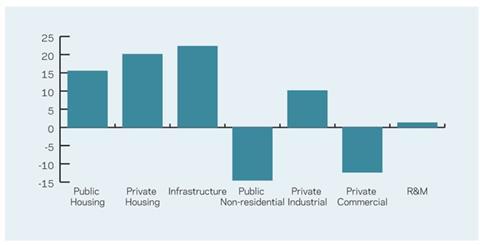 The chart (right) presents sectoral forecasts for 2010 to 2012. The weakest sector is expected to be public non-residential, with output almost 15% lower in 2012 than 2009, because of public spending cuts that have already been announced and further cuts expected after the spending review in the autumn. The commercial sector is also expected to fare badly in the shorter term, although growth will return in 2012.
The most buoyant sector is forecast to be infrastructure: output is expected to rise by 22% in the 2010-12 period. Strong output growth is also forecast for private housing.
06 / Regional new work output

New work output rose across three of the 11 regions and nations in the first quarter of 2010, and was broadly unchanged in four. West Midlands had the strongest rise of 4%, with the South-west and Wales not far behind with 3%. New work output in the North-east fell 15%, followed by an 8% fall in Yorkshire
and Humberside. London also had a 2% drop, despite the number of large projects on site.
07 / Regional R&m output

Yorkshire and Humberside (7%), the
South-east (4%) and Scotland (2%) all saw a rise in repairs and maintenance output in the first quarter, with declines in the remaining eight regions and nations. Output plummeted by 44% in Wales and fell by one-third in the North-east. East Anglia and East Midlands dropped by 26% and 13%, respectively, but the fall in London was a much weaker 2%.
08 / Regional new work Orders

Yorkshire and Humberside and the East Midlands reported falling new orders in the first quarter, with declines of 29% and 17% respectively. The North-west saw a weak increase of 1%, but most of the remaining regions and nations had double-digit rises. The most marked growth was in London (84%), followed by the West Midlands (79%), the South-west (72%) and North-east (66%).
The data has been compiled by Experian Marketing Information Services