Barr Gazetas' retrofit of a 1920s office block on Air Street in central London has resulted in the first BREEAM 'outstanding' rating for a listed building. But the really clever idea is how it deals with the energy use of its tenants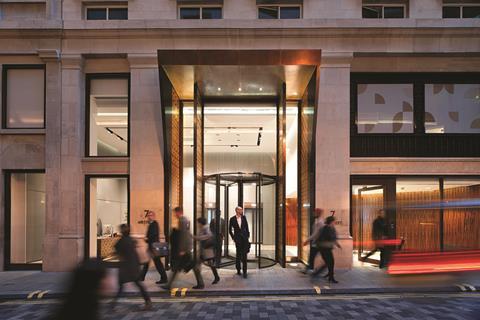 It's the next cultural shift needed to realise the ambition of a low-carbon future: if we broadly accept (and many don't) that the construction industry has embraced the principles of sustainable design as conventional wisdom, attention must now turn to the tenants who occupy new buildings and the landlords who develop them.
As with most things, the potency of this shift will ultimately come down to money. Developers will want to know if harnessing sustainability will add a cost premium to their business or, crucially, weaken demand. Equally, most occupiers will need reassurance that a green agenda will not lead to higher rents and service charges.
But there are also non-cost related issues at play. Behavioural attitudes of both developers and occupiers are important. Can individual developers be persuaded to consistently pursue sustainability against a competitive market that might not be doing the same thing? And will tenants be prepared to take more responsibility for how energy is used and possibly tolerate certain restrictions along the way? Additionally, all manner of complex factors affect how these behaviours are managed, ranging from legislation to simplifying occupier input.
The benefits of sustainable design are obvious: higher productivity, increased operational efficiency, a more productive workforce and improved environmental quality, to name but a few. The crucial question is, how far will developers and clients be willing to go to realise them?
Few recent buildings more powerfully illustrate the challenges and opportunities of client and occupier engagement than 7 Air Street on the edge of London's Soho. The grade II-listed building is claimed to be the most sustainable historic building in the country after its recent refurbishment was awarded a BREEAM "outstanding" score of 94%. Measured against BREEAM UK New Construction 2011, this is the highest-scoring office building assessed to completion and the first "outstanding"-rated listed building.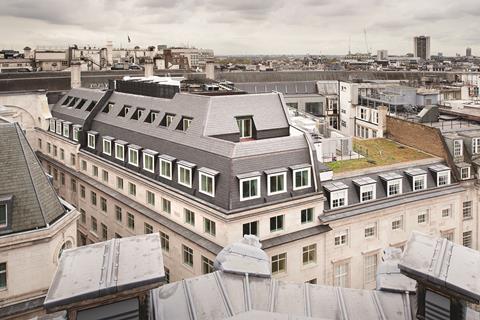 The retrofit was designed by Barr Gazetas Architects for the Crown Estate, with Sisk the principal contractor. Like many of the buildings along or directly behind London's famous Regent Street, 7 Air Street was built in the early 1920s in a stripped-down version of the monumental neo-baroque style that replaced John Nash's demolished Regency terraces. The 53,000ft² office and retail development is part of the award-winning Quadrant masterplan, which has seen the Crown Estate comprehensively refurbish several historic buildings at the south-eastern corner of Regent Street over the past few years.
The brief called for the consolidation of two existing office buildings with different ceiling heights, floor plates and facades into single, open-plan grade A office space. While strict
local conservation rules meant that the facades could not be removed, the project became more complicated than a straightforward facade-retention scheme. 80% of the steel frame was also retained, with floor levels rationalised and the upper two storeys demolished and rebuilt - all while still conforming to facade and roof datum restrictions. Additionally, cores were replaced and two lightwells filled in with accommodation.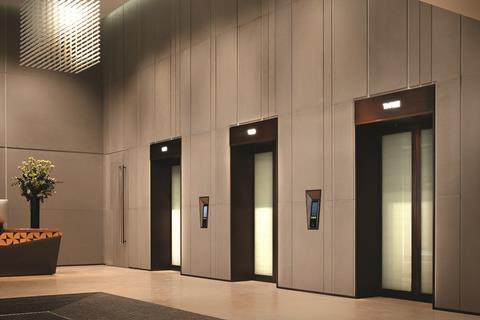 As part of the retrofit, an impressive list of sustainability features was installed, all of which were crucial to the project's exceptional BREEAM rating. LED lighting was introduced, windows replaced, external walls insulated, photovoltaic panels installed to provide 12% of electricity for the office floors, innovative fuel cell technology deployed, a district heating system made available to meet energy demand and committed life-cycle analysis undertaken to measure embodied energy and improve supply chain management.
As with all refurbishment projects, there were unforeseen challenges – one of which involved ensuring that insulation of the external walls did not trap moisture that had built up within the walls as a result of the protracted corrosion of the steel reinforcement prior to restoration. However, the balance of these measures has been a saving of 350 tonnes of carbon every year and the reduction of CO2 emissions by 39% when compared to the Part L 2010 baseline.
Terms and conditions
Of course, many of these features can be found on other high-performing sustainable developments. What helps to separate 7 Air Street from its peers is its rigorous approach to occupier engagement, an outcome realised by what Barr Gazetas director Jon Eaglesham considers to be the pre-eminent behavioural and contractual driver for the scheme: a green lease.
Green leases aim to encourage both tenants and landlords of commercial buildings to abide by certain maintenance and management practices that are intended to improve building performance and safeguard sustainability throughout the building's life cycle.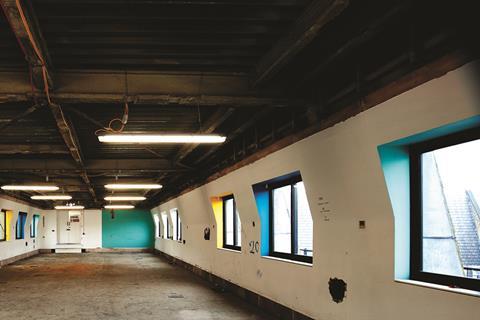 "It's pretty hard not to comply with a green lease," says Eaglesham. "It specifies the kind of products or facilities that must be used and installed and it clearly sets out what the occupier can do to contribute to the sustainable management plan the owner has in place. You can have all the sustainable features in the world but if the framework isn't in place to encourage occupiers to use them, then you won't get the benefits in the long term."
Eaglesham adds that part of this "encouragement" involves ensuring that all user interfaces, such as the LED screen at 7 Air Street that displays the building's real-time sustainability performance, are easy for the occupier to understand. "Simplifying occupier input is very important: features such as smart metering can help the occupier grasp the building's environmental output and feel a sense of responsibility for it. It's crucial that satisfying a sustainability agenda doesn't in any way constrain the occupier - it doesn't have to mean that the building is any more complicated or onerous to use or work in."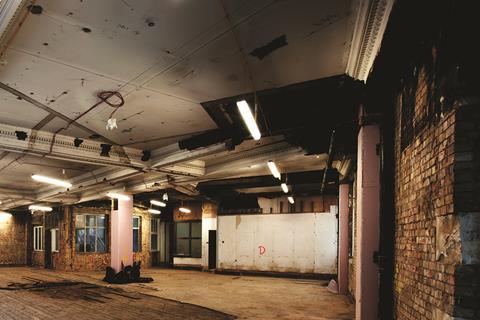 Arguably the principal reservation many landlords or developers might have to the kind of measures at 7 Air Street is increased costs – whether real or perceived. This is perhaps the biggest hurdle when trying to make a convincing business case for sustainability. But here too Eaglesham's experience at 7 Air Street offers a revealing insight.
"It possibly added about 3% or 5% to the overall budget. But you have to measure this against the huge ongoing benefits in lower running costs, a higher quality of environment and increased occupier satisfaction. We were also pragmatic about where those additional costs were focused. For instance, we only placed LED lighting in the office floors where artificial light is required for prolonged periods. There's no life-cycle benefit in installing them in common parts where they won't be on long enough to help realise the benefits."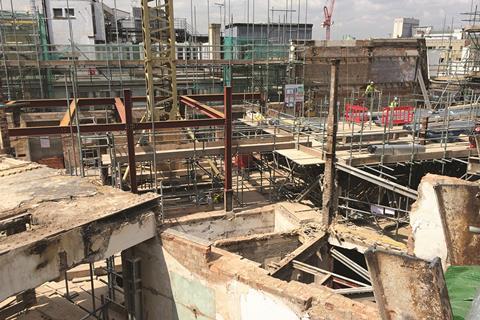 An enlightened client
For Eaglesham, many of the questions required to make a business case for the kind of development at 7 Air Street were answered by the client itself, which was resolutely committed to the sustainability agenda from the start. "The Crown Estate were the ones who provided us with the space, time and opportunity to go for this level of performance. They imposed the green lease and it was them who wanted the project to set a benchmark."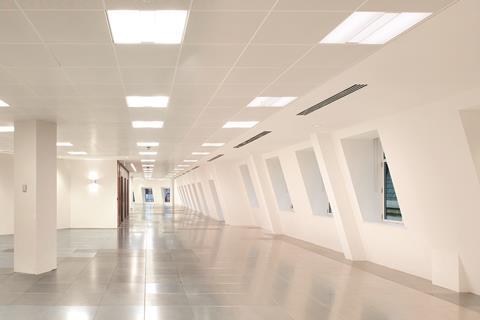 An example of this is the fuel cell the development is connected to. This is actually located in another nearby building previously refurbished by the Crown Estate. But it had always been designed to be plugged in to future developments in the local area and thereby provides an example of the kind of long-term sustainability strategy the landlord has in place.
According to Knight Frank leasing and development consultancy partner Ian McCarter, who managed letting for 7 Air Street, it is also a feature that significantly strengthens the business case for prospective tenants. "Having an on-site energy centre that can be plugged into at any time of day means that power is constantly available 24 hours at no added cost, which would not be the case in a conventional development that required energy supply out of office hours, for instance. This is a major tangible benefit."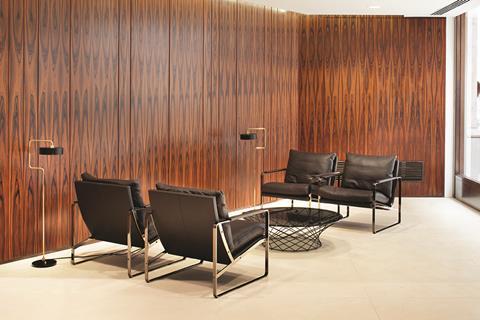 But the Crown Estate is not exactly a normal developer. As one of the wealthiest landowners on Earth, with a settled stake in some of the world's most lucrative urban real estate, it is rarely, if ever, in a position to sell property on. It can therefore afford the kind of long-term capital investment that prioritises sustainability, as demonstrated by the pioneering fuel cell.
Such commercial certainties will invariably not come so easily to other developers. Would it be as easy to make a business case for highly sustainable development to them?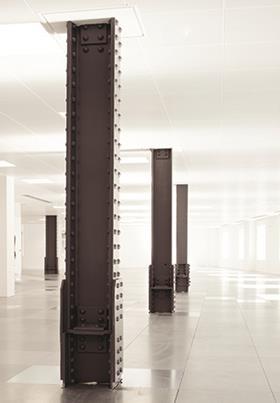 "It's difficult," says McCarter. "Being brutally honest, for the majority of clients, sustainability isn't the first, second or even third priority. The awareness is there but it's nowhere near the top
of the agenda."
What then might change this? For McCarter, it will be a combination of tangible cost savings and the quality of the commercial offer to the end user. "Ultimately, if it enables buildings to be built or run cheaper and if it offers clear occupier benefits, then that would make the pressing business case that developers will start to take notice of.
"Knowing the occupier is also important. Some of the consultancy tenants that have moved into 7 Air Street have a proven track record in prioritising environmental design, and being in that kind of building helps their brand image. The market is gradually changing and while sustainability is still a long way away from being a central commercial concern, it's being discussed more seriously and more widely."

Project team
Client The Crown Estate / Norges Bank Investment Management
Lead architect Barr Gazetas
Project manager Buro Four
Principal contractor Sisk
Services engineer Aecom
Structural engineer Waterman Structures
Quantity surveyor Sweett Group