With the possibility that airport control towers may become obsolete, our architectural correspondent continues his look at some of the more interesting examples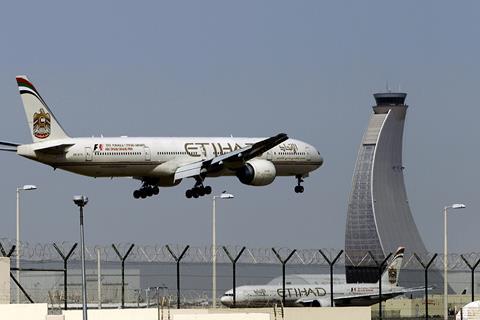 Abu Dhabi International Airport, UAE
ADPI (airport masterplanning Parsons/Kohn Pedersen Fox)
2010
Standing at an impressive 358ft high (109m), Abu Dhabi's new airport tower stands only eight feet shorter than St. Paul's Cathedral and is the seventh tallest airport control tower in the world. The tallest is Bangkok's Suvarnabhumi Airport control tower which, at 434ft (132m) stands almost as tall as the London Eye. But while Abu Dhabi may lack Bangkok's height, it arguably supersedes it in sheer drama and distinctiveness of design. The tower is shaped like a giant crescent, or a tall cone that has been buffeted sharply by the wind. The form was inspired by the sail of a ship or the traditional "dhows" that voyage across the Perisan Gulf to this day. It is therefore an image that evokes Abu Dhabi's proud maritime heritage and conspicuously recalls what is a revered cultural icon in the region. The structure also makes for one of the most instantly recognisable and visually arresting airport control towers in the world. It also has engineering prowess to match; it is clad and finished with a combination of polycarbonate, aluminium and ETFE foil cushion panels that combine to act as a giant sunscreen to prevent internal glare and overheating.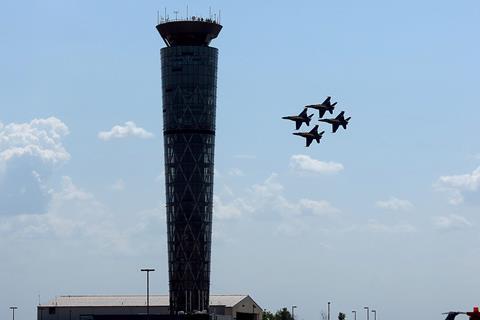 Dayton International Airport, USA
DMJM H&N (part of Aecom)
2011
Dayton Ohio is not a staple on the U.S. tourist map. But its impressive $30m (£23m) airport control tower certainly puts it on the map in terms of architectural and engineering prowess. The tower is the only air traffic control tower of its kind in the world whose exterior is constructed entirely from glass. More than 30,000ft² of customised, unitised and pre-fabricated curtain wall and aluminium plate panels were used for its distinctive translucent skin that encloses the entirety of the 254ft structure. This glazed surface allows the tower to make a stunning impact at night with a variety of different coloured lighting schemes essentially allowing the tower to glow like a giant, pulsating lantern in the dark. Once again the visual power of the tower is also drawn from its simplicity; it is a simple cylindrical shaft that gently tapers outwards as it rises and whose diagrid steel structural cross-bracing is subtly apparent behind its sinuous glass skin.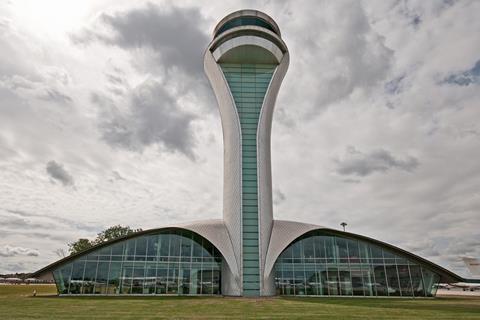 Farnborough Airport, UK
3D Reid Architecture
2006
Farnborough is more famed for its air show than its passengers and this small Hampshire airport handles private charter rather than commercial flights. But it is a hidden gem of British aviation because it is one of the few contemporary UK airports that successfully evokes the sense of glamour and anticipation that was the hallmark of the golden age of air travel in the 1940s and 1950s. And its superb centrepiece tower plays a big role in achieving this effect. Revelling in the kind of break from convention that only a small, regional and non-commercial airport could ever get away with, the tower is not the traditional standalone form but sprouts from the centre of two hangers that straddle its base, thereby instantly appearing more building than structure. Like the terminals, the tower itself is a masterpiece of simple, streamlined design, its cylindrical shaft tapering outwards towards its peak and forming a perfectly symmetrical composition with the hangers below. Like the airport the tower may be small but it proves that contemporary aviation architecture can still capture the quality and imagination of yesteryear.