In this year's Building Awards Small Project of the Year category, old and new meet in a cornucopia of diverse projects. Here's part 1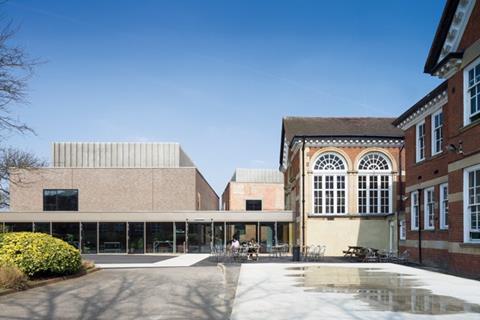 Richmond Community College
Richmond, London
Architect: Duggan Morris
Client: Richmond Adult Community College
Contractor: Leadbitter/Bouygues
Submitted by: Duggan Morris
This competition-winning scheme develops a memorable and inspiring architectural response from a complex brief and difficult site. This conservation area project consolidates two former college sites and involves the retention of several existing buildings. Yet, it crafts a convincing and dynamic new architecture of pale, sepulchral and cubic brick volumes that respond well to the more ornate Edwardian blocks and is carefully woven into the site to create a rejuvenated and richly textured courtyard cluster of old and new. A generous mix of new facilities includes a 250-capacity studio theatre, a cafe and art and design workshops. With an exemplary student success rate of 87.4%, the college's aptitude for social engagement and curricular adaptability is now reflected in its revitalised campus.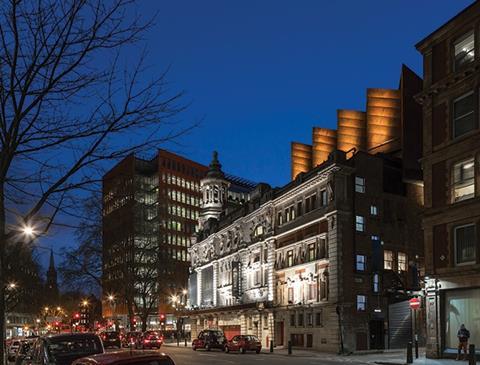 Shaftesbury Theatre
St Giles, London
Architect: Bennetts Associates
Client: Shaftesbury Theatre / The Theatre of Comedy Company
Contractor: Fabrite Engineering Ltd.
Submitted by: Bennetts Associates
To put it simply, this stunning new flytower rewrites the rules about historic conservation. The original theatre is a richly decorated Edwardian baroque pile whose terracotta facades are brimming with elaborate carvings and ornamentation. A conventional contemporary response might have been to cast any new intervention as a restrained and passive counterfoil to the riotous melodrama already in place, an approach which chimes with the same architect's landmark expansion of the Royal Shakespeare Company's Stratford-upon-Avon base. But instead this inspired design reinterprets and transfuses the energy of the original into an extraordinary serrated box that now crowns the building, its exterior clad in a rusty weathered steel to reference the terracotta below and its theatrically sliced envelope allowing light into new back-of-house areas within. As such, the new addition marks an unashamedly individualistic imposition onto the historic fabric below but does so with such assured virtuoso spirit that the entire composition is immeasurably enhanced.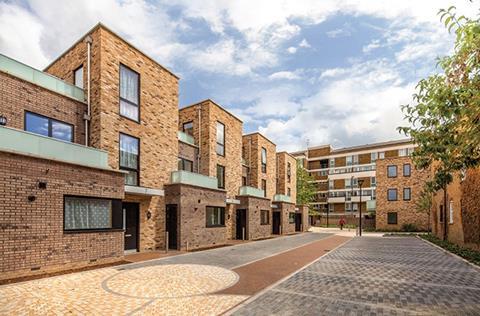 Hitchin Square
Tower Hamlets, London
Architect: PRP
Client: Circle Housing / Old Ford Housing
Contractor: Kind & Co
Submitted by: PRP
PRP has always been a specialist in residential design but it is schemes like this that have highlighted the practice as a leading expert in the pressing topical challenge of how contemporary housing can be inserted into the dense and difficult inner-city sites. And sites don't come much more challenging than this one, a bleak row of former garages appended onto a 1970s council housing estate. The inspired response seeks to import the coveted urban typologies of central London into the East End by creating a mews lined by six affordable rent homes grandly conceived as terraced townhouses. With a richly textured brickwork that references local Victorian terraces and a subtle and finely balanced allocation of public and private space that carefully stitches the development into the surrounding urban grain, Hitchin Square provides an alluring template for how low income social housing can attain the quality prioritised within the private sector.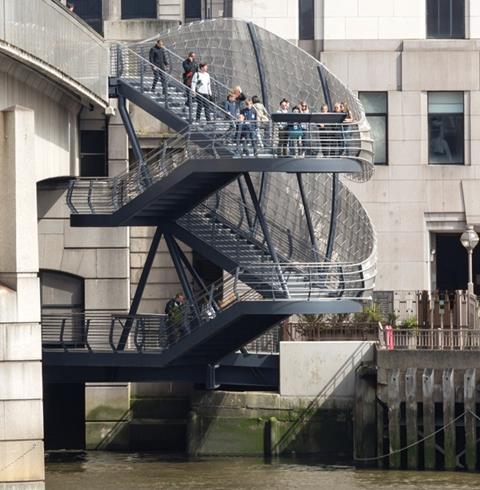 London Bridge Staircase
City, London
Architect: bere:architects
Client: City of London Corporation
Contractor: J.T. Mackley & Co
Submitted by: bere:architects
London Bridge may be one of the most famous crossings in the world but the physical reality of its bland 1970s municipal state largely fails to measure up to the legendary folkloric status history has assigned it. As such, prior to this project's completion, the previous public stair and passage that led down from its north-eastern corner to the river walkway below was a grim, albeit forebodingly atmospheric, exercise in civic mean-spiritedness. Not so today as bere:architects' elegantly pirouetting new steel staircase transforms the experience into a dramatic vertical catwalk suspended dramatically over the Thames. As such, this cutting-edge insertion offers users a more generous, civic and decidedly more cosmopolitan encounter with bridge, river and city.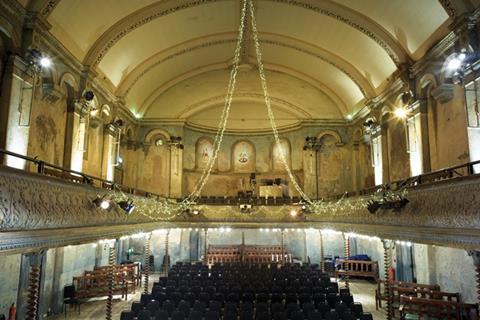 Wilton's Music Hall
Shadwell, London
Architect: Tim Ronalds Architects
Client: Wilton's Music Hall
Contractor: Fullers Builders and William Anelay Ltd
Submitted by: Max Fordham (M&E Engineer)
London's East End has few grander or more culturally significant landmarks than this. In the Victorian era the music hall was the cinema, television, radio and theatre all rolled into one and it was the primary source of public entertainment for the working classes in its spiritual home of London's East End. Most have now gone which is why those remaining, of which Wilton's is by far the best preserved example, are a precious cultural and historical link between the past and present. The architect, whose Hackney Empire renovation has also helped transform another revered east London entertainment institution, recognises the weight of this cultural responsibility by crafting an exceptional artistic and environmental response that not only restores the historic fabric to its magnificent original state but imbues it with an innovative array of sustainability features that will help ensure its survival in perpetuity. This has resulted in a 27% CO² saving and thus marks the project as an extraordinary combination of conservation and ecological improvement.