In this year's Building Awards Small Project of the Year category, old and new meet in a cornucopia of diverse projects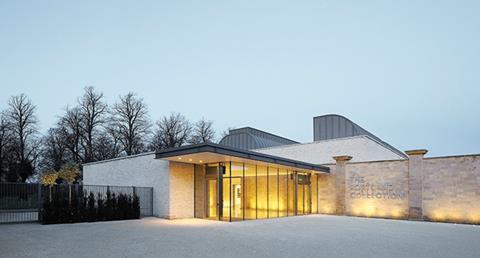 The Portland Collection
Worksop, Nottinghamshire
Architect: Hugh Broughton Architects
Client: The Harley Foundation
Contractor: Caddick Construction
Submitted by: AECOM (MEP Consultant) / Hugh Broughton Architects
This elegant, pavilion-like art gallery enjoys an enviable historic location within the Victorian walls of a former racehorse training paddock itself located within the grounds of Grade I-listed Welbeck Abbey. Therefore the architecture cleverly adopts simple, streamlined geometries and a honed material palette of sandy brickwork and stone in order to relate to its protected heritage context and convey a quietly subtle and restrained architectural character. Also, its more contemporary features such as its distinctive external barrel vaults clad with pre-weathered zinc introduce traditional batten rolls along its joints. In a further consolidation of old and new, internally, these barrels also conceal extract ductwork and complement additional passive design details such as an underfloor plenum and low air permeability.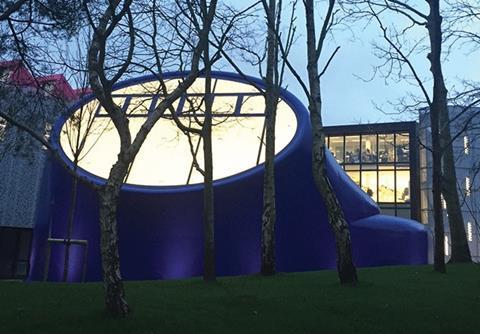 Drawing Studio, Arts University Bournemouth
Bournemouth, Dorset
Architect: CRAB Studio
Client: Arts University Bournemouth
Contractor: Morgan Sindall
Submitted by: Morgan Sindall
This colourful, whimsical pavilion brims with all the futuristic, avant-garde esotericism of CRAB Studio founder Peter Cook and his former Archigram collective from the 1960s. But this is no consumerist retro throwback; incredibly this new project is the first purpose-built drawing studio to be constructed at a British art school for more than a century and it is also Cook's first ever building in the UK. It responds to the inevitable weight of expectation brilliantly. Outside, its bulbous form comprises distinctive bright blue monocoque steel cladding plates curved over a ribbed steel frame. A gaping 30m² oculus admits light into a whitewashed GRG-clad interior similarly defined by warped surfaces and curving planes. As well as the aesthetic dynamism, the project is marked high airtightness and energy efficiency as well as fully integrated BIM adoption.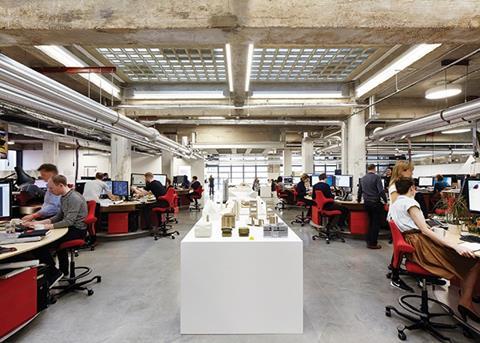 32 Cleveland Street
Fitzrovia, London
Architect: Make
Client: Derwent London
Contractor: The Thornton Partnership
Submitted by: Make
A former underground car park may not seem the most glamourous premises for a high-profile architectural practice but Make has transformed one such space in central London into a spacious, light-filled and stylish workplace environment. Taking its aesthetic cue from the raw, utilitarian character of the former car park itself and the streamlined industrial chic of the similarly refurbished art deco former garment factory above, this radical refurbishment takes a minimalist approach to finishes and proudly retains the exposed concrete beams and columns of its previous incarnation. Not only does it complement these with a polished concrete floor and restored pavement skylights but it also carefully constructs a spatially innovative and visually sympathetic office palette around them which even includes a sunken planted courtyard and a triumphal ETFE-topped entrance stair on what was once the vehicular ramp to enter the car park. In an innovative procurement model, Make designed the scheme for a developer with whom they have worked extensively, the architect essentially acted as a client to their client.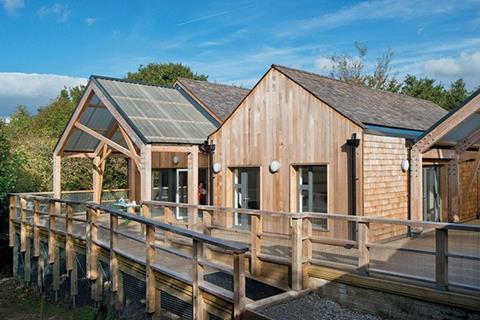 Mellor Primary School
Mellor, Greater Manchester
Architect: Sarah Wrigglesworth Architects
Client: Mellor Primary School
Contractor: MSP Construction
Submitted by: Sarah Wrigglesworth Architects
With all the talk of free schools, standardisation, academies and the government's Priority Schools Building Programme, one might easily be forgiven for thinking that school construction is driven by money alone. But this beautiful little project provides a timely reminder that it is not cost that determines quality but design. Located in a gritstone valley in the Peak District romantically known as the Dark Peak, the architecture is a fulsome, virtuoso expression of the Forest School ethos on which the school's syllabus is based. Accordingly, the building comprises an extensive variety of timber cladding types and a trio of distinct, pitched timber roofs which continue dramatically into the interior as exposed asymmetrical trusses. On two of the pitched roofs polycarbonate sheeting replaces tiles to create a dramatic translucent canopy that provides shelter for external play space. But best of all is the external habitat wall where an extruded timber frame presents a series of shelves and compartments into which a dizzying array of recycled materials are neatly stacked like bags of sweets. This perfectly encapsulates the magical child-friendly environment that has been created by an inspirational and imaginative architecture where the natural and physical worlds collide.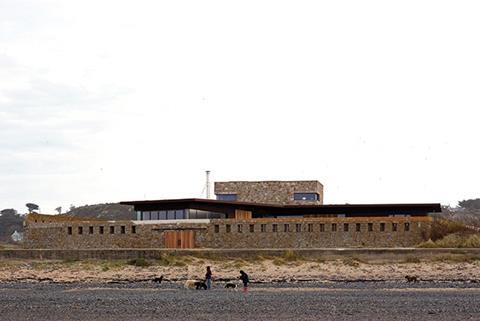 Le Petit Ford
St Ouën, Jersey
Architect: Hudson Architects
Client: Private
Contractor: Mitchell Construction Group
Submitted by: Hudson Architects
This extraordinary private home provides a thrilling combination between vibrant domestic domicile and brooding coastal outpost. Occupying a spectacular shoreline location on a picturesque Jersey bay, the building quite literally embraces its context by restoring and re-appropriating the retained granite walls of a demolished farmstead. This gesture sets the defensive tone of the interior with its strong horizontal lines, swooping overhangs and Corten panelling suggesting a slick and fort-like architectural resilience as defiant as the winds and waves that batter the shoreline. Yet inside defensiveness is replaced by comfort as a series of generous open plan spaces on a number of levels flow into each other like external terraces, each one framed by expansive windows that thrust spectacular views of the scenic coastline deep into the building interior.