Ike Ijeh rounds up the year's architectural excitements
The Temperate House, Kew, London
Architect: Donald Insall Associates
Contractor: ISG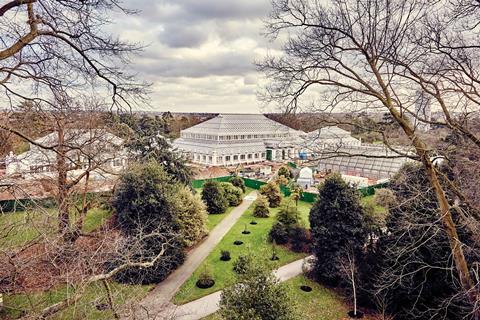 The Temperate House is one of those rare projects on which heritage restoration is joined with extraordinary technical ambition and logistical ingenuity. The iconic Kew greenhouse is the world's largest surviving Victorian glass structure. It is also a grade I-listed building and sits in one of the world's oldest botanical gardens, which also happens to be a Unesco World Heritage Site and thus ranked alongside stellar global landmarks such as the Grand Canyon, the Taj Mahal and the Leaning Tower of Pisa.
So clearly the level of conservation sensitivity required here is considerable, to say the least. Which makes the pioneering construction solution devised for the building's renovation all the more impressive. A staggering 67,000 panes of glass needed to be replaced, having a combined weight of 57 tonnes. Additionally, as each pane measured only 4mm thick they were highly vulnerable to breaking or cracking. Accomplishing this feat entirely via an external scaffold would have been impossible, as the building's pitched glass roof could not have supported the scaffold. The solution was to create an extraordinary internal scaffold comprising 220 miles of self-supporting tubing and planks that sculpturally snaked their way around internal columns to provide access to the roof.
In addition, the building fabric was restored and made watertight and the building's thermal and climactic performance drastically improved.
Architecture and development within a heritage context is often caricatured as a perennial battle between old and new. But the Temperate House proves that modern technical inventiveness is often responsible for securing our heritage landmarks for future generations.
Coal Drops Yard, London
Architect: Heatherwick Studio
Contractor: Bam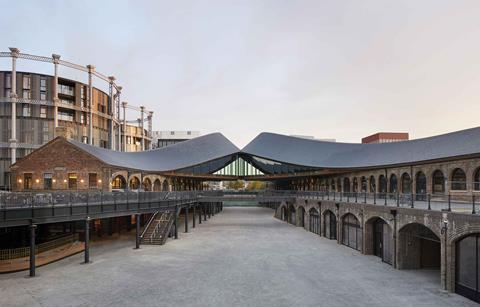 The sad and continuing erosion of the British high street has been an ongoing social narrative (or nightmare) through 2018. Business rates, tax structures, changing retail trends and the persistent threat of online shopping have all conspired to ensure that the high street leaves 2018 no more secure than when it entered. A retail scheme was even the winner of this year's Carbuncle Cup.
So it must come as special comfort to a beleaguered industry that one of the most stunning headline buildings of the year was in fact a retail development.
Coal Drops Yard opened as the retail hub of the hugely successful King's Cross Central regeneration scheme.
It follows the inventive conservation remedy enthusiastically dispensed across the masterplan, namely to restore as much of the site's historic fabric as possible and to use this as the conceptual anchor for bold contemporary intervention. But Coal Drops Yard takes this strategy to fantastical, surrealist heights by having two Victorian pitched roofs bulge and bubble towards each other to form a spectacular attic canopy for a new retail arcade framed between restored historic arches.
Rarely has historic conservation been able to capture the spirit of innovation and illusion to as much mutual benefit as has been the case here. Coal Drops Yard has further advanced the credibility of the King's Cross development and provided additional proof that it is probably the defining urban regeneration project of the decade. But as the real-life embodiment of Thomas Heatherwick's theory that physical retail must provide experiences as well as merchandise in order to survive, it may also have stumbled across the remedy for the wider retail sector.
Centre Point, London
Architect: Conran & Partners
Contractor: Multiplex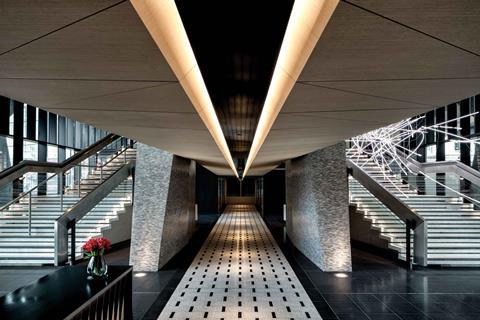 Centre Point is perhaps one of those few buildings destined to be forever dogged by controversy. When Richard Seifert's totemic tower opened in 1966 its height sparked outrage in conservationists enraged that a skyscraper had been permitted within a historic and historically low-rise neighbourhood. Then, in undoubtedly its most famous phase of contentiousness, it provoked widespread public anger during the late 1960s and early 1970s when various undisclosed commercial shenanigans left it standing empty for almost a decade.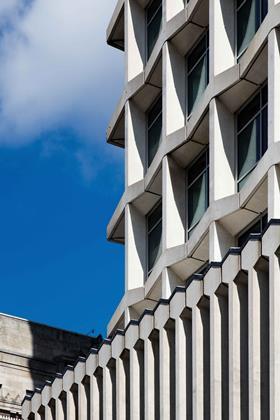 And now, after its much-awaited conversion from offices to luxury flats, it has become a high-profile victim of the protracted cooling of London's famously overheated housing market. Allegedly, half of its 82 flats were removed from market in the autumn due to potential buyers apparently making unrealistic offers. Once again, at least half of Centre Point is empty.
This sorry saga belies the genuine anticipation felt when the converted building opened earlier this year. The reputation of the brutalist-lite landmark had undergone something of a rehabilitation in recent decades, graduating from reviled symbol of planning misdirection and commercial opportunism to jazzy, almost cuddly pop-art icon of the swinging sixties. By 2018, Centre Point was cool again, and this was reflected in the chic, retro themes of its new flats, all of which benefited from floor heights and floorplates that were infinitely more suited to residential than commercial occupation.
But in an age when London's housing crisis has sparked growing cultural resentment towards the seemingly unstoppable march of luxury flats in the capital – particularly when they come in tower form – Centre Point is once again the unwitting victim of socio-economic turbulence largely beyond its control.