Plans lodged for shopping centre extension to 'kick-start' regeneration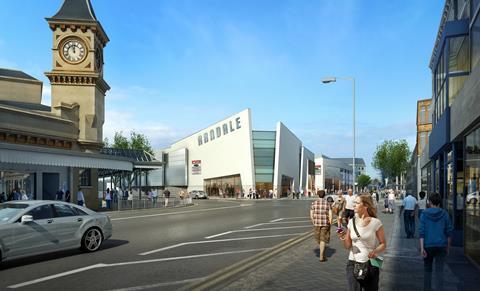 The Arndale Centre, Eastbourne
Eastbourne's Arndale Centre could be expanded as part of a £70m scheme that developers claim could secure the seaside town's place as a regional shopping destination.
A joint venture between Legal & General Property and Strathclyde Pension Fund has submitted proposals to the borough council that would create 22 new ground and first-floor units at the shopping centre, adding an additional 175,000 ft2 as well as additional car-parking space and pedestrian access.
Legal & General Property's head of retail development Simon Russian said the proposals represented an advance for the heart of the East Sussex town.
"We have spent a considerable amount of time and care consulting with the council and local community to ensure that our plans reflect the needs of the town," he said.
"Not only do we believe that this scheme has the ability to significantly enhance the retail offer of the Arndale Centre and the town as a whole, securing its place as the regional shopping destination, but that it will kick start the town centre's much needed regeneration."
The joint venture company, Performance Retail Limited Partnership, said that if the proposals were approved construction would begin within two years, with the project expected to be complete by the end of 2015.