The severe flooding of winter 2015/16 has put a focus on normalising water-resistance measures in houses in areas prone to flooding. Ike Ijeh looks at a range of solutions, from buildings that can elevate away from water to the UK's first 'amphibious house'
Last autumn, the Department for Environment, Food and Rural Affairs (Defra) published a wide-ranging report that explored resilience solutions for properties exposed to high risk of flooding. Written by Peter Bonfield, chief executive of the Building Research Establishment (BRE), the report was prepared in response to the devastating floods experienced in various parts of the UK during the winter of 2015/16, the worst since equally catastrophic floods in 2007. The 2015/16 floods were estimated to have affected up to 17,000 residential and commercial properties and caused around £1.3bn worth of damage.
The report made a number of key recommendations, including improving flood-resilience skills and awareness across the construction industry, strengthening the level of understanding about what measures might be best to deliver flood resilience and, perhaps most significantly, normalising the concept of flood resilience within the commercial mindset so that it becomes an integral rather than an additional design consideration. A key part of this was ensuring that the insurance and construction sectors worked closely together to better manage flooding risk.
And now, in various ways the industry has responded. In February this year, the BRE offered a practical response to its own report by introducing its new flood-resilient demonstration home, which incorporates a host of measures aimed at mitigating the effect of flooding in a simple and cost-effective way.
Last month, Dutch architects Waterstudio revealed plans for an entire floating island built on a patented platform moored to the seabed and thereby capable of withstanding flooding. And perhaps most ambitiously of all from an engineering perspective, last month also saw East Anglian-based housebuilder and developer Larkfleet submit planning permission for a radical new house that rises into the air on hydraulic pistons to escape floodwaters, the first of its kind in the world.
These are just some of the practical solutions being developed to implement the kind of flood resilience Defra's report called for. Here, we explore these and some of the other solutions, hoping to revolutionise how our built environment responds to the increasing risk of flooding.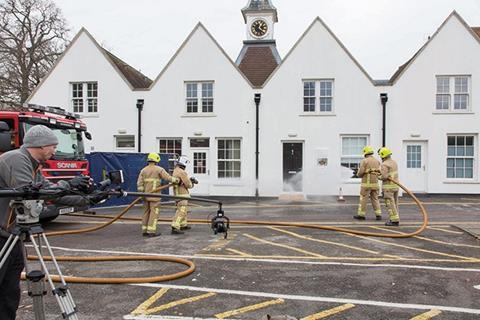 BRE flood-resilient demonstration home
Launched in February, BRE's flood-resilient home has a number of simple, key features. It offers flood-resistant doors and windows, water-resilient walls and insulation, a resilient kitchen with movable kitchen units, floor and wall membranes that channel water towards floor drains, an automatic sump pump to stop water rising internally and aid dispersal, and finally, one-way valves fitted to the sinks and toilets to prevent flooding via sewers.
The house has been built at BRE's innovation park in Watford but is based on the principle that these measures can be introduced into any house that has been flooded and is at risk of flooding again.
The measures are designed to accommodate a maximum internal flooding level of 600mm. To install the flood-resilient modifications, the house interior is first completely stripped back to its bare structural shell. Holes are then cut into the concrete for the installation of sump pumps, and cavity and perimeter sub-floor drainage cavities are installed and connected to the pump. Cavity drain membranes are fitted to the walls and floors with waterproof foam insulation sprayed onto walls before screeding. Waterproof materials are then used for floorboards and high-mounted kitchen units before flood-resistant doors and windows are installed.
While the remodelling process might appear extensive, BRE argues that many of these features could be installed both in new-build homes with minimal additional time and cost and in existing homes with only a 10-15% cost premium above a standard full-home refurbishment.
Stephen Garvin, director of BRE's Centre for Resilience, explains the wider thinking behind the project. "It isn't yet normal practice in the UK for properties in areas of high flood risk to be made more resilient following a flood. The aim of this project is to show contractors and householders in a tangible way that resilient repair isn't as challenging or difficult as they may think it is."
He continues: "There are an estimated 5.2 million UK homes considered at risk from surface, river and coastal flooding. Preventative measures play a key role, but given the scale of our vulnerability, we need to think more practically about flooding and start to adapt to 'living with water'. So fitting a house with resilient technologies and testing its ability to bounce back from water ingress is the first step on this journey."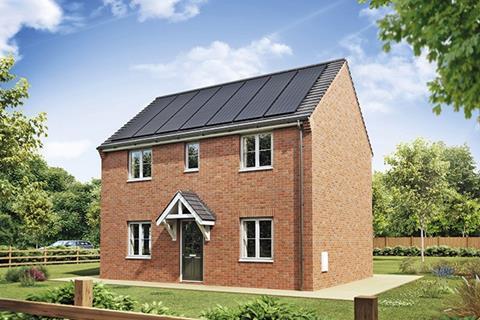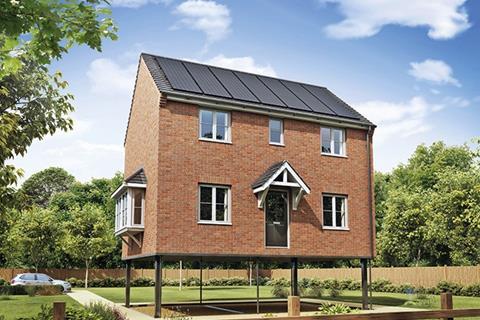 The elevating house
Imagine a house that rises from the ground to avoid encircling floodwaters. It may sound like something from The Wizard of Oz but this is exactly what the housebuilder and developer of the Larkfleet Group has devised as their solution to battling the threat of flooding. Planning permission for the first of these houses has recently been submitted in Weston Hills near Spalding in Lincolnshire, close to Larkfleet's base. The Fens have always been subject to flooding, although today they benefit from one the UK's more sophisticated flood defence infrastructures.
The house looks like any conventional suburban detached property, with a pitched roof and brickwork walls. But these conceal a modular steel frame sitting on large steel ring-beam rather than conventional foundations. Underneath this sits a mechanical jacking system comprising eight steel jacks embedded into the ground below. This system is powered by a central motor, gearbox and drive shafts and when sprung into action, the entire house can be lifted up to 1.5m off the ground in around five minutes.
While the house is not designed for occupation while elevated, it can remain connected to water and sewage mains supplies via flexible hoses. Rooftop solar panels would also provide constant electricity to ensure basic appliances could keep running while the residents are in temporary accommodation elsewhere. While the system is designed for a "once in a generation" flooding event, operation of the jacking system will require maintenance testing once a year.
As Larkfleet's managing director Karl Hick explains, the house could be built anywhere and, if permission is granted, could also form a response to the national housing crisis. "[It] effectively eliminates the risk of flood damage to homes, so that more land across the country can be approved for future home building [in flood zones]. This will help to tackle the housing crisis that is being caused by the demand for new housing far exceeding the supply."
The additional cost premium the house will inevitably attract is still being calculated, but a Larkfleet spokesperson says: "The move to mass production could eliminate any additional engineering costs. Also, UK house production is generally moving towards modular construction, so this is a reflection of this trend."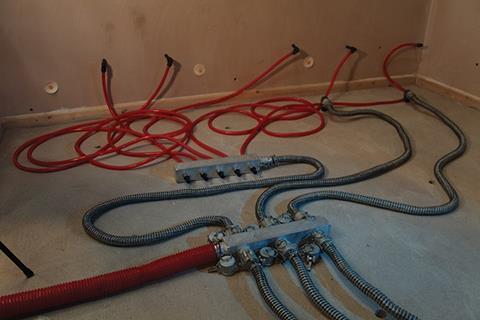 Remedial solutions
While flood resilience prioritises preventing flood damage in the first place, it also involves solutions for repair where damage has already taken place. An industry of flood repair specialists has grown up around this challenge and one of these is Cornwall-based Richfords fire and flood restoration. In February, Richfords presented two of its latest flood damage remediation systems to Neil Parrish MP, chairman of the Environment, Food and Rural Affairs parliamentary select committee.
The first is a pressurised injection drying system that injects dehumidified air into the void between the plasterboard and building structure, enabling the insulation and plasterboard to be dried from the inside out. A high-pressure equivalent expels trapped moisture from the insulation layer beneath a floating floor.
According to director of business development, Michael Cooper, in both instances these ideas "save customers the significant disruption that water damage causes by preventing the need to strip out internal finishings such as plasterboard. "They also protect and restore the fabric of the building by ensuring the drying process is balanced on both sides of the material."
The second innovation is a remote monitoring system that assesses the drying progress of water-damaged building fabric such as walls and ceilings. This system works by installing a number of moisture probes into the affected materials within the structure. Each sensor then sends information regarding the moisture levels within the material to a web interface where the information can be reviewed by a technician via a smartphone from anywhere in the world. According to Cooper, the system offers clear benefits. "It increases the efficiency of the process by enabling contractors to continuously monitor the drying and make adjustments – thus more accurately predicting when the drying equipment can be decommissioned, and getting people back into their homes more quickly."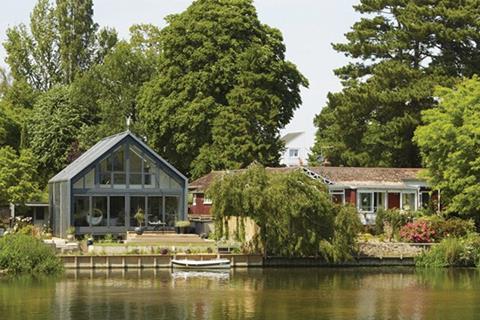 Floating architecture
Floating and amphibious architecture has been around for centuries and there is a long tradition of such buildings in various parts of the world. But in recent years, technology and design ambitions have rapidly accelerated to meet changing climate conditions. Last year was a watershed for the UK in this regard with the launch of the country's first amphibious house. Designed by Baca Architects and located on a flood-zone island in the middle of the River Thames in Marlow, Buckinghamshire, the project is the result of the practice's 10-year research into flood resilience.
The house is built above a fixed basement dock with a permeable base. When the Thames floods, the basement dock fills with water and the subsequent buoyancy pushes the house upwards. The buoyancy is controlled by four dolphin masts tethered to the house, which guide its elevation as it rises. At full stretch, the house can be hoisted to 2.5m above water.
"When we designed it, there was no planning or building control precedent" explains Baca Architects co-founder Richard Coutts. "We're trying to encourage these kinds of buildings to be embraced within the building regulations, which would permit the kind of warranties and insurances that would enable this kind of building to be produced on a much bigger scale."
Coutts also points out the statutory contradiction the team faced during planning stages, with the building height by being constrained by Green Belt townscape restrictions but the requirement to maintain a substantial above-ground height clearance for flood protection still in place.
But for Coutts, it is not so much legislation but the concept of technology that offers one of the biggest challenges to flood-resilient buildings."We back up data on our phones and apps but we don't provide contingencies for buildings and cities in the same way. At the amphibious house, for instance, we created an intuitive landscape around the building. It's a series of stepped terraces with flood cells underneath.
"When the landscape floods, that is an early indication that waters are rising. We're also exploring this principle on a much bigger scale at the Zac Seine site in Paris, a substantial housing development with more than 4,000 homes."
Commenting on the company's use of landscaping, he says: "Technology has a place but that doesn't mean we have to rely on it entirely in the built environment."
WEBINAR WITH CPD POINTS: Watch a debate with industry experts about responses to the Bonfield flooding review by signing up to Building's webinar, in association with Wavin, on Friday 21 April, at 11-12, or watch on demand afterwards. Sign up at www.building.co.uk/webinars