A new range of low-cost prefabricated housing solutions is being rolled out across the country with the potential to help tackle Britain's affordable housing crisis. Ike Ijeh looks at three of the schemes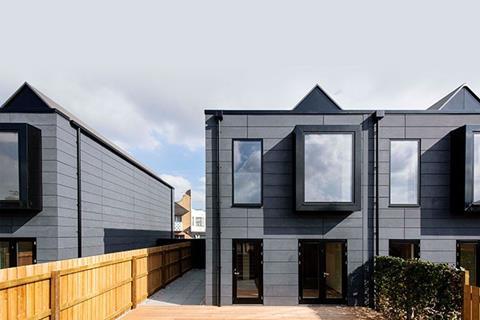 After helping to transform the schools sector, it appears that offsite construction techniques might be harnessed in a serious bid to solve the housing crisis. Britain's lack of affordable housing is clearly not a problem that can be solved by the construction industry alone and it will require collective solutions that encompass a broad spectrum of political, planning and socio-economic concerns. But architecture and design have a role to play and this is a mandate being enthusiastically grasped by a new range of low-cost prefabricated housing solutions.
Over the past few months several of these systems have been proposed by various architectural practices and, as with schools, they are often developed with a partner contractor. These various solutions contain several commonalities. Obviously prefabrication is one of them. Low-cost construction tends to be another. Layout flexibility, timber frame and speed of construction tend to be other unifying features as are, in many cases, the option of a temporary build or full relocation.
But what is really revealing about this potentially new generation of affordable housing are the differences. One architect has partnered with a local authority thereby demonstrating how, increasingly, it is councils that are once again at the forefront of delivering affordable housing. Another has attempted to merge traditional typologies with modern construction techniques by mimicking terraced housing. And another proposes a radical, energy-efficient solution that can be built over existing car parks.
These three schemes are explored in further detail below. Each one offers a revealing insight into the different design approaches being employed to help tackle Britain's affordable housing crisis. They also provide a startling indication of just how far the image of prefabricated mass housing, once stigmatised as the toxic symbol of 1960s residential blight, has been rehabilitated.
hoUSe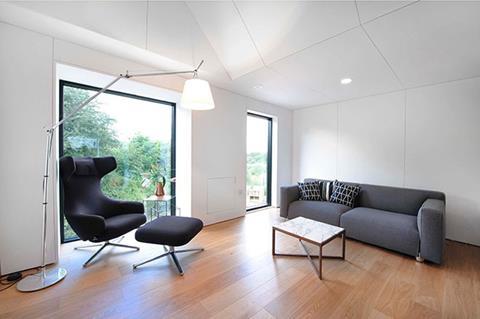 Architect: shedkm
Partner: Urban Splash
Concept: Terraced housing with flexible layouts
System: Volumetric Timber Pods
Cost: £1,070/m² max.
Programme: 44 units @ 2-3 weeks on site
Sale/rent: Both
On site: New Islington, Manchester
Urban Splash is already well established as a pioneer of housing innovation and regeneration but its latest offering expands its signature offer of aspirational urban lifestyle onto a familiar suburban template. HoUSe has been developed by architects shedkm and it claims to offer a "new kind of 21st century home for Manchester". Its core concept is that of the traditional terraced house but one delivered through cutting-edge prefabrication and volumetric construction techniques. Phase 1 has seen the construction of 44 units in the New Islington district of Manchester with further units planned.
Quite simply, hoUSe comprises prefabricated volumetric timber pods that are delivered on site and then stacked on top of each other to form rows of terraced housing. This conceit is accentuated by the fact that key windows to living are surrounded by extruding sleeves that mimic the form and rhythm of bays. Pitched metal roofs and rusticated cladding complete the theme of traditional living with a modern twist.
But HoUSe is about more than simply recreating terraces – its principal selling point is that it offers residents a choice of internal layout. The houses are delivered to site as raw shells with only kitchen and bathroom "pods" in place. Beyond that purchasers have total freedom in how they wish to configure the interior with communal areas places at either the top or bottom of the house to evoke "loft" or "garden" living. Layouts can either be open-plan or traditional and can be adapted from one to five-bedroom homes.
shedkm director Ian Killick describes the central idea as being "to offer modern design, flexibility and customer choice within a familiar and cost-effective house type. So we developed a house design that could be configured in a number of different ways; two or three storeys, loft or garden living, kitchen and bathroom choices, and a series of ways of sub-dividing each floor. The idea was that purchasers would choose their configuration at the point of sale, the house being built to order and delivered some time later. This latter challenge drove us towards an off-site volumetric manufacture solution, in order to reduce the time from order to delivery."
But of course the potential role hoUSe can play in easing the housing crisis will depend on its cost and site adaptability. On the former Killick is cautiously confident. "We have learnt not to try and compete directly with the housebuilders on price. We are offering a higher quality product but still need to make it work for under £100/ft2, including foundations, to be viable."
While the system can also be built on other brownfield sites, Killick explains that this too presents challenges. "The cost of preparing sites to receive the houses is often significant. The manufacture process also has its own demands – to be efficient there needs to be a steady throughput of units, not stop start."
ZedPod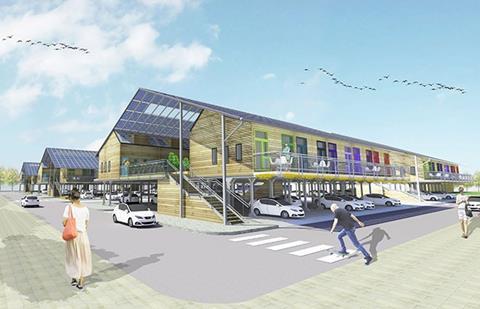 Architect: ZEDfactory
Partner: n/a
Concept: Pods built over car parks
System: Steel/Timber Hybrid
Cost: £987/m2 - £1,282/m2
Programme: Site assembly 10 pods per week
Sale/rent: Both
On site: 1 site at planning stage
Imagine a series of battery and solar power houses constructed within timber pods and "floating" above a car park. This is essentially the core concept behind ZedPod, the radical new low-cost housing solution by ZEDfactory. Fourteen years ago ZEDfactory was the pioneer behind BedZED, the UK's first carbon-neutral eco-community. This same revolutionary zeal has now been brought to the affordable housing sector, with founder Bill Dunster aiming to "embarrass the market" by showing that high-quality affordable housing can be delivered simply, cheaply and with energy efficiency as paramount.
ZedPods are highly insulated timber frame pods built on a steel truss support and constructed over parking spaces, allowing cars to still be parked underneath. Single pods are built over two spaces, doubles over four. The roof is fitted with solar panels which provide 90% of the unit's energy. The pods can be grouped together to form terraces or "pop-up villages". In the latter instance rows of pods are separated by an elevated "street" surmounted by a canopy extending from the pods' pitched roofs on either side. Pods are preassembled in a shed before being forklifted into place on site. Because the pods are set to parking space dimensions, they are easily transported by lorry. Although the pods are designed as permanent buildings, they can be relocated. Equally, as ZedPod's steel supporting frame sits on pads, foundations are not required.
"It's virtually Passivhaus," explains Dunster. "It's based on the Zero Bills Home we developed for the BRE so its high environmental spec' means high-energy efficiency which translates into low bills for the occupants. It's designed to be carbon neutral over its anticipated lifespan."
But it is not ZEDfactory's trademark green credentials that are the pods' defining feature; Dunster reveals that they represent a canny commercial enterprise too. "The key benefit is that you don't need to buy any land. ZedPods can be placed over any existing hard surface, such as a car park. On average it will only amount to a loss of around 7.5% of car parking spaces so the owner still maintains land value."
ZedPods are not designed for large families; they will be targeted to young professionals and key workers priced out of the housing market. Therefore the avoidance of land purchase costs will, according to Dunster, ultimately help keep sale and rental prices affordable, a crucial component of its offer.
"We have funders in place who will deliver the homes at no cost to the car park owner and rent them out at market rental. Working with an affordable housing provider, we believe we have the lowest cost solution on the market because we do not need to buy land at market rates. The market will, to a certain extent, dictate what such a home can be sold for, but the positioning as a starter home will ensure it's delivered affordably to the market. It means a high-quality and low-carbon home can be rented out at the same price as the lowest quality bedsit in most cities."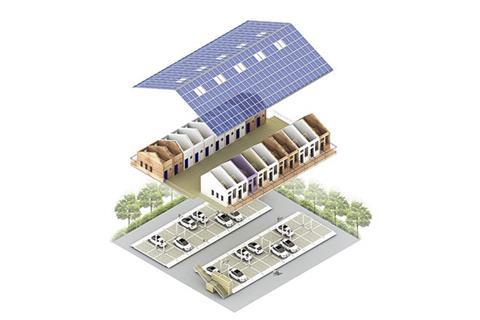 RSHP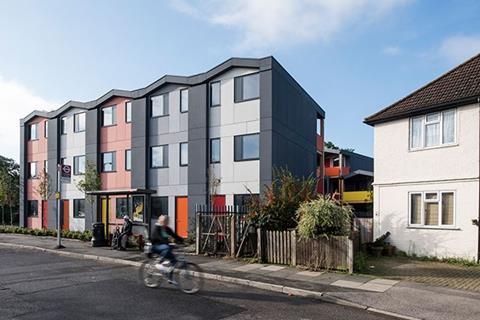 Architect: RSHP
Initial Partner: London Borough of Lewisham
Concept: Mass produced affordable housing
System: Volumetric timber pods
Cost: £2,150/m² (Lewisham site)
Programme: Site assembly 8 units per week
Sale/rent: Both
On site: Lewisham complete, further planned
Solving the housing crisis will require quantity as well as quality and the latest prefabricated housing system from Rogers Stirk Harbour + Partner aims to deliver both. Last month the practice revealed plans to deliver up to 7,500 of these units a year across the UK and they are being directly marketed as part of a response to the country's housing shortage. As the concept is in its early stages costs cannot be confirmed yet but RSHP claims that advanced environmental features will enable the homes to be electrically heated for as little as £1 a week. RSHP's plans stem from two previous concepts the practice has developed. The first is known as Y-Cube and was billed as a portable, temporary "plug and play" modular housing system that used volumetric technology to enable the prefabricated timber units to stack on top of each other. The project was for YMCA London South West. The second was a development that employed similar volumetric technology, again deploying off-site manufacturing techniques. The scheme consisted of 24 temporary affordable homes in Lewisham, south London, and developed in conjunction with the local authority. Current proposals are an evolution of both concepts and adopt the same factory-produced, volumetric technology, hence their popular association with the term "flat-pack". But the latest solution is conceived on a much bigger scale than its predecessors, both in terms of internal room sizes and number of homes.
Despite the reliance on factory production, RSHP associate partner Andrew Partridge insists the solution is simple. "It's very low-tech and is based on standard timber technologies and building components that amount to a method of construction rather than a system. Even the term flat-pack is misleading because it implies that a great deal of complex construction still has to take place on site when in fact 90% of the build has already been completed before the units reach the site. This leads to savings in programme and budget which can then be fed into cheaper running and purchase costs for the end occupant, a critical issue when it comes to affordability."
Flexibility and robust construction are also features of the concept that Partridge stresses. "The units are very solid with good insulation, 300mm walls, high ceilings, ample daylight, energy efficiency and acoustics that are 150% better than building regulations. They can also be mixed with other housing types to meet local density requirements, and tenancies can also be varied to accommodate housing models such as the private rented sector."
But what about the worry of a new generation of mass-produced, pre-fabricated, Identikit housing that repeats the mistakes of the 1960s? Here too Partridge is bullish, stating that cladding can be adapted to a number of different materials and contexts and that the use of low tech solutions and the accommodation of mixed tenures differentiates the concept from the housing estates of the past.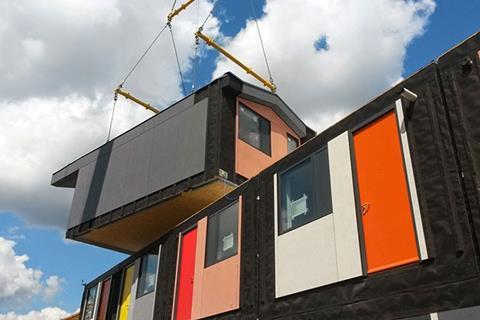 ZedPods will be among the housing solutions explored at Ecobuild, which takes place at ExCeL in London on 8-10 March. To register to attend for free, go to: www.ecobuild.co.uk/register