The schemes in the running to be Building's Project of the Year are as varied as the purposes for which they were designed. But whether a hockey centre or a special needs school, the teams behind these buildings went the extra mile
ARK All Saints Academy & Highshore School, London
Architect: Allford Hall Monaghan Morris
Client: Balfour Beatty / London Borough of Southwark / ARK
Contractor: Balfour Beatty Construction
Submitted by: Allford Hall Monaghan Morris
This new south London project builds on architect AHMM's unique evolving experience of modular prefabrication construction within the schools sector to create an innovative education campus comprising no less than two new schools and a church. The novel dual-school configuration maximises site efficiency and enables both schools - an 800-pupil secondary school and a 98-pupil SLD (severe learning difficulties) school - to pool resources and promote collaboration across a variety of curricular and servicing needs. The schools are conceived as elegant rectilinear pavilions clad in Sips panels and composed of a kit of parts that still enables elevational materials, rhythm and scale to respond sympathetically to local context and character. The church is distinctively expressed as a chaste, white chapel providing a new architectural landmark within the site and beyond. The project provides a new and inspirational model of school design that harnesses the efficiencies of prefabrication to provide a unique yet pragmatically conceived educational campus.
Lee Valley Hockey and Tennis Centre, London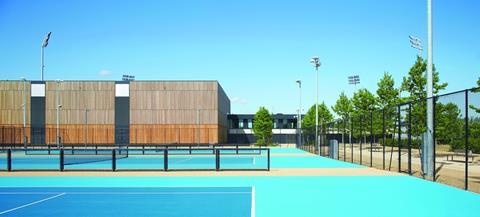 Architect: Stanton Williams
Client: Olympic Delivery Authority / London Legacy Development Corporation
Contractor: CLM
Submitted by: Stanton Williams
The 2012 Olympic Games seem to belong to the far distant past - but their legacy is still taking shape across their east London host site almost three years after the games took place. The latest addition to the Queen Elizabeth Olympic park is the new Lee Valley Hockey and Tennis Centre, which served as the London 2012 Olympic and Paralympic Aquatic Training and Paralympic Wheelchair Tennis venue. As such, it was the only purpose-built Paralympic venue in the history of the Games. Based on an innovative "build it once" approach, the design ingeniously laid temporary Olympic facilities on top of the venue's permanent post-Olympic configuration, enabling the former to be easily removed once the Games were over, a model for post-Olympic venue conversion. Accordingly, the three 50m swimming pools, nine outdoor tennis courts, synchronised swimming pool, water polo pool and 10,500 capacity seating of Games mode have now been transformed into a 3,000-seater hockey stadium, 10 indoor and outdoor tennis courts, a hockey pitch and a mountain bike trail. Logistical efficiency is also matched by distinctive design as Stanton Williams' signature streamlined geometries and linear profiles are deftly applied to the varying requirements of each phase.
London School of Economics – Saw Swee Hock Student Centre, London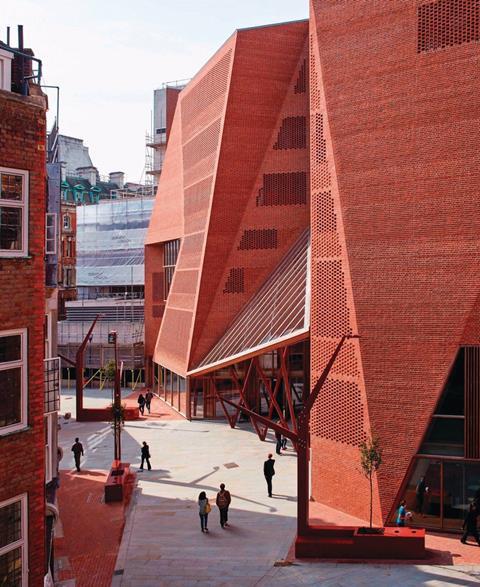 Architect: O'Donnell + Tuomey
Client: London School of Economics
Contractor: Geoffrey Osborne
Submitted by: London School of Economics
Stirling prize runner-up Saw Swee is one of the most celebrated public buildings of recent years. It provides a masterclass in how a new building can retain a dynamic and avowedly contemporary form and character while still being seamlessly integrated into a dense historic townscape and labyrinthine street pattern. The new student building's conservation area location is at the heart of LSE's central London campus and is located on an awkward confluence of several pedestrian lanes and alleyways. The building acts as a knuckle that absorbs these various axes and as such its envelope, an extraordinary shifting ziggurat of folding planes, skewered profiles and lattice brickwork, is a forcefully kinetic response to its constricted location. In more pragmatic terms, it also skilfully accommodates the multiple right to light restrictions imposed by the dense context. Internally the design persists in a similar vein and offers a series of dynamic spaces often defined by exposed steel trusses and ribbed concrete slabs. With a reliance on passive environmental measures such as natural cross ventilation, solar shading and thermal mass optimisation, the building's committed sustainability strategy carries as much conviction and strength as its architecture.
ORTUS, London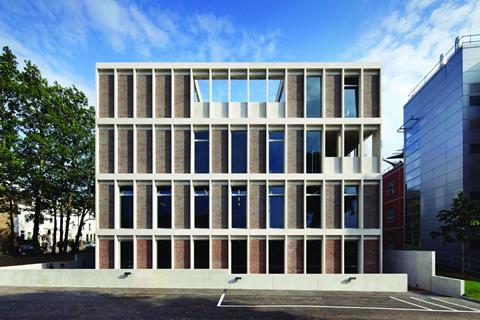 Architect: Duggan Morris
Client: Maudsley Charity
Contractor: Cavendish Berkeley
Submitted by: Duggan Morris
This exceptional pavilion is a tour de force in terms of both healthcare provision and architectural design. The 1,550m² facility provides learning, event, cafe and exhibition facilities for the Maudsley hospital campus in south London. But these otherwise conventional spaces are based on a radical pedagogical concept, to raise knowledge and awareness of mental health issues by creating a completely immersive and interactive virtual learning environment. This learning can be undertaken through group and individual activities and also includes the promotion of digital awareness via social media. The architectural response is equally ambitious. Duggan Morris has crafted a building of extraordinary sculptural presence and detail with its envelope conceived as a mesmeric brick and pre-cast concrete grid that manages to evoke but not impersonate the Georgian principles from which it was derived. Internally, a series of interconnecting spaces, finished with the same exposed masonry as the exterior and centred around a dramatically folding staircase, actively facilitate the informal connections designed to encourage shared learning. Completed on time and on budget to a PPC contract, the scheme's BREEAM "excellent" rating is indicative of its impressive sustainability performance.
One Embankment Place – PricewaterhouseCoopers, London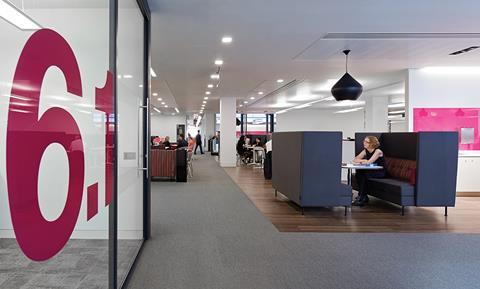 Architect: TP Bennett
Client: PricewaterhouseCoopers
Contractor: Overbury
Submitted by: Turner & Townsend
With its distinctive barrel-vault roof straddling Charing Cross station at one of the most prominent turns of the Thames, the commanding profile of One Embankment Place is among the most instantly recognisable of any modern building in London. But until very recently its interiors were an unprepossessing procession of pallid 1990s corporate interiors that lacked the impact of the exterior. These have now been completely swept away by a pioneering refurbishment project that has transformed the office into a landmark "business hotel". Two previously separate atriums have been combined to open up the interior and flood all floors with natural light. Scenic lifts and the prolific use of corporate brand colours also animate an interior whose workspaces and circulation areas now maximise visual connectivity and social interaction. Moreover, all this has been achieved alongside a landmark environmental strategy that has seen the building achieve the highest ever BREEAM score for a UK office building to date.
Bletchley Park, Milton Keynes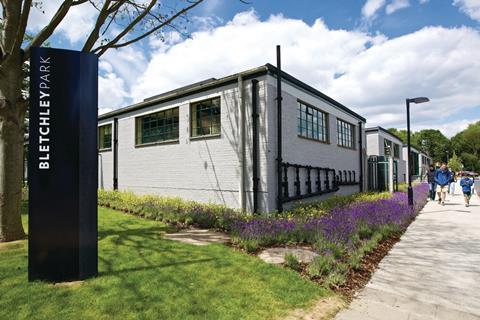 Architect: Kennedy O'Callaghan
Client: Bletchley Park
Contractor: Fairhust Ward Abbotts
Submitted by: Fairhust Ward Abbotts
Holding the royal warrant for building and decorating services to the Queen means that contractor FWA is used to working in some magnificent surroundings. But while Bletchley Park may lack the grandeur of a palace, few other places could match it for sheer historic significance. It was in its modest utilitarian huts that the infamous Enigma code was broken during the Second World War, a development that ultimately helped secure an Allied victory and determine the course of world history. One of the huts has now been converted into a new visitor centre telling Bletchley's incredible story. The remainder have been carefully restored in a venture that encountered enormous technical challenges. The huts, which were only built as temporary buildings, were in a deplorable state and had to be carefully jacked up to replace decaying soleplates. Other challenges included the removal of asbestos and the replacement of multiple windows. But the real ingenuity of the project lay in the fact that this restoration achieved modern environmental standards while simultaneously delivering a retrofit back to the huts' forties configuration. It thereby represents an inspired variation of the traditional conservation approach.
Weston Library, Oxford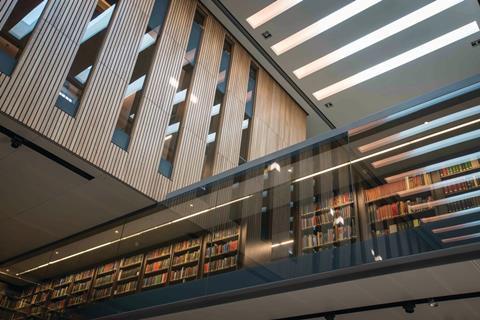 Architect: Wilkinson Eyre
Client: Bodleian Library, University of Oxford
Contractor: Mace
Submitted by: Mace
The Bodleian may be one of the oldest libraries in Europe but its newest wing has been given a spectacular makeover that should secure its future for several generations to come. Housing countless priceless books and manuscripts, what was formerly known as the New Bodelian Library previously occupied a thirties building whose 11-storey central book stack incorporated an unprotected steel frame that left one of the world's great library collections perilously exposed to enormous fire risk. To minimise vibration to the rest of the building, this frame has been meticulously dismantled floor by floor and replaced by a "floating" stack structure dramatically hoisted over a soaring new entrance hall. Externally the building remains largely the same but crucially, a new entrance and forecourt enable the building to relate to its celebrated Oxford neighbours for the first time, amongst them seminal works by Wren, Hawksmoor and Gibbs. The Weston Library is a superlative example of engineering prowess generating architectural spectacle.
Manchester Town Hall, Complex Transformation, Manchester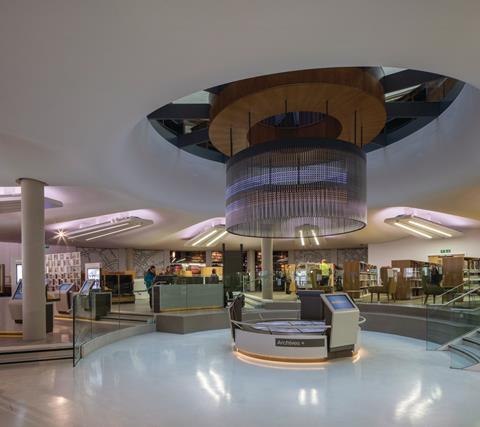 Architect: Ryder / Ian Simpson
Client: City of Manchester
Contractor: Laing O'Rourke
Submitted by: Laing O'Rourke
By any standards, the wholesale transformation of two of Manchester's most iconic civic buildings has been a heroic undertaking. The colonnaded domed rotunda of Manchester Central Library conceals a comprehensively reworked interior where a dramatic new atrium and circulation strategy have been carefully interwoven into beautifully restored original interiors, including the spectacular main reading room. Next door the Town Hall Extension building had also suffered from piecemeal intervention and insensitive alterations. Now the building's physical fabric has been completely rejuvenated with an additional 350 workspaces benefiting from the removal of partitions and the creation of new work and public areas. The public space between the two buildings has also been re-designed. Moreover, the client has wisely harnessed the collaborative power of BIM to deliver the kind of certainty and monitoring capabilities normally lacking in large, complex public sector projects of this kind. In this pioneering way, the transformation of this key civic campus has set significant technical and municipal precedents that could well have an impact on a national scale.
The Building Awards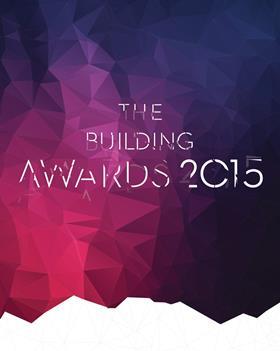 To see the full shortlists for the awards, and for information on booking your ticket, go to www.building-awards.com
See next week's Building for the Small Projects shortlist