The £1bn North West Cambridge Development is Cambridge university's answer to a critical housing shortage for its students and staff. But instead of getting the private sector to build for it, the university has taken on the role of developer itself
Cambridge university has a problem. In the last academic year the world-famous institution's accommodation service received between 12,000 and 14,000 enquiries from staff and post-graduate students looking for somewhere to live in the city. And yet the university only has access to 360 properties in which to house them, many of which are not even owned by the university but are individual flats or houses leased from the private sector.
The obvious result is that the university is now facing a chronic housing shortage. This to a very large extent is a problem faced across Cambridge. In many ways the city is a victim of its own success. In the past 10 years its population has increased by 11% and employment has risen by almost 32%, three times the national average. And since the 2008 financial crash property prices have increased by 7.5% per year meaning that Cambridge is now one of the very few places outside the capital to maintain London-level property values.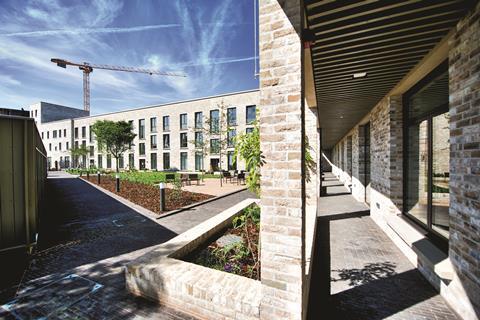 But with 20% of Cambridge's economy now driven by a booming technology and scientific sector dominated by Cambridge post-graduates, the limited housing supply is having an acute impact on the university in particular. Staff and student numbers are predicted to increase by 8,000 over the next 25 years, so the university decided that it was time to act.
Gavin Heaphy, construction director at North West Cambridge Development, established by the university to deliver the scheme, explains: "We could no longer rely on the market. We have a situation now where we have staff and students living in flat-shares miles outside the city because they can't afford to live here, that simply isn't economic or sustainable. We can't just rely on the Cambridge brand to maintain our position, we have to actively compete in the global university marketplace. And that competitiveness depends significantly on our being able to find a solution that provides affordable accommodation within the city."
That solution is the £1bn North West Cambridge Development. The development aims to provide 3,000 homes, half for sale to the private sector and half affordable housing for university staff. A further 2,000 bedspaces are planned for post-graduate students as well as 100,000m² of research facilities.
A significant retail presence has also been incorporated into the overall masterplan as well as a number of new schools. A hotel on the site is set to open next year. Full completion is not expected until the end of the next decade but Phase 1, which includes around 700 homes and has now been named Eddington, has recently finished with the subsequent two phases rolling out over the coming years.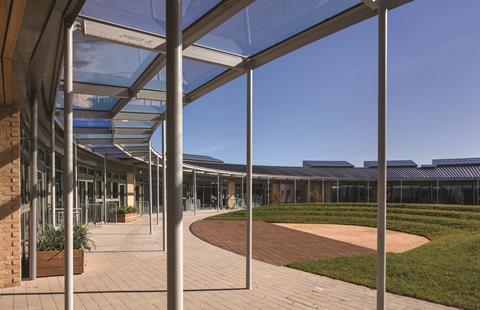 University housebuilder
But beyond the scale of the project, the really interesting aspect to all this is that it is Cambridge university itself directly undertaking the role of developer, rather than waiting for the private sector, or central or local government for that matter, to catch up with the urgent housing requirements of its staff and students. As North West Cambridge project director Heather Topel reveals, it's a novel approach. "Many universities expand student housing but providing staff accommodation hardly ever happens. Consequently, despite a huge amount of research, we couldn't find an existing development model that really suited our needs, so we decided that developing the site ourselves was the best way of meeting our requirements, even if we acknowledge that developing the site is something different and unique."
The choice the university made to build the housing itself was facilitated by the fact that North West Cambridge is being built on 150 hectares of university-owned farmland on the edge of the city by the M11 motorway. The land is not part of the university's extensive ancient holdings; it was purchased only around 100 years ago and has been primarily used as grazing and pastureland ever since. As one might expect, Cambridge university is one of the biggest landowners in the city but Cambridge North West is the largest – and most central – of the various developments the university is working on on its outlying suburban areas.
The project is also the result of what Topel describes as a "deliberate and considered" planning strategy that has unfolded glacially since the 1980s when the university, with admirable foresight, first predicted that future housing supply would need to be dramatically increased. Outline planning permission was won in 2013 and construction started shortly after that.
So how then is Cambridge university, not of course a natural housebuilder, ensuring that a development of this massive scale works? Topel sums it up in one key word: "Community. This isn't purely an academic or residential campus; we see it as an extension of the city, it's part of Cambridge. And in order for that to work, we had to make it a community project from the outset.
"That's why we've invested heavily in public transport with new bus routes and a new cycle superhighway. We've also provided retail, schools and a health centre so that it feels like a neighbourhood in its own right and, like any normal neighbourhood, you get a diverse mix of different communities integrated together."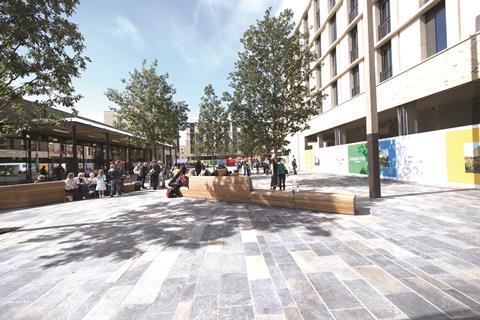 Architecture
A key part of creating this community character is the architecture. The masterplan, developed by Aecom, creates a network of streets and public routes arranged around a key central space known as Market Square, which is now complete. The site-wide infrastructure was delivered by contractor Skanska. The square plays host to a large Sainsbury's supermarket – a key device in attracting those living outside the development.
A number of renowned architects are working on the site and have completed various Phase 1 buildings. The recently completed affordable housing by Maccreanor Lavington and Witherford Watson Mann was constructed by RG Carter. Other architects working on the scheme include Wilkinson Eyre, Stanton Williams and R H Partnership, who are responsible for Eddington's affordable housing blocks, Marks Barfield has produced its distinctive doughnut-shaped school, which was built by Willmott Dixon. Wilkinson Eyre, along with young local practice Mole, has designed the supermarket, which was built by Bam Construct. Future buildings are to be designed by Alison Brooks and Dutch practice Mecanoo.
It's a stellar list and thus far at least, the architecture of the development is exemplary. The masterplan dictated buildings of no higher than five or six storeys and this sets a handsome mansion block scale that is replicated throughout the site. While Topel claims that "the masterplan was not prescriptive on materials", brick is used predominantly, creating an effect which, in Heaphy's words, is representative of the masterplan's ambition to use "traditional materials in a modern way".
The flat blocks themselves are primarily simple, rectilinear boxes with streamlined geometries and solid facades expressively punched with windows, balconies, decks and colonnades. This embellishes them with a sculptured quality; one rendered all the more vivid by the rich, chalky texture of the pale brickwork used.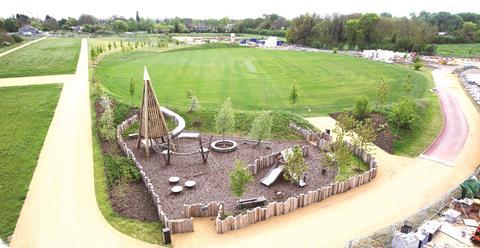 Blocks often enclose courtyards to mimic the collegiate quality of historic Cambridge colleges and while some of the public spaces feel somewhat arid at present, they are likely to be more animated when more densely populated by people and maturing landscaping.
Topel says that despite the array of architects involved, the university maintained overall design control by establishing a design review panel through which all design decisions had to be signed off. This shows in the completed buildings, all of which reveal largely the same level of sharp, angular precision but also exhibit enough depth, interest and variety to lay the foundations for a genuinely characterful neighbourhood in the future.
Green belt
As Cambridge struggles to address its housing crisis, this has led to an increasing amount of development on its green belt land, a process that has led to much debate, conflict and at times resistance across the city. North West Cambridge is one such site, secured as a result of a 2009 development policy agreed by the university and the city council. But despite or perhaps because of this easement, the university claims to have used the development as a means to reiterate its commitment to sustainable design and insists that it takes its environmental responsibilities seriously.
As a result a number of sustainable features have been incorporated on to the site. An artificial lake has been built at the foot of a 5m slope to the edge of the site to collect rainwater, treat it and then re-use it as toilet water throughout the development.
The presence of the lake has also led to the creation of an undulating parkland area around it, creating a recreational amenity for residents. The development makes extensive use of solar panels, generates power through a gas-fuelled CHP energy centre and offers cycling and bus facilities to discourage car use. Moreover, of its 150 hectares, 60 are either green or public space.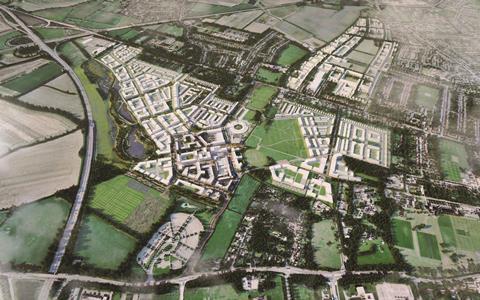 For Topel, these are the kind of measures that make the case for building on greenbelt land in exceptional circumstances. "There's always tension between housing and greenbelt. But if the development is high quality, affordable and environmentally responsible, then, in our own case, we can secure the future growth of the university and the city."
And it is growth that is perhaps the key legacy of North West Cambridge because it represents problems that apply to successful cities everywhere, not just Cambridge. The justification for building on green belt land remains starkly ideologically polarised and is never likely to win broad consensus. But in terms of solving the housing crisis, North West Cambridge sets an admirable precedent that proves that whoever the developer is, design, public transport and community remain at the core of creating successful places.

There will be a session on the housing crisis at the Building Live conference. Book your place at www.building-live.co.uk