A previously reviled brutalist eyesore in Northampton has been transformed by Architecture Initiative into a light-filled, airy and dynamic academy school. Ike Ijeh gives it top marks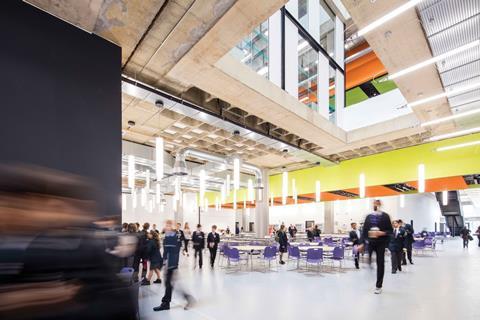 When contemplating the term "brutalist concrete eyesore", very few buildings fitted the bill as well as Northampton's former Royal Mail Sorting Office. Officially opened by Northamptonshire's own Princess Diana at one of her first public engagements after her 1981 wedding, the hulking brick and concrete monolith on the edge of Northampton city centre spent just 22 years as a largely unloved local landmark before promptly closing for good after a fire in 2003. Subsequent plans to convert it into a supermarket came to nothing and over the ensuing decade the abandoned building enshrined its eyesore status by falling into an advanced state of dereliction and becoming home to an indeterminate number of squatters, trespassers and pigeon carcasses.
But today the building has undergone an astonishing transformation. London-based practice Architecture Initiative has now fully refurbished and converted the building into the Northampton International Academy, a vast 2,200 pupil place academy school catering from reception age to sixth form. In response to sharply rising local demand for school places, the school can accommodate 420 primary pupils, 1,500 secondary pupils and 300 sixth formers.
All are housed in a warren of new classrooms, circulation spaces and communal halls dramatically carved into a previously reviled concrete block that just six years ago was being seriously considered for demolition. So how on earth was a concrete eyesore designed in the most inflexible of architectural styles transformed into one of the most architecturally unique and dynamic school conversion projects in the country? And on a broader level, what can it teach us about how large, derelict inner-city buildings can be adapted and repurposed for new vital uses?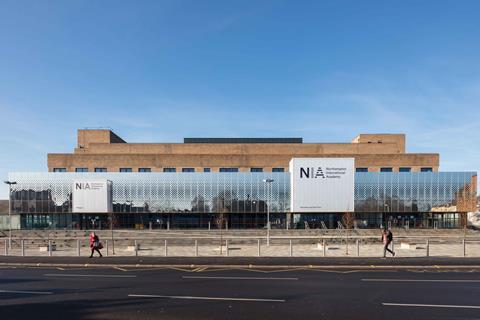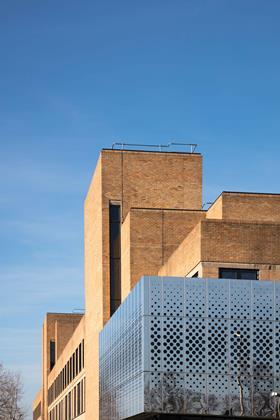 Solid concrete
Despite its dilapidated state, one of the first things the design team noted about the building is that by and large it was structurally sound. Brutalist buildings are by their nature incredibly solid and impermeable concrete structures and while this makes them more difficult and expensive to demolish, it does ensure their longevity. Accordingly, with its concrete buttresses and thick largely windowless walls, the former sorting office was designed to be virtually bomb proof. In addition, the building's relative lack of windows and the fact that its roof had stayed largely intact meant that the natural elements that normally inflict such damage when dereliction affords them entry had been largely kept out.
So not only was the building structurally sound, as Architecture Initiative director Rowan Parnell explains, it actually contained features they sought to retain. "It had this series of huge incredible spaces with floor to ceiling heights up to 6m high. Its structural grid of 12.6m x 10.8m was also extremely generous and allowed a huge degree of freedom for the new layout. The building is very much like a shoebox measuring approximately 100m x 60m and allowing a rational, orthogonal plan. And it also had masses of these wonderful exposed waffle slabs, not quite as polished as what you might find at the Barbican but still very much evocative of the period in which it was built."
These characteristics eventually went on to form the basis of the design concept developed for the building's renovation. Accordingly, most of the building's original structure and envelope has been maintained. Externally the building looks different in only three ways. First, a generous new stepped plaza has been created in front of the building's main street facade.
Secondly this facade has also been softened from its previous blank and intimidating brick state by the addition of perforated polished metal screens and two illuminated translucent signage boxes that indicate the school's primary and secondary entrances. The highly reflective surface of the metal screens has been selected to mirror some of the listed buildings that lie beside and opposite the school (it sits in a conservation area) and the perforations provide an abstract homage to the brogue shoes that are a part of Northampton's proud shoemaking and manufacturing heritage.
The third way in which the building exterior has been changed has been by the addition of scores of new windows. Brutalism favoured solidity over transparency which meant that the former sorting office only previously sported a single narrow strip of ribbon windows along its side elevation. This has been replaced with masses of new windows to provide light and ventilation to internal classrooms. Interestingly these windows are the parallel opening type. Not only does this maximise the amount of air and daylight they admit but it allows the facade to change dynamically at various times of the day depending on which windows have been opened.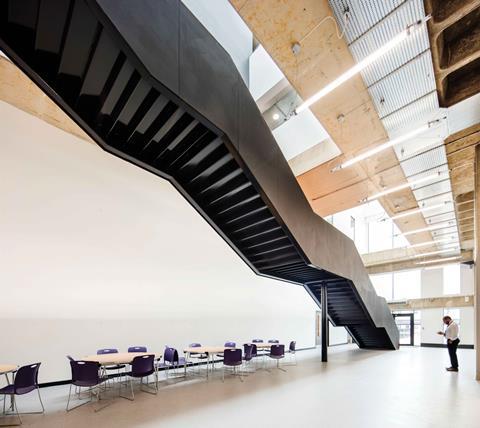 Inside design
Inside, the design is far more invasive. While the building straddles a number of complex level changes, as built it was largely a three storey block that has now been changed to between five and six levels. Classrooms have generally been arranged along the perimeter of the building in order to maximise their exposure to natural light. Within the classrooms the generous 6m floor to ceiling height has also been generally optimised by the insertion of a steel-framed mezzanine classroom set back from the external wall above. These are hung from the waffle slab ceiling above rather than supported by columns so as to not transfer undue additional loading onto the floor slabs.
Around the inner face of the perimeter classrooms runs a continuous circulation route, to all intents and purposes the active spine of the building. These are incredibly dynamic spaces extending over the full height of the building and containing a number of new staircases and balconies that straddle the plunging voids created within the existing structure. They are usually surmounted by roof-lights in order to admit as much natural daylight into the deep plan as possible.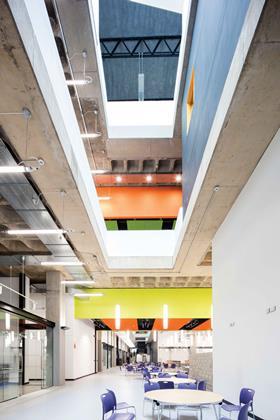 Consequently these circulation voids are critical to the design of the new school in both spatial and daylighting terms, and by cutting away at the existing floor slabs they mark the most extensive structural interventions that took place on the project. They were formed by first the floor slab being propped from below to allow the holes themselves to be cut into it. Once the full extent of the void had been created, the edges were nibbled away to expose the rebar within the reinforced concrete slab. This rebar was then fixed to a new ring beam inserted around the void which enabled the removal of the temporary floor slab props. Finally, the new ring beam was cast in concrete and then left exposed as the finished edge of the void. The voids could only be formed through the waffle section of floor slab because every original structural column contains a large solid capital whose removal would have complicated the build process.
This void forming process was repeated time and time again at dozens of new openings along the circulation route and these voids transform the interior into a dramatic, chasm-like gorge of swooping overhead balconies and sudden plummeting voids. These are framed around an infinite number of snatched glimpses that cast a myriad oblique almost urban views deep into the interior. The circulation space is further charged by the huge number of break out and learning spaces that bleed into it, a happy consequence of the fact that at a stupendous 22,250m², this school is around 50% bigger than the Building Bulletins recommended area for a school this size a new-build 2,200 place academy. Colour and signage assist with wayfinding but do not detract from the raw, industrial quality of this space – a quality enhanced by the retention of sorting office era markings on walls and the constant dimpled presence of the waffle slabs overhead, their staining and rough-hewn concrete edges wisely retained.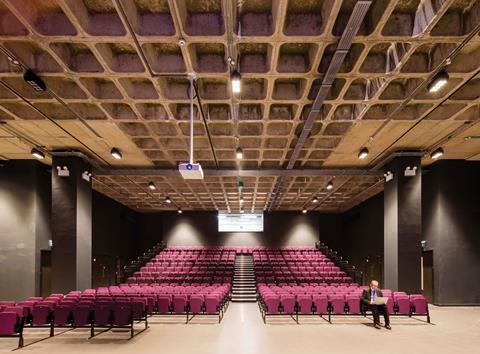 The final component of the building in its innermost core which is encircled by the circulatory perimeter is allocated to a number of large communal spaces. On the ground floor this is formed as a theatre with adjacent dining space, occupying the full 6m height. Above this is bank of science labs. And on the top floor is a vast sports hall lit with translucent polycarbonate top level windows. This has been formed from the former staff canteen and a former rooftop terrace on which postal workers would eat lunch or play football. A rooftop terrace has been created beside sixth form accommodation and the new sports hall.
Parnell summarises three guiding principles that informed the project, "natural light, the circulation spaces and ventilation." All three work in unison to construct the design and environmental strategy for the building. The circulation space admits light into the interior and disperses borrowed light gained through the classrooms and mezzanines. And the new perimeter windows which admit this light also draw in external air which is released upwards through the circulation space in a stack effect ventilation system.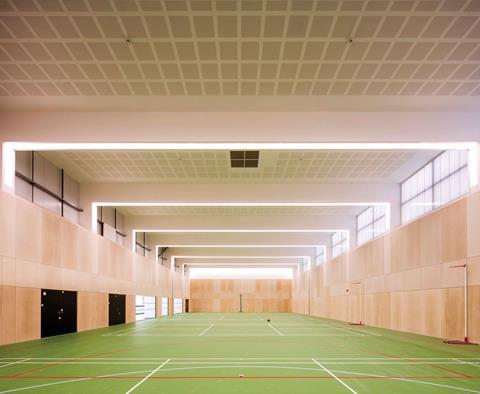 Though a clearly complex refurbishment and adaptation project, these principles highlight the conceptual simplicity on which the entire project has been based. For Parnell, they also suggest why conversion rather than demolition was appropriate in this instance. "The structure was just so solid and robust that it made sense to try and reuse it. It was also of a scale and generous enough to allow genuine freedom with regard to the adaptation. And location was also important. If this was in London, it would probably be demolished for luxury flats. But it's in a part of Northampton that can't sustain those kinds of land values but is also crying out for school places. We feel this forms the best solution."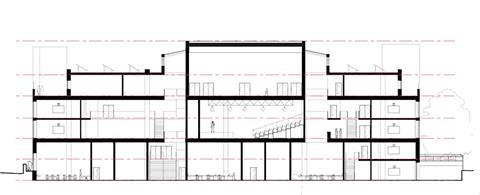 It is ultimately these two factors of scale and location that have made the Northampton International Academy a viable redevelopment proposition and offer lessons as to where this kind of project could and couldn't be replicated. For instance, smaller brutalist buildings in more desirable areas, such as John Madin's demolished Birmingham Central Library, would inevitably have a shorter shelf life.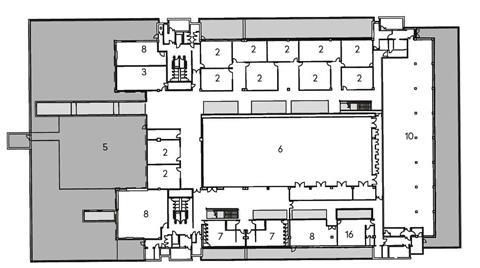 But what is genuinely surprising here is how much of the previously derided character of the original building has been retained and re-presented as an asset rather than a burden. Scale, solidity and utilitarianism have all been emphasised here to the benefit of the finished product, an outcome most vividly conveyed by the wonderfully vertiginous new circulation street cut into the building and the buoyant tracery of waffle slabs carefully retained in their stained, riven form. The Northampton International Academy provides dramatic and compelling proof that as ever with refurbishment, the key is not just scrutinising what comes in but understanding what is already there.
Project team
Architect: Architecture Initiative
Client: Northamptonshire council / East Midlands Academy Trust
Main contractor: Vinci Construction
Structural engineer: Mace Group
Services engineer: Mott MacDonald
Quantity surveyor: Currie & Brown
Landscape architect: Architecture Initiative / Plincke
Project manager: Turner & Townsend