Sixteen buildings - including laboratories, galleries, banks, the UK's second tallest building and a space-shuttle-strength storage facility - are vying for two top prizes at this year's Building Awards. Ike Ijeh runs down the shortlist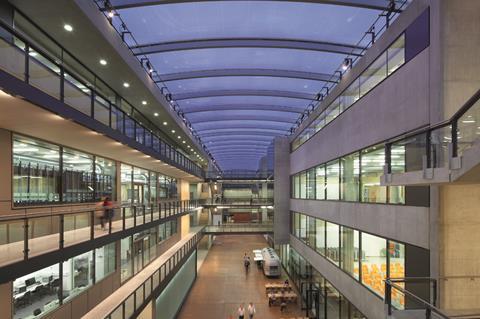 BUILDING MAGAZINE PROJECT OF THE YEAR CATEGORY
Royal Welsh College of Music & Drama, Cardiff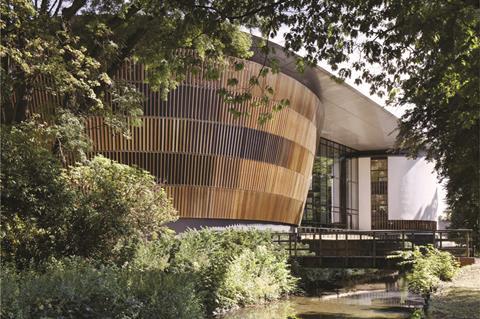 Squeezed between a major Cardiff highway on one side and rolling parklands on the other, the Royal Welsh College of Music & Drama dramatically navigates between the urban and the picturesque. A curved, sweeping veil of triple-height stone fins sets the monumental tone of the civic facade while a perforated timber screen wrapped around an oval auditorium dissolves into the natural landscape at the rear. A soaring double-aspect foyer offers plunging views between city and park while the entire composition - including two new auditoriums, teaching spaces and public gallery - is theatrically crowned by a swooping, cantilevered steel canopy.

client Royal Welsh College of Music & Drama
architect BFLS
contractor Willmott Dixon
entered by BLFLS
New Court, London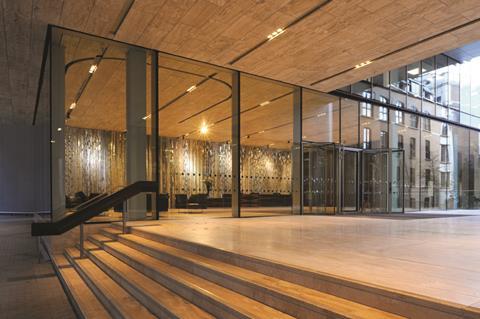 The fourth Rothschild bank to occupy this historic City site is probably the most surprising. Wedged into a typically dense corner of the City and located within the Bank conservation area, the opportunities for radical development may appear slim. But a contemporary building of substantial height and bulk has been subtly woven into a highly constricted urban fabric and has even opened up a magnificent, previously unseen view of the Wren church beside it. The ground floor foyer areas are awash with travertine and this sets the tone for the decadent corporate interiors beyond. Walls mounted with printed woven silk and laser-etched brass panels help toe the line between tradition and modernity and the glazed sky lobby offers spectacular City panoramas.
client NM Rothschild & Sons
architect Office for Metropolitan Architecture
contractor Lend Lease
entered by Lend Lease

Manchester Metropolitan University Business School & Student Hub, Manchester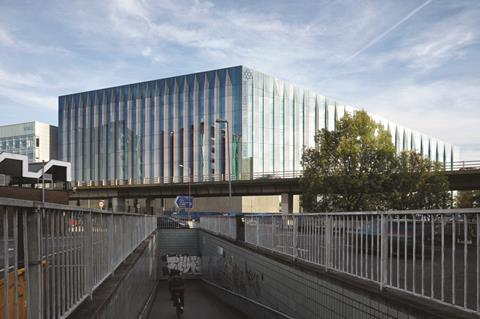 Sparkling like a giant laser-cut diamond discarded amid the Manchester townscape, the new Metropolitan University Business School cuts a luminously svelte and crystalline figure. The chamfered, wedge-shaped block is wrapped in a pleated glass envelope trimmed with cantilevered dichroic glass fins. These refract and distort light and colour like the glistening surfaces of a prism. Internally. two soaring, chasm-like foyers are cut into each floorplate, each one with exposed concrete sheer walls that rise up to the building's full height of four and seven storeys respectively. These walls form a solid and monumental foil to the polychromatic mutability of the exterior.
client Manchester Metropolitan University
architect Feilden Clegg Bradley
contractor Sir Robert McAlpine
entered by Feilden Clegg Bradley
British Film Institute Master Film Store, Warwickshire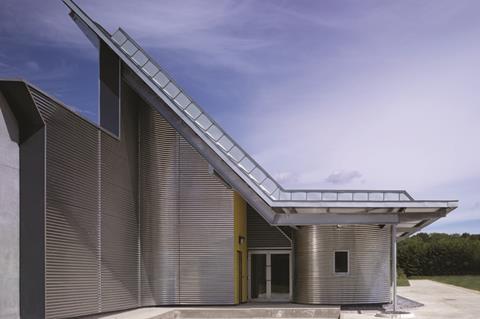 Not much of rural Warwickshire's architecture incorporates Nasa technology, but the BFI's new film storage facility is an exception. Containing almost half-a-million canisters of historic film reels, the building provides sub-zero, low-humidity storage conditions to offset the lethally flammable properties of nitrate celluloid. Consequently, the canisters are stored in cells arranged along the perimeter of the building. Each cell is fitted with a stainless-steel blast door engineered with space shuttle patented thermal ceramics capable of withstanding temperatures of up to 1,400°C. The building skilfully combines high technical specifications with dignified, streamlined elevations combining rhythm and restraint.
client British Film Institute
architect Edward Cullinan Architects
contractor Gilbert-Ash NI
entered by Edward Cullinan Architects
Heron Tower, London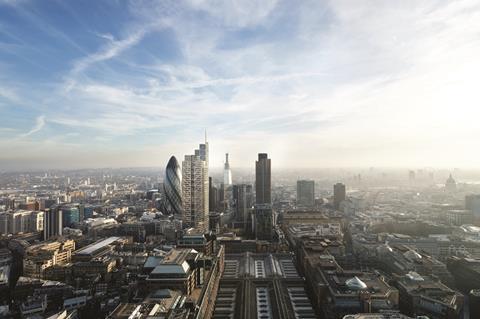 Britain's second tallest completed building has pitched itself as the City of London's first "six-star advanced business life environment". Its radical internal arrangement sees the core pushed from the conventional centre of the tower to its southern facade to provide solar shade and optimise lettable area. It also eschews the traditional open-plan office in favour of three-storey "villages". These can be further sub-divided into a cellular layout and are primed to attract smaller boutique financial organisations. Unlike many London skyscrapers, two restaurants will also provide public access to the top.
client Heron International
architect Kohn Pedersen Fox
contractor Skanska
entered by Skanska
Sainsbury Laboratory, Cambridge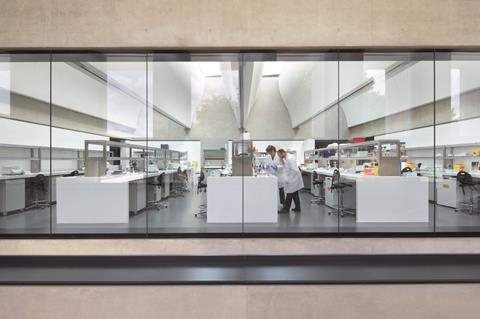 With few notable exceptions, scientific laboratories have never been considered the most glamorous forms of architecture. But the Sainsbury Laboratory succeeds in setting the record straight. Its entrance elevation is a tour de force of sculpted power and proportion. A plunging ground-floor cantilever and a continuous upper colonnade form a serene stone veil of rhythmic angular precision. But by the rear facade, the solidity of the building envelope has dissolved into a porous profile of glazed openings and horizontal overhangs that merge seamlessly into the surrounding landscape. The dynamic geometry continues inside with a precipitous overhead network of bridges and balconies spanning the double-height foyer.
client University of Cambridge
architect Stanton Williams
contractor Kier Regional
entered by Stanton Williams
PUBLIC BUILDING PROJECT OF THE YEAR CATEGORY
AirW1, London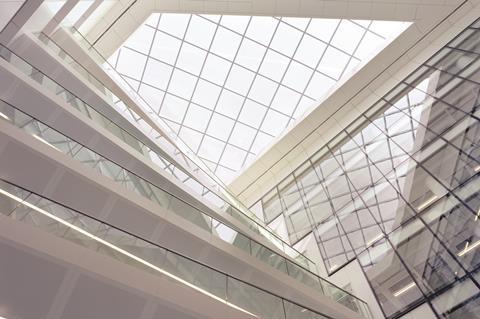 Conservation has rarely looked as radical and invasive as it does on AirW1. The latest phase of the Crown Estate's comprehensive renewal of Regent Street involves the commercial redevelopment of the former Regent Palace Hotel behind John Nash's famous Quadrant. The original facades at each corner of the triangular-shaped block have been retained to form distinctive classical prows, each one dripping with gregarious and lovingly-restored neo-baroque detailing and surrounded by newly pedestrianised public spaces. A contemporary block fills the void between the prows, externally faced in faience and encrusted with a swerving full-height atrium at its centre. A centralised underground plant hub not only serves the building but the three associated developments around it and includes the only hydrogen fuel cell of its kind in the UK.
client Crown Estate
architect Dixon Jones
contractor Sir Robert McAlpine
entered by Crown Estate
The Gateway Building, Loughborough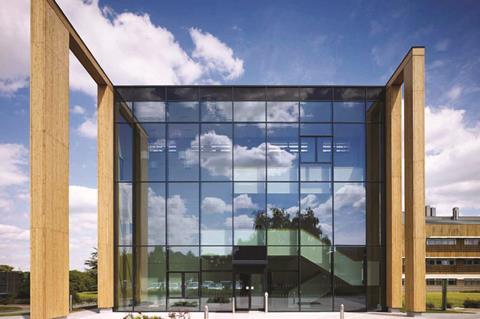 Straw has never been the most obvious modern construction material, until now. The University of Nottingham's biosciences faculty is full of it. The external walls are formed by 14m-high timber cassettes faced with rendered cementitous board and filled with highly compacted straw. Incredibly, the straw provides sufficient insulation and fire-protection properties and was produced at the university's own extensive farm holdings, thereby reducing the building's cost. The exposed timber sections of the exterior and the robust utilitarian character throughout enable the building to remain true to its pioneering environmental roots.
client University of Nottingham
architect Make Architects
contractor Herbert Baggaley Construction Ltd
entered by Make Architects
iCon, Daventry, Northamptonshire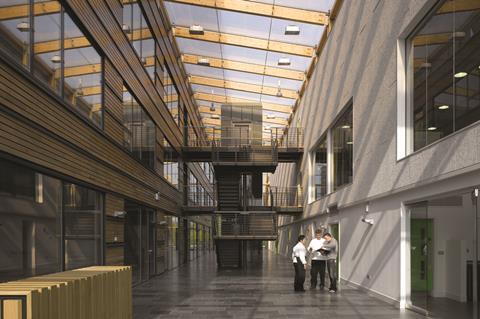 iCon sets out to prove that sustainability can be sexy. Its remarkable carbon footprint of 12.2kgCO2/m2 per year is not accompanied by the kind of tepid banality sometimes associated with environmentally worthy design but by a confidently crafted architectural character. The dramatic, curved timber screen along its principal facade plays a central role in this, as does a full-height naturally ventilated public atrium behind it. A rear wing adjacent to this contains commercially lettable "incubator" units for start-up firms operating in the built environment sector and specialising in environmental innovation.
client University of Northampton
architect Consarc
contractor Winvic
entered by Consarc
HCA Hub, Hereford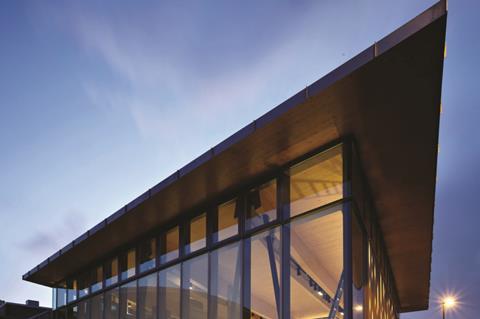 This charismatic little extension to Hereford College of Arts has dramatically transformed the way in which the college is used and also given it a brand new public face and image. The double-height multi-function foyer provides cafe, reception and exhibition space and gives the college a credible architectural frontage for the first time. Externally, the elegant glass and timber box with its crisp overhanging eaves provides a subtle yet distinct addition to the local residential townscape. Inside, its smooth timber finishes and unique "twisted trestle" glulam timber columns provide an impeccably crafted interior that remains both tranquil and assertive.
client Hereford College of Arts
architect Hewitt Studios
contractor Kier Moss
entered by Hewitt Studios

The Beacon Centre, Blackburn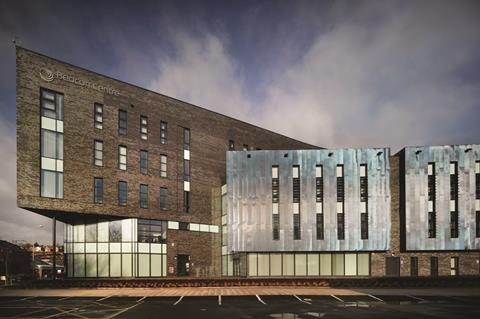 This hulking, stained slab of a building offers a character as brooding and dramatic as the East Lancashire hills that surround the former mill town of Blackburn. With its forceful massing, interlocking volumes and deep, crevice-like openings, the Beacon Centre emits a geological intensity that pays homage to the rugged landscape that surrounds it. Add to this the hard materiality of its shimmering black brickwork and perforated dark-blue stainless-steel cladding and the new college building provides a defiant and distinctive mix of local industrial heritage and bold contemporary expression.
client Blackburn College
architect DLA Architecture
contractor Bardsley Construction
entered by DLA Architecture

Riverside Museum, Glasgow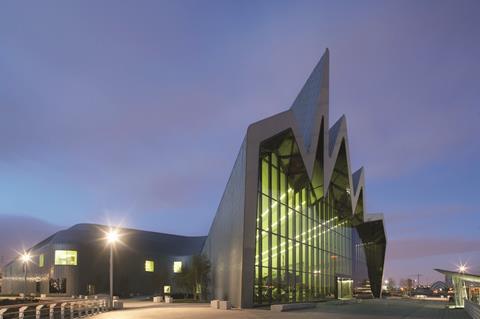 At its heart, the Riverside Museum is a powerful and poignant ode to Glasgow's great shipbuilding past. The entire building is essentially conceived as a giant zinc funnel that channels visitors from the city at its entrance to the magnificent view of the River Clyde that bursts forth from its gaping mouth. Along the way the building twists and widens in anticipation of its climax and the journey is constantly guided by the linear surge of the pitched roofs suspended overhead. With its entrance and river facades conceived as abstract representations of the steepled Glasgow skyline and windows framing landmark views cut into the side elevations, this is a building instinctively dedicated to the city it serves.
client Glasgow council
architect Zaha Hadid Architects
contractor Bam
entered by Zaha Hadid Architects


Endeavour Unit, James Cook University Hospital, Middlesbrough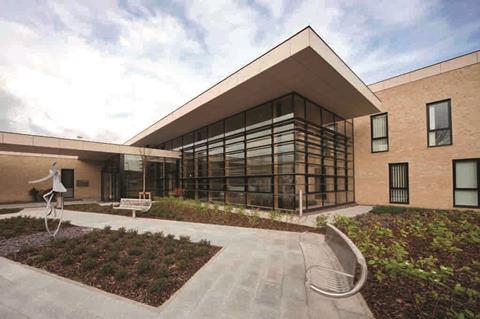 With its swooping overhangs and low-flung horizontal massing, the Endeavour Unit offer a simple yet dynamic example of modern healthcare design. Its pale brickwork and modest size also provide a domestic sense of intimacy and scale that is crucial in helping to de-institutionalise the hospital. In a further effort to mitigate the more oppressive clinical atmosphere commonly associated with healthcare buildings, high-specification materials such as Italian tiles have been employed on internal floors and walls. Oak-panelled ceilings and low-level lighting also feature.
client South Tees NHS Foundation
architect NBBJ Architects
contractor Interserve
entered by Interserve

University of the Arts campus for Central St Martin's, London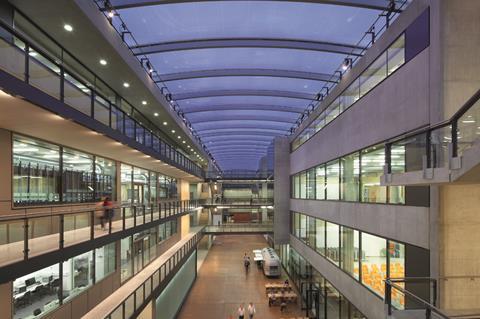 The new University of the Arts is the starting pistol for the huge King's Cross Central regeneration project, and on the evidence of this first completed building it promises great things to come. Central St Martin's first consolidated campus is a virtuoso mix of new and old and harnesses the robust, industrial heritage of the site to mesmerising effect. A gaping chasm-like atrium is formed between a Victorian warehouse and the new college building, while the college itself is a magisterial yet nuanced rendition of the Victorian utilitarian virtues of employing simple geometries to attain monumental character.
client University of the Arts London
architect Stanton Williams
contractor Bam
entered by Stanton Williams

National Martime Museum, London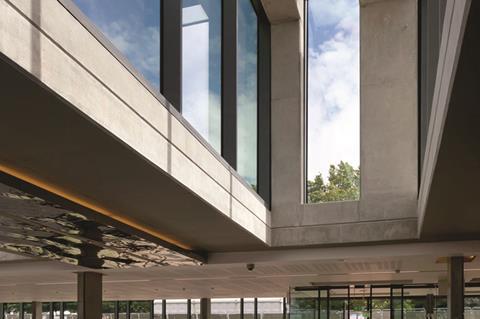 With a UNESCO World Heritage Site and Britain's first classical building, Greenwich isn't the easiest place to insert contemporary architecture. But the National Maritime Museum's new extension succeeds in sensitively combining conservation and modernity. Its low-lying stone pavilions are gently grooved into the verdant landscape of adjacent Greenwich Park in a winning act of contextual deference that belies the radical reorganisation within. A spacious, naturally lit concrete lobby provides a new park-facing main entrance and underneath it a cavernous exhibition space has been inserted into an excavated void.
client National Maritime Museum
architect CF Møller / Purcell Miller Tritton
contractor Lend Lease
entered by Purcell Miller Tritton
Hepworth Gallery, Wakefield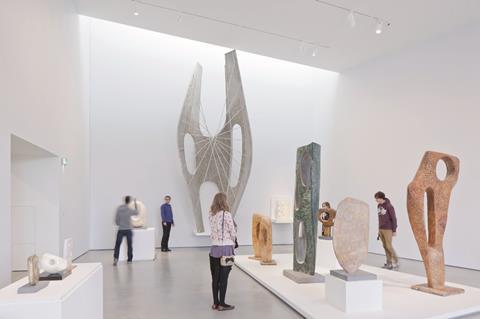 Wakefield's cultural rebirth continues apace with one of last year's most eagerly anticipated cultural openings. The Hepworth's dramatic weir-side location is fully optimised by its sepulchral, multi-pitched, concrete form being seemingly marooned on the River Calder. Internally the "enfilade" arrangement of the 19th-century museum is rejected in favour of a circuitous route that compels the visitor to seek out the next gallery entrance and thereby engage more closely with the exhibits. The interiors are characterised by a sculpted, minimalist precision throughout.
client Wakefield council
architect David Chipperfield
contractor Laing O'Rourke
entered by Turner & Townsend

HOUSING PROJECT OF THE YEAR CATEGORY
Shortlist
Anne Mews: AHMM and Mccreanor Lavington
Zero C: HTA
Kingston Mills: Linden Homes
The Triangle, Swindon: Glenn Howells
Clapham One: Cathedral Group PLC
St Andrew's: Allies & Morrison, Maccreanor Lavington, Glenn Howells