The humble British beach hut is being reconfigured for the 21st century. In Part 1 of this piece, Building looks at some examples of cutting-edge coastal design
Few buildings sum up the idea of a holiday more powerfully than a beach hut. Hotels and airports may be holiday staples but they can facilitate business as well as pleasure. And even resort cafes, bars and restaurants can technically double as work venues. But with a beach hut there is only one underlying and undeniably holiday-related ambition being sought: escape.
In Britain, the popular notion of a beach hut is of a miniature seaside structure with clapboard timber cladding, a pitched roof, perhaps a small veranda and often in an assortment of bright colours to counter the leaden skies of a British summer. In warmer climes this template assumes a decidedly more exotic feel with straw commonly replacing the clapboard and walls sometimes being removed entirely to assist the all-important breeze and views.
There are probably hundreds and thousands of huts across the world that conform to these familiar stereotypes. But like all stereotypes there are exceptions. And increasingly, those exceptions are not being viewed as functional and largely forgettable leisure amenities but are being deliberately designed and presented as genuine works of architecture.
In England in recent years, the small Sussex town of Littlehampton has much to do with this seaside architectural revival. The little resort now boasts beach structures by a stellar cast of contemporary architects including a beach cafe by Asif Khan, a beach performance pavilion by Flanagan Lawrence, a meandering 324m-long beach bench by Studio Weave and, of course, the landmark East Beach Cafe by Thomas Heatherwick that started it all back in 2007.
The Littlehampton case is interesting. None of its celebrated structures are beach huts per se but they all portray a stunning degree of architectural ingenuity lavished on functionary beachside facilities. Equally, they reveal the power of seafront architecture to elevate local profile, drive regeneration, increase tourism and, in its best instances, to capture something of the haunting and celestial quality of the sea.
This is in fact a long tradition that has existed on England's south coast (and of course elsewhere) right from the Brighton Pavilion to the De La Warr Pavilion at Bexhill-on-Sea and beyond but it is in the humble beach structure it is finding a new and contemporary voice.
So below is a selection of the new generation of UK seaside structures that are using radical contemporary design to redefine our perceptions about what exactly a beach hut can be.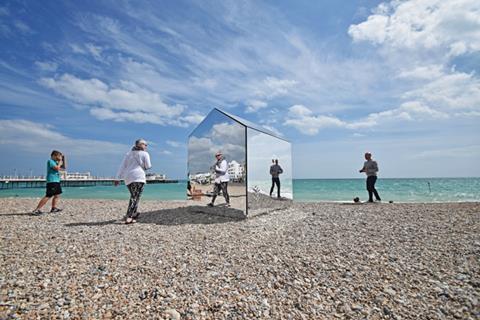 Mirrored beach hut
Worthing, West Sussex
ECE Architecture
2015
What is the star attraction of any beach? Beaches vary from sand to shingle but the one alluring constant is of course the sea. So what better way to capture the magical aspect of the sea than by having a beach hut that quite literally projects the sea onto the beach? This is essentially what ECE Architecture's solitary beach hut in Worthing attempts to do with beguiling results.
The concept is quite simple. A small timber-framed structure is perched near the shoreline with the typical gable roof of a traditional English beach hut. But the difference is that this hut is completely covered in mirrors allowing the structure to immerse itself in its surroundings and capture an infinite variety of warped, sloping snapshots of the sea.
The hut also doubles as a neat piece of construction comprising just seven timber components clad in laser-cut sheets of mirrored acrylic that took six weeks to design and assemble. But for all its technical simplicity, the real ingenuity of this project is the dynamism and intimacy with which its skin draws us closer to the natural landscape by playfully multiplying our perspectives of land, sky and sea.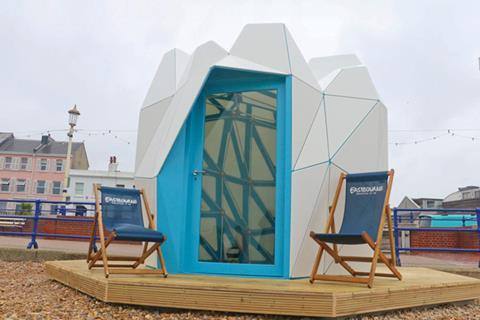 What Unearthed?
Eastbourne, East Sussex
Stephen Foley Architects
2017
Last year Eastbourne council ran The Huts design competition to find a number of "bespoke and iconic" beach hut structures to be built at key locations along the Sussex coastline. The brief called for the huts to be capable of hosting pop-up events and available for commercial hire.
The competition sparked international interest and there were five eventual winners, the first of which has been built and was unveiled only last month. What Unearthed? incorporates a small, prefabricated timber frame arranged into abstract, asymmetrical igloo-like form.
The frame is inspired by the skeletal remains found in a recent archaeological discovery at nearby Beachy Head (hence the title) and is clad in translucent panels that enable the structure to glow at night.
Other winners included an elliptical concrete hut shaped like a spyglass by Jak Studio and a constellation encrusted Stargazer's Cabin by London and Melbourne-based George King Architects. The second winning design is due to be constructed next month.
The second part of this feature will be published on Monday.