Next week the world's biggest sporting tournament after the Olympic Games opens in Russia. With seven brand new stadiums and two of the remaining five grounds virtually rebuilt, Ike Ijeh takes a look at the 2018 World Cup venues to see what architectural prowess will be on display
New stadiums
1. Saint Petersburg Stadium, Saint Petersburg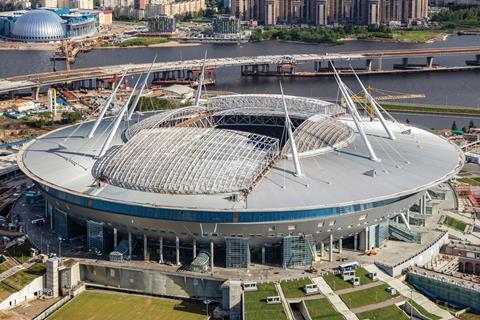 Completed: 2017
Architect: Kisho Kurokawa
Cost: £1.1bn (estimated)
Capacity: 64,287
Distance from Moscow: 425 miles
Matches: Group stages and semi-final
Not only does the home ground of Zenit Saint Petersburg football club occupy a prominent island site that offers commanding sea views over the Gulf of Finland, it is also said to be one of the most expensive and technologically advanced stadiums ever built. When celebrated Japanese architect Kisho Kurokawa won the competition to replace Saint Petersburg's old Kirov stadium in 2007, he already had World Cup form, having designed Japan's Oita stadium for the Japan-South Korea 2002 tournament.
Rather oddly, Saint Petersburg's design is based on that of Kurokawa's Toyota stadium also in Japan, an unusual pairing considering that Saint Petersburg is President Putin's home city and he is said to have specifically conceived the new stadium as a symbolic showpiece of Russian might. Conceptual recycling aside, the stadium's sliding pitch, retractable roof and snow-melting, hot air-inflated membrane structure are impressive feats. As is its distinctive "saucer" bowl punctured by inclined masts, all based on Kurokawa's "Spaceship" concept.
None of this came without stratospheric levels of cost and controversy: when the original 2008 completion date was missed, initial funders Gazprom pulled out and switched their attentions to the infamous and even more controversial Gazprom Tower proposals in the historic centre of the city.
Costs also soared from an initial budget of £190m and the project was blighted by delays that lasted a decade. Nevertheless, the venue's hitch-free hosting of last year's Fifa's Confederation Cup bodes well for this month's tournament.
2. Mordovia Arena, Saransk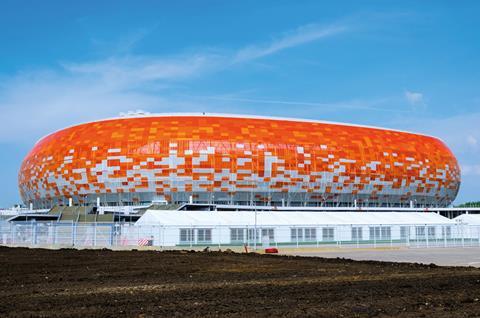 Completed: 2018
Architect: SaranskGrazhdanProekt
Cost: £225m
Capacity: 44,442
Distance from Moscow: 400 miles
Matches: Group stages
Fifa's controversial selection of Russia and Qatar for the 2018 and 2022 World Cups is already well documented. Less well known is the strange tale of how one of Russia's new stadium designs looks largely identical to another stadium built for the 2010 World Cup in South Africa.
With its distinctive earthenware mosaic facade inspired by an African calabash pot, Johannesburg's FNB stadium was one of the architectural highlights of the 2010 tournament. It now seems to have made an unscheduled reappearance in the Volga Basin in the shape of Mordovia Arena which, too, has a pixelated "earthenware" facade with a flattened bulge profile.
While a member of the architectural team appointed to ensure the Russia venues comply with Fifa design rules remarked that the two stadiums looked "very, very much alike", the Russian 2018 World Cup directorate dismissed it as "no more than an accidental coincidence."
The denial may attain more credibility after the World Cup when the upper tiers are dismantled and capacity is reduced to 28,000, almost 70,000 less than FNB.
3. Samara Arena, Samara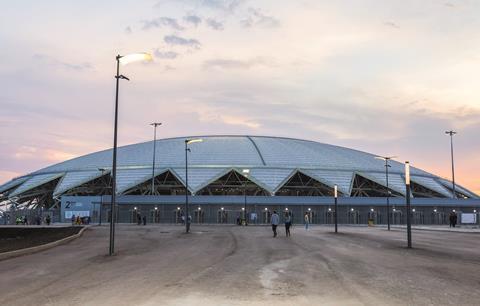 Completed: 2018
Architect: GMP-Architekten
Cost: £240m
Capacity: 44,807
Distance from Moscow: 655 miles
Matches: Group stages and quarter-final
While Saint Petersburg stadium is based on the concept of a spaceship, of all the Russia World Cup venues it is Samara Arena that looks the most galactically inspired. The spectacular design sees a mesh of curving steel girders rising from the ground to form a 65m-high dome. The dome's surface is divided into 32 segments, each of them covered in shimmering translucent panels to resemble a giant glass gemstone that glows ethereally at night. The dome covers the entire pitch and seating bowl, save for an irregular opening at the centre, conceived as an asteroid crater.
The space references are not accidental; Samara is revered by Russians as the historic home of their space programme. And as with all World Cup and Olympic venues, naming conventions are suspended for the duration of the tournament. So after the World Cup the stadium will revert to its usual name of Cosmos Arena, so called because of its asteroid-inspired design.
4. Kaliningrad stadium, Kaliningrad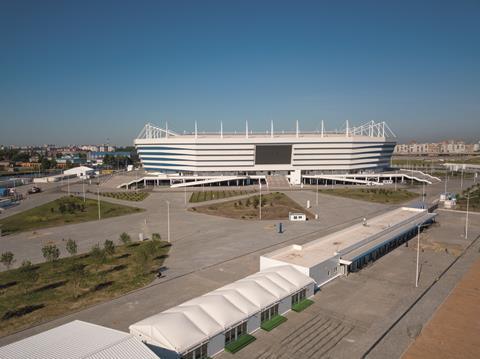 Completed: 2018
Architect: Wilmotte & Associés
Cost: £227m
Capacity: 35,212
Distance from Moscow: 770 miles
Matches: Group stages (hosting England vs Belgium)
Like many Russia 2018 venues, this stadium is situated by a river – which perhaps makes its resemblance to a 1980s word processor all the more unsettling. The monochrome aluminium strips encircling the facade stand at odds with its picturesque setting. But they are supposed to represent the pioneering technological features incorporated into the stadium, which include state-of-the-art surveillance and security facilities. They do not, however, detract from the stadium's largely functional aesthetics.
As with many venues, initially ambitious plans were scaled back due to spiralling costs. The stadium was originally designed with a retractable roof and surrounding infrastructure but these were abandoned partly as a result of the wetland grass on which the structure is built, requiring significant piling reinforcement.
Multi-disciplinary French practice Wilmotte was the architect, with a design loosely based on its Allianz Riviera stadium in Nice, itself built for the Euro 2016 Uefa Championships.
5. Volgograd Arena, Volgograd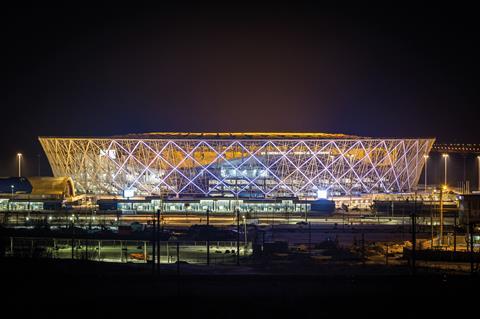 Completed: 2018
Architect: Project Institute Arena
Cost: £208m
Capacity: 45,568
Distance from Moscow: 585 miles
Matches: Group stages (hosting England vs Tunisia)
One of the more visually striking stadiums built for the Russia World Cup, Volgograd Arena channels the seminal spirit of Herzog & de Meuron's 2008 Beijing Olympic stadium by being wrapped in an extraordinary open steel latticework loosely based on the concept of a firework display. While the arrangement is infinitely more rational than Beijing's and is essentially a cross-braced circular cage with straight rather than curved secondary members spanning between the mainframe, the effect is still spectacular, particularly at night when the stadium glows like semi-permeable veil.
The composition is completed by a roof supported by an array of cables that are designed to resemble the spokes of a bicycle wheel. These are also intended to mimic the airiness and perforations of the facade. The building required the demolition of Volgograd's former 1958 Central stadium built on the same site.
6. Rostov Arena, Rostov-on-Don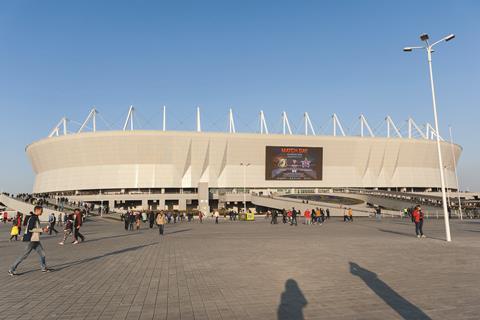 Completed: 2018
Architect: Populous
Cost: £247m
Capacity: 45,145
Distance from Moscow: 690 miles
Matches: Group stages
Rostov Arena is one of three Russia 2018 World Cup stadiums designed by stadium veteran Populous, designer of London's former Olympic stadium and the Arenas das Dunas in Natal which was built for the 2014 Brazil World Cup. Spiralling costs meant this stadium was probably altered more than any other venue between concept and completion. Initial plans revealed an extraordinary double-boomerang shaped structure inspired by ancient earthworks and with an outer facade surrounded by tiers of generous terraces. The completed design is rather more conventional, with a rectangular bowl now topped with an arching, tensile roof structure supported by masthead trusses. Despite the savage downgrade, the new design allegedly only cost 15% less than the original.
7. Nizhny Novogorod Stadium, Nizhny Novogorod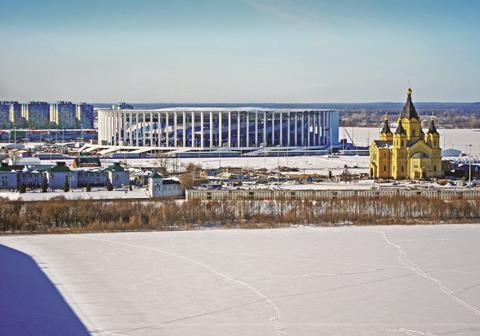 Completed: 2018
Architect: Stroytransgaz
Cost: £220m
Capacity: 44,899
Distance from Moscow: 265 miles
Matches: Group stages (hosting England vs Panama) and quarter-final
In an enviable location at the confluence of two rivers, Nizhny Novgorod stadium is arguably the most elegant of Russia's new stadiums and brings an almost classical refinement to this most contemporary and utilitarian of building types. A sweeping full-height colonnade of steel columns is arranged around an undulating semi-transparent facade encircling the stadium bowl that is conceived to mimic wind and water.
The circular colonnade arrangement recalls the 1974 Estádio Nacional de Brasília Mané Garrincha renovated for the 2014 Brazil World Cup. Here the structure is primarily shaded in blues and whites in a reference to the tones of the nearby River Volga and its surrounds.
The stadium exhibits a severely streamlined silhouette with the colonnade topped by a continuous flat roof. This is to ensure the building defers to the nearby historic monuments, including the Nizhny Novgorod Kremlin and the Alexander Nevsky cathedral.
Reconstructed stadiums
8. Luzhniki Stadium, Moscow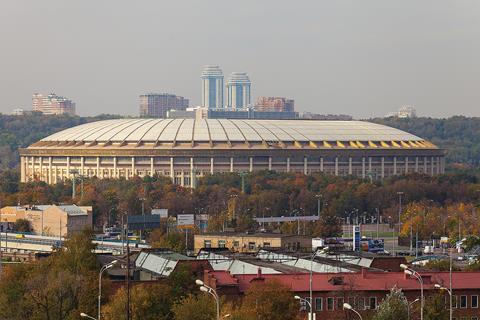 Built: 1956
Reconstructed: 2018
Reconstruction architect: Project Institute Arena / GMP Architekten
Reconstruction cost: £306m
Capacity: 81,000
Matches: Group stages, semi-final and final
Russia's national stadium is the largest stadium in the country and will soon be one only six stadiums around the world, including Wembley, to have hosted the finals of a World Cup, Olympic Games, Uefa European Cup and Champions League as well as the opening and closing ceremonies of an Olympic Games.
Before the World Cup, the biggest sporting event it had hosted was the 1980 Moscow Olympic Games with further extensive renovations being carried out in the 1990s. But redevelopment for Russia 2018 required the stadium's complete closure in 2013 for the biggest reconstruction project since the venue was built. The original stadium was essentially demolished, with only the historic facade and the self-supporting roof retained. The roof in particular is striking, a vast, translucent elliptical canopy supported by radiating steel ribs encircling a truss ring-beam framed central opening.
A new seating bowl and extensive new facilities have been carefully inserted within the retained facade and roof elements. Removal of the athletics track has also enabled capacity to increase from 78,000 to 81,000. By discreetly upgrading the stadium while retaining so much of its original fabric – an approach conspicuously rejected during Wembley's renewal – the stadium has been given a sleek modern makeover while its historic character and revered iconic status among Russians have remained intact.
9. Ekaterinberg Arena, Ekaterinberg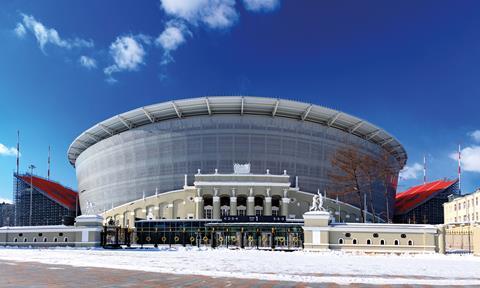 Built: 1953
Reconstructed: 2018
Reconstruction architect: Project Institute Arena
Reconstruction cost: £151m
Capacity: 35,696
Distance from Moscow: 1,090 miles
Matches: Group stages
Before the 2018 World Cup, it is arguable that for much of the world Ekaterinburg's principal claim to fame concerned one of the darkest passages in Russian history. In 1918, shortly after the outbreak of the Russian Civil War, Tsar Nicholas II and his family were assassinated in a townhouse basement in the centre of city.
The cathedral which stands there now has become a pilgrimage site for increasing numbers of Russians.
Pilgrimage of a different kind will take place this summer just 15 minutes away at Ekaterinburg's spectacularly redeveloped stadium. Initially built in 1953, with full Stalinist classical pomp, the historic facade of the stadium has been retained but behind it now rises a gigantic steel bowl sheathed behind a perforated aluminium veil. The effect is eccentric but extraordinary, an electrifying clash between old and new.
More eccentricity comes in the form of the temporary seating stands that project incongruously behind each goal beyond the stadium's perimeter. This awkward compromise were devised to ensure that the stadium met Fifa capacity requirements while also retaining its preserved historic facade.
Existing stadiums
10. Fisht Stadium, Sochi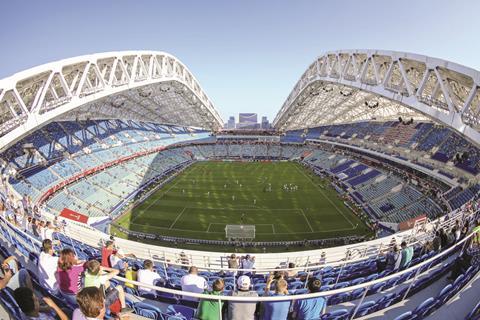 Completed: 2013
Architect: Populous
Cost: £580m
Capacity: 47,700
Distance from Moscow: 1,040 miles
Matches: Group stages and quarter-final
Fisht stadium is one of the few Russia 2018 venues to have already enjoyed relatively recent worldwide sporting exposure due to it hosting the 2014 Winter Olympic and Paralympic Games, for which it was built. As such, it has required no major construction upgrade.
With the stadium designed by Populous' London office and engineered by Buro Happold, there is also significant British influence. The radical design sees the asymmetrical stadium bowl open to the north and south to allow views of the Krasnaya Polyana mountains and Black Sea respectively.
The distinctive 36,500m² roof comprises a mixture of solid and translucent ethylene tetrafluoroethylene, which offers excellent strength and corrosion properties and also provides the whitewashed gleam that allows the stadium to resemble the snow-capped mountains around it.
11. Spartak Stadium, Moscow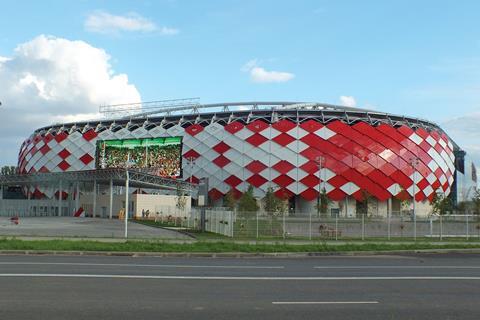 Completed: 2014
Architect: Aecom / Dexter Moren Associates
Cost: £320m
Capacity: 45,360
Matches: Group stages
The home of Russia's most famous football club is normally called the Otkritie Arena. But the suspension of naming conventions required for the duration of the World Cup tournament means that ironically, Spartak Moscow are able to have their name attached to their home ground for only the second time since their new stadium was built, the first being for the 2017 Confederations Cup.
The curved external facade comprises 600 diamond-shaped glass shingles designed to mimic the club logo and symbolise the armour worn by the famed Roman-era gladiator Spartacus after whom the club is named.
Although usually coloured red and white to reflect home colours, the shingles can be changed to any colour in accordance with whichever team is playing. No additional construction was required for Russia 2018.
12. Kazan Arena, Kazan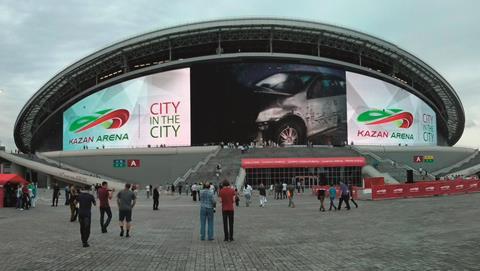 Completed: 2013
Architect: Populous
Cost: £335m
Capacity: 45,379
Distance from Moscow: 510 miles
Matches: Group stages and quarter-final
While LED screens are becoming fairly commonplace on football stadiums, Kazan Arena is wrapped in one that measures 4,030m² and is the biggest outside screen in Europe and the biggest stadium LED screen in the world. Again designed by the London office of Populous in 2013, it comes ready-made for the World Cup tournament after being one of the host venues for last year's Fifa Confederations Cup. It therefore required no additional construction upgrade for the World Cup.
It is one of Russia 2018's most flexible venues, as the pitch was replaced with two swimming pools for the 2015 World Athletics Championship. With its simple, sinuous roof the venue was designed to merge seamlessly with the surrounding landscape. The visual format is also similar to that evident on Arsenal's Emirates stadium, which was designed by the same team.