Wins cement contractor's lead at top of yearly work won list, while Galliford Try slumps to 34th place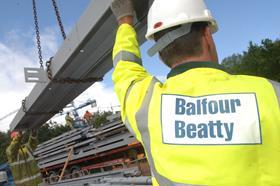 Balfour Beatty has returned to the top of the monthly contracts table in October after a poor performance in September that saw the firm slip to ninth place.
The UK's biggest construction firm by turnover won £255m of work, including civils in the month, beating Vinci UK into second place with £243m of work. Meanwhile September's top performer, Galliford Try, recorded an exceptionally lean month, booking just £7.6m of new contracts and falling to 34th place.
In October Balfour Beatty also topped the league for building work alone, winning £138m of contracts, above Willmott Dixon in second place. Balfour Beatty's success this month has cemented its lead at the top of the yearly work won list, having picked up £2.67bn of building and civils work in the last 12 months. However, for Building work alone the firm is still lagging behind Kier, which retains the pole position for building work won in the last year with £1.71bn of contracts.
The changes came amid further signs of growth for contractors. The CPA Barbour ABI Index (see right), which measures overall contract awards, recorded its highest figure for almost two years, 7% up on September and 13%up on October last year.
The biggest building contract of the month went to Sisk, which won a £54m job for the London Borough of Camden to redevelop the Maiden Lane estate with the construction of 265 homes and community facilities.
Willmott Dixon's performance in October, in which it won £113m of work, was bolstered by the award of an £20.5m contract by Isis Waterside Regeneration for the Brentford Lock regeneration scheme.
October also saw evidence of continuing progress for regional contractor McLaren, which won £92m of work, pushing itself into fifth spot in the building only table. McLaren's showing was boosted by the £23m job to build the Swindon Outlet Centre, a £37m industrial job for TJ Morris and a £16.3m contract for the construction of the New Arts Complex in Southampton for Grosvenor.