Contractor lands several big jobs, including £82.5m RAF training base and £160m London Underground works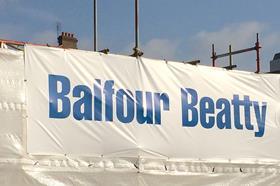 Balfour Beatty has topped the contractor table including civils after bagging contract wins worth £674m in April.
The firm landed several large deals among its 45-contract haul last month, including a £82.5m contract to build a new RAF training base in Norfolk which will be home to a hotly-anticipated new state-of-the-art fighter jet, the F-35 Lightning II. It also won a £160m contract with Transport for London for London Underground works, hot on the heels of a similar £170m deal it won with the same client the previous month.
Wates tops the list excluding civils and comes second on the table with civils after racking up big wins worth £267m in the commercial and public sectors. The contractor won big office deals for clients including the Royal College of Surgeons and also bagged a £45m new build deal with the Metropolitan Police in London.
Kier comes in second on the table without civils and third overall after picking up 55 small contract wins in the housing and public sectors for a combined total of £193m.
Bowmer and Kirkland takes third and fourth including civils after winning four big deals among a £115m eight-contract haul. The firm won two deals with the Education Funding Agency worth a combined £43m to build primary and secondary schools, and bagged two deals worth another £48m for student accommodation schemes in Coventry and Sheffield.
ISG comes fourth on the table excluding civils after winning £106m worth of contracts in the commercial sector. However, Robertson Group pips the contractor to fifth on the overall table, adding £11m in civil engineering wins to its £98m contract haul in the public, commercial and industrial sectors.
You'll find interactive, sortable league tables of contract wins here: building.co.uk/barometer
Sort top contractors by region or sector
Find out who the top consultants and architects are
Get latest data for 10 sectors, including public housing and offices in the CPA/Barbour ABI Index
Download raw data