Winning £230m Buchanan Galleries, along with £88m Glasshouse Gardens development, lifts firm's ranking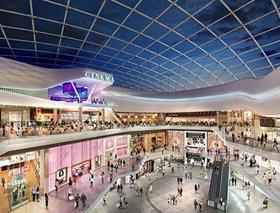 Lend Lease topped the contractors' league table last month after it won the job to build Land Securities' £230m Buchanan Galleries shopping centre in Glasgow.
The scheme is one of the UK's largest retail-led schemes and will include 100 shops, 25 restaurants and a cinema. Building previously revealed the firm was set to be appointed; it has now been named preferred bidder on the scheme. Lend Lease saw off competition from Brookfield Multiplex and Laing O'Rourke to win the job. The firm also benefitted from its appointment to build the £88m Glasshouse Gardens residential development, which overlooks the Olympic Park in Stratford, by its own development arm.
Balfour Beatty ranked second when civils contracts were included, due mostly to its appointment, alongside engineers Amec and Jacobs, to build a £336m nuclear waste processing facility at Sellafield in Cumbria. The job is worth £100m to Balfour Beatty. Both Willmott Dixon and Laing O'Rourke's positions in the league tables - third and fourth respectively in the league excluding civils - were bolstered by the award of education projects. Laing O'Rourke was appointed to build a £120m package of schools in West Yorkshire and Willmott Dixon won a £24m contract to build a "super school" in Wales that will accommodate 1,000 pupils.
The index, which measures new contract awards, reached a score of 136 in October, 3% up on its score in September.
Noble Francis, economics director at the Construction Products Association, said the continued growth index, which measures contract awards, suggested there would be "further growth [in output] across most key sectors of the industry over the next year".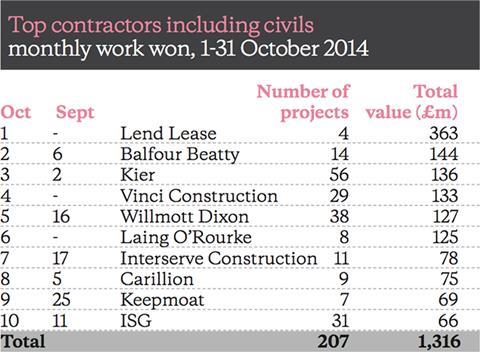 You'll find interactive, sortable league tables of contract wins here: building.co.uk/barometer
Sort top contractors by region or sector
Find out who the top consultants and architects are
Get latest data for 10 sectors, including public housing and offices in the CPA/Barbour ABI Index
Download raw data