Firm charge up both tables after securing big contract wins in London and Liverpool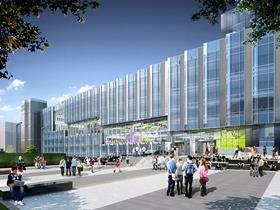 Lendlease has shot to the top of both contractor tables for March after bagging big wins in London and Liverpool.
The firm jumped to first from outside of the top 50 after securing five new contracts worth £547m.
Lendlease's London wins include a 600-unit resi phase at Elephant and Castle worth £215m, as well as a £219m commercial development deal on the International Quarter in Stratford.
The contractor also won an £80m deal with John Moores University in Liverpool, which will see a former Royal Mail sorting office redeveloped into a BDP-designed student complex (pictured).
Kier dropped down from first in both tables last month to second in the table excluding civils and third in the table including civils. The contractor bagged 43 contracts worth a combined £244m.
Balfour Beatty grabbed second in the table including civils after winning 44 contracts in total, – including a £170m track partnership extension deal with Transport for London – worth £251m.
McLaughlin & Harvey placed third on the table excluding civils after securing a £90m contract for an office development in Glasgow.
Brookfield Multiplex is next on the list without civils after finally being awarded an £80m contract to build 20 luxury flats in Mayfair, central London, which was first revealed by Building last October.
Costain is fourth on the table including civils after winning a £150m road maintenance deal with French contractor Bouygues, who themselves were fifth with civils after sealing the £150m contract to build the Garden Bridge in London.
Housebuilder Keepmoat is fifth on the non-civils table with six contracts worth £55m. ISG, taken over by US investor Cathexis for £85m in February, dropped down to sixth on the table from third last month after picking up 34 jobs worth £54m.
You'll find interactive, sortable league tables of contract wins here: building.co.uk/barometer
Sort top contractors by region or sector
Find out who the top consultants and architects are
Get latest data for 10 sectors, including public housing and offices in the CPA/Barbour ABI Index
Download raw data