How do university courses support students in finding employment? We spoke to four built environment schools to find out what they offer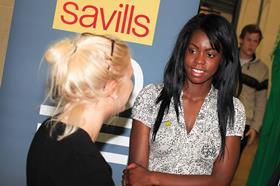 In the boom time, a career in the built environment was a desirable option. Building was big business and those choosing to study vocational university courses could be reasonably confident of work on graduation.
But according to an analysis of the latest Office of National Statistics figures by our economics blogger Brian Green, the industry lost 25,000 jobs in the fourth quarter of 2012. That means from its peak in September 2008, the number employed in construction has fallen by 428,000 and is down 20,000 on a year ago.
So is taking a course in construction still a sensible option for those looking to enter higher education? According to the Higher Education Statistics Agency, based on last year's graduate figures, almost 73% of graduates involved in building and construction management courses entered straight into employment. Admittedly around 6% of these were listed as working in retail, catering and bar work and the employment of 17% was described as "other". However, 51% were listed as being in associate professional and technical roles, 19% in commercial and public management positions, and 6.1% in engineering jobs.
So with the jobs around, but not as common as they used to be, a key factor in picking a course is to consider how your university will help to place you in employment after graduation - work placements and careers fairs are important, as are the links they maintain with alumni now in high-flying positions. Check to see where former students have ended up and what level of contact their relationships with major firms will allow you. And see if they offer statistics on the number of graduates who go straight on to employment in the sector.
We asked four of the country's top schools of built environment to explain how they support their students in finding that first job.
Farzad Khosrowshahi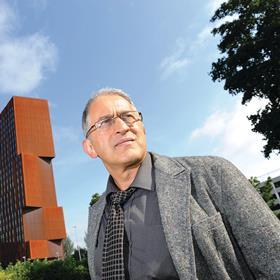 is head of the School of the Built Environment and Engineering at Leeds Metropolitan University
The school has extensive links with over 200 national and regional companies and professional bodies in the construction industry. Through these links, we regularly hold information seminars and events as well as organising mentorships and student placements.
This January, the university held an Employability and Enterprise Fortnight, with our school organising several events to boost students' understanding of their career opportunities, including working in industry, academia, research, public services and across other disciplines within the school.
Opportunities are also generated through entities such as the Centre for Knowledge Exchange, which engages with over 200 regional partners in the industry. On the one hand, the Centre for Knowledge Exchange provides a range of services to industry with access to science, technology, engineering and training, while at the same time these activities inform programme design. It offers links to industry mentorsm and provides the basis for student placements.
Employability figures for students on graduation from our school are all in the 80-90% range and there are several courses where students are already employed in the industry or are on day release.
Richard Dawe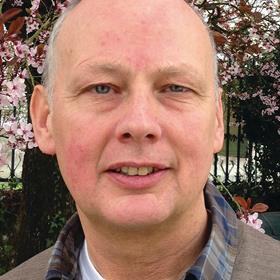 is programme manager, Environmental Building Degrees, at Plymouth University
The Environmental Building Group partners with many stakeholders to create two core interrelated themes - competence and confidence - in order to help our students find employment after their course.
The competence is built around the technical and managerial modules of the programme. This is constantly reviewed with our industrial partners to make sure it provides the skills and knowledge for the challenges currently facing the industry. Appropriate modules are supported by working with contractors and consultants to provide site visits and meetings. This also allows students to meet people in the workplace they hope to join. Our industrial partners regularly present to the students in the classroom as well as mentor them during project work.
The confidence builds from the competence but is enhanced and developed by providing large-scale project simulation, in a "safe to fail" environment and then in the final
year a detailed critique of a live project is assessed by the client and consultants who are running the project.
The students are supported throughout using a variety of tools including psychometric testing and analysis of effective team working. On top of this, and in support of the wider Plymouth University initiative, the students take an active part in employment fairs and business networking events.
Alumni are invited back to the programme to present on their experiences at interview and selection days, as well as describing their day-to-day working life.a result of their qualification.
Professor Tony Thorpe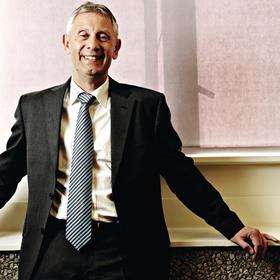 is dean of the School of Civil and Building Engineering at Loughborough University
Our school was ranked first place in the Building section of The Times Good University Guide 2013 - it is clear to see why its courses attract high-calibre students.
It's all about confidence and competitiveness. The high point in the year is our School Careers Fair, which consistently attracts around 30-40 construction companies, many of which have longstanding relationships with Loughborough.
In addition to the careers fair there are regular lectures from industry speakers and CPD seminars are hosted as part of the regional CIOB and ICE programmes -
students are encouraged to become active networkers at these and other industry events.All 700-plus undergraduate students within the school have the option of a paid placement year and are allocated a personal tutor to help them with CVs and prepare for interviews. Dedicated members of staff coordinate all aspects of the industrial placements, including health and safety talks. And for students who need additional support, an innovative e-mentoring project is using Skype and social media to put students in touch with Loughborough alumni, helping them familiarise themselves with industry culture and expectations.
Six months after graduating in 2011, 93% of Loughborough's former students were in full-time employment in graduate level roles, with an average salary of £25,000. Employers include Kier Group, Balfour Beatty, Laing O'Rourke, the British Army, Sir Robert McAlpine, Tesco and Interserve.
Professor Joseph H M Tah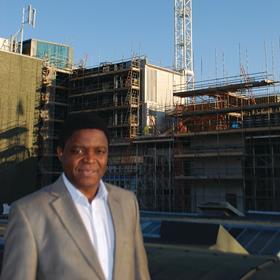 is head of the Department of Real Estate and Construction at Oxford Brookes University
We have developed strong and extensive links with the industry. Our advisory boards comprise senior staff from the leading property and construction firms.
We maintain strong partnerships with the professional bodies and our courses are accredited by the RICS and the CIOB. We engage leading industry figures of international standing to present regular guest lectures, providing students with cutting-edge practical insights.
Many of our students are sponsored by property and construction companies including Knight Frank and Savills and our graduates hold management positions in similarly high-profile businesses. A survey published by Building's sister magazine Property Week in July 2011 indicated that one in five graduates employed in leading property firms studied in our department.
We also have one of the largest and most influential alumni networks in the property sector, the Oxford Brookes Real Estate Management Society), which offers student internships, mentoring, prizes, and presents our graduates with highly beneficial networking opportunities.
Our teaching and research activities are developed with an international perspective to reflect the increasingly strong role of property and construction in the global economy. We have developed international links in Europe, North and South America, Russia, Africa, China, and the South-east Asia region, which involve student and staff exchanges and visits.