In this unforgiving market, starting a career in the construction industry can seem an impossible task. But inspiration may be found in some young entrepreneurs who have taken their fate into their own hands.
The current generation of construction and property graduates could be forgiven for feeling disheartened. Now is hardly the best time to scale the first rung of a career ladder, when many firms are directing funds away from graduate positions and training in favour of experienced bid winners. And while starter jobs are hard to get, they're almost as hard to keep.
But some new construction professionals are refusing to take the downturn lying down. Whether out of a job, struggling to find one or simply wanting to work for themselves, many young graduates have been busy setting up innovative businesses and starting their own projects.
The following five individuals or companies take a snapshot of the optimistic, self-starting talent that may shape the future of the industry. These entrepreneurs prove - if anything does - that youth is not always wasted on the young.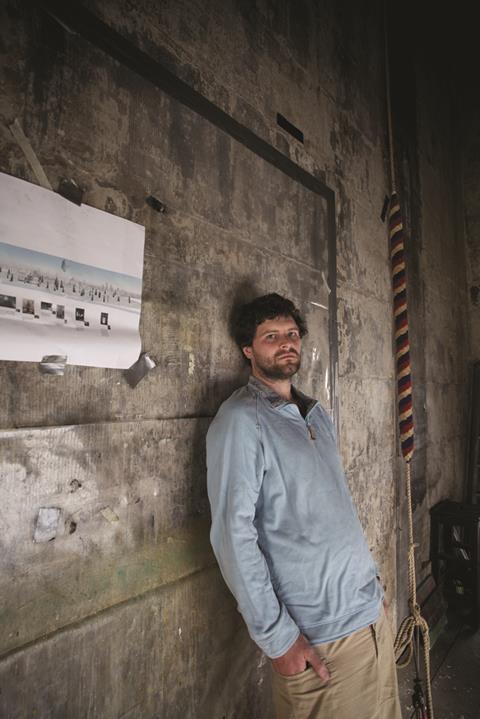 Alex Scott-Whitby 28, has just set up his own practice, StudioAR. Since 2009, he has also been working on a project called (IN)Spires, which aims to create new spaces for artistic people in the empty spires and bell towers of the City of London's churches "The church spires project came about two years ago when I was exploring the London skyline. Through going to the top of the City's tall buildings to view panoramas of the capital I discovered these forgotten spaces. There are 51 churches in the Square Mile - a remarkable amount - all with spire spaces that are not being used.
"I went to the church of St Mary Woolnoth in Bank and in the spirit of 'if you don't ask you don't get' I asked the verger and the vicar if it would be possible to use the space as a studio. They said yes and now I pay £60 a week to work there. I have built an office desk that folds out from the recessed space in front of a stained glass window, and as long as I am mindful and respectful of the space I can be there 24/7 if I like.
"To take this idea forward, I approached the Diocese of London and we're now working to get an agreement with 38 spires to create a network of studios for creative people. My space is the test case and we hope a number of the churches will be ready to come online in September.
"I hope that by us showing it's possible, other people will start approaching churches. This is a project about trailblazing, not owning. These places are part of our heritage and they belong to all of us.
"There is also a plan to open up 10 spires to 10 creative people from competing Olympic countries over the period of the 2012 Games. The idea is that they would work in the space for the duration of the event and reveal whatever they have been creating on the eve of the closing ceremony - giving something back to London.
"I have also just set up my own architectural practice, StudioAR - a multi-disciplinary studio in London. My clients include Queen's College Oxford, the London Festival of Architecture and Design for London. It may seem like it's not a good time to do it, but it's never really a good time. You just have to go for it. We may be suffering through a recession but this is the time to stand and stare and work out what our profession will look like in the future - we will come out leaner, but hopefully better and stronger."
Alex at a glance
I never … judge
I love … listening to and meeting (most) people
I regret … not giving my rugby career a better shot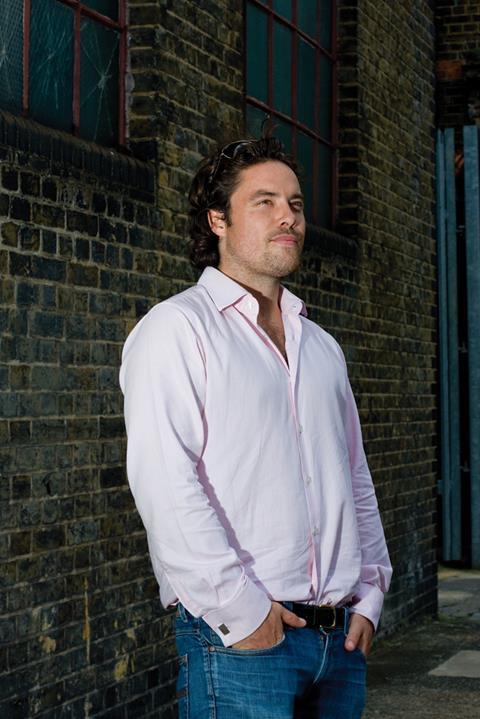 Sam Christey 29 and his business partner, Rupert Stanley, 27,set up Reveleco, a building company specialising in luxury sustainable property development and construction after recognising this as a niche demand and potential growth area in an otherwise tough market. After just a year and a half, the firm is preparing to project manage an £80m eco-village scheme in Cambridge and the pair hopes to achieve 30% growth in the next 12 months.
"To run your own business you have to be working all the time. If you're not trading, you should be working out how to grow," says Sam. "The only way you can be successful is to be desperate to get to work every morning, to see it all as a bit of an adventure. You need to feel that buzz you felt as a kid doing extreme sports. People spend too much time thinking about things and not enough time actually doing them. Young people need to be proactive and not governed by fear.
"What we have done with our company is to sell sustainability as a luxury and a fashionable item, from water recycling to renewable materials, greywater harvesting and having a sustainability policy for recycling and we are about to sign up to the government's Green Deal. We are building a relationship with our clients so they listen to us when we say, 'Why not be sustainable?' I'm not talking about going full hippy - but just doing something, doing their bit.
"The business is going really well and people are responding to the products. We have completed nearly 30 jobs this year and we're booked up until the new year already. We have turned over £1.2m in the first 14 months and we hope to grow the company by 30% in the next 12. We are now being brought into project manage an eco-village project in Cambridge where there are 80 units. It's a scheme potentially worth £80m. But this doesn't mean we will stop doing the smaller projects. We want to be recognised for doing both rather than just cherry-picking the really big stuff.
"The next step, and where I hope to see us in a year, will be building high-end, eco-friendly student housing. We're looking at Oxford, Cambridge, London, Durham and other university towns."
Sam at a glance
I always … get up early
I never … give up an opportunity to have fun
I wish … girls would order their own meals rather than picking off everyone else's plates!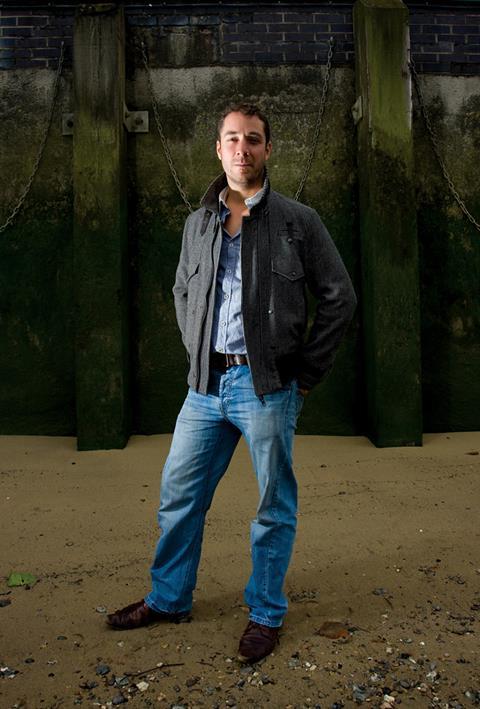 Charlie Baker 28, director of Epic Property, set up his first business, a catering company, when he was just 13. When he recognised the advertising industry– where he worked as a graduate - was likely to suffer in the recession, he joined forces with a friend to buy two pubs in London and they are now developing a property business that will act as a cooperative of investors to help young people get on the property ladder and get new businesses get off the ground.
"Epic Property initially focused on buy-to-let residential property but we are about to launch a cooperative of investors. We have realised that we are part of a generation of people in London who have a little bit of money that they can't afford to do anything with because property prices are so high.
"We wanted to pull people together to bring their small investment to the cooperative or, if they don't have the funds, they can offer their professional services - whether they are a property solicitor, a builder - so we could use them as a preferred supplier. Or rather than charging us for services, they would do it for free and we would use that as their investment. And this idea of helping each other out as a generation is really key. You don't have to do these things alone.
"My ambition is to be the next Candy & Candy. I read an article a while ago about how they set up with the loan from their gran. And I do believe success creates more success and money creates more money and if you can build up from there you can achieve something absolutely enormous."
Charlie at a glance
I never … give up
I love … being self employed and creating my own success
I regret … not taking more chances
George Mayes and Alex Higham both 28, set up their building, handyman and maintenance business, the Anyjob Team, five years ago after deciding they would rather have control
of their own company than work for someone else.Now the pair has built up a fleet of seven vans and three mopeds and have grown their business to employ 10 people working on projects for domestic and commercial clients, including drainage, building works, removals and waste disposal.
"It's so important for young people to be entrepreneurial," says George (above). "Unfortunately I don't see a lot of that among our generation. People get too scared thinking about what could go wrong. For me, the thought of sitting behind a desk doing a 9-5 job is far scarier than taking a risk and doing my own thing. It's good to set up when you're young and not tied up financially with mortgages and children. When you get to the stage we're at now, you should hopefully be taking home a decent salary.
"Our success has come from adapting to the market and to client needs. We do a lot of man with a van work at the moment - removals, emergency maintenance, rubbish, drainage. It might seem less glamourous than some of the larger building jobs but, at the moment, that's what clients want and what they're paying for. Alex (below) and I see the building side of the business growing organically but we want to develop other arms, gaining additional security through offering a breadth of services. We are also building up relationships with bigger commercial clients - we think that fewer, larger jobs is the best way to grow at the moment.
"As the business gets bigger it does get more nerve-wracking, as you can't have as much control over everything and have to delegate. But one of the best things is seeing one of your vans or mopeds drive past when you're not expecting it. That's pretty cool."
George at a glance
I always … strive for perfection
I love … inventing things
I wish … to one day own a Vietnamese potbelly pig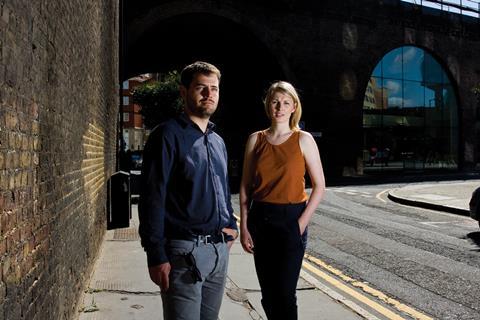 Elizabeth Webster and Joe Fraher, married couple 29 and 30, set up their own architectural practice, Fraher Architects, at the end of 2009 after they were both made redundant. They have just won their first commercial project and hope to start employing full-time staff within the next 12 months.
"Joe was made redundant in May 2009 and then I lost my job five months later," says Elizabeth. "I guess the message there is that if you're an architect, don't go out with one! This profession died a death two years ago and I don't know any architect around our age that hasn't been made redundant at some point during the recession.
"When it came to setting up on our own, Joe was 150% up for doing it - he is very ambitious and optimistic. I am more of a realist and I wasn't sure at first. But we had no children, no mortgage and it's one of those things you just have to go for.
"It's one of the most terrifying things I have ever done, that knowledge that if you don't win work you won't have any money coming in. And you have to work so hard to make it a success. When I used to work in someone else's practice, I would be annoyed if I had to stay past 7.30pm. Now it is a given that 7.30pm is an early finish. You can't just walk away from it when it's your own company.
"One challenge is being seen as being very young - which I know we are - in a very established profession where you are often judged on your age and portfolio. It's an ongoing battle but one I think we are winning by building up good contacts. We started off doing extensions on listed buildings worth about £250,000 and now we're working on four houses and have a big commercial/retail project in the pipeline. I can't talk about it yet, but it could be huge for us.
"I am so glad we did it after we lost our jobs rather than just sitting back and feeling down about it. And I have every confidence in the future success of the practice. This has been the most stressful two years of my life, dealing with a recession, setting up a practice in the middle of it, with my husband. If we have managed to make it through that, then it can only keep getting better."
Elizabeth at a glance
I always … make myself a cup of tea as soon as I get to work
I hate … spaces with little natural light
I wish … that I had won that £165m on the lottery