Douglas Oakervee tells Vern Pitt why the country must get on board High Speed Two, the UK's biggest off-site construction project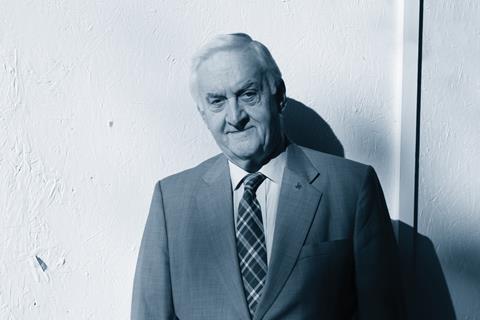 "I thought my retirement would be about building model railways," says Douglas Oakervee, chair of the firm running the biggest rail project in the UK in decades - High Speed Two [HS2] Ltd. After his retirement as chair of Crossrail in 2009 - his fourth retirement in total - Oakervee had planned to stay at home with his five inch gauge steam models, but was persuaded to apply to take on a bigger train set by a recruitment consultant. "You don't want a geriatric old sod like me," the 71-year old told them. They disagreed.
Now he is in charge of the £32bn project that will build a 140-mile line from London to Birmingham between 2017 and 2025, followed by an extension of the line to Manchester and Leeds to be completed by 2033. It is set to be one of the biggest projects in the construction industry over the next two decades, providing a pipeline of work picking up after Crossrail completes in 2018.
Consultants Mott MacDonald, Arup, Aecom and Atkins are among 13 firms working on environmental assessments, detailed designs, civil engineering and land referencing for the line. However, if other firms are to win work on the actual construction of HS2, the project's numerous opponents will have to be defeated. HS2 is currently facing five judicial reviews, high-profile political opposition, and a hybrid bill that will have to be passed before building work can start. Former cabinet minister Cheryl Gillan, who was Welsh secretary, left government in part in order to fight the project, as did government whip and Lichfield MP Michael Fabricant. So the first thing Oakervee has to do, is convince the politicians to push ahead.
Much of the criticism of HS2 has focused on its business case. The benefit to cost ratio for the line from London to Birmingham has fallen from a multiple of 2.7 in March 2010 (meaning that for every £1 spent, a £2.7 benefit will accrue) to 1.7 in August his year - this includes the "wider economic benefits" including the effects of better local transport capacity as road and rail traffic moves onto the high speed link; decreased transport costs on businesses and increased mobility of the UK's workforce. Comparable figures for the full line to Manchester and Leeds have fallen from 2.6 in February 2011 to 2.5 in August this year. But Oakervee argues that 1.7 is a good rate of return despite this falling into the government's "medium value for money" range.
He is also convinced that by the time the project approaches the "hybrid bill" stage, before the end of 2013, the ratio will be somewhere between two and three.
Local politicians tend to use these sort of things to their own political advantage. You tend to wonder if it's the people you are listening to or local politicians
He is clear that both HS2 Ltd and its political supporters need to be better at selling the project to those on the line and taxpayers in general. He argues the wider economic case has not been properly communicated, but says that is changing.
"David Higgins [chief executive of Network Rail] and I see ourselves joined at the hip articulating to the British public how our transport network will be transformed - how without HS2 the whole system will bloody fold up and it's imperative that we have it," he says.
Despite Oakveree's defence, it could be argued that some of HS2's political wounds are self-inflicted: Sarah Hayward, Labour leader of Camden council, told Building in May this year the firm's lack of consultation with the residents of Regent's Park Estate, where 216 homes are earmarked for demolition, was an "affront to the people". She highlighted how many residents along the route feel they have not been properly listened to.
Oakervee is contrite about some of the ways in which HS2 has engaged with communities, although HS2 robustly defends the way in which the official 2011 consultation was conducted. "The difficulty was on 10 January when Justine [Greening, then transport secretary] announced we would go ahead. We ceased to be an advisory body to government and became about promotion and development," he says. "But we only had 80-90 people and key things like the compensation agreements had not been finalised so people were looking for things too early. That won't repeat itself." Oakervee is expecting the government to announce the intention to go ahead with the second phase of the line before the end of the year, which would allow HS2 to start consultation early in the new year.
But he adds: "Local politicians tend to use these sort of things to their own political advantage. You tend to wonder if it's the people you are listening to or local politicians."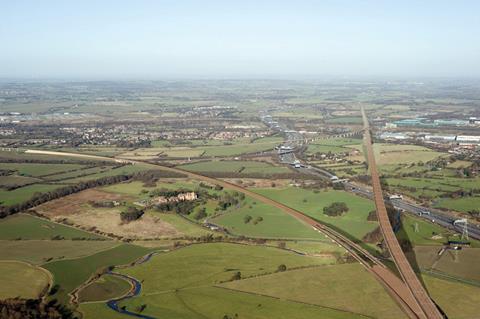 Pulling out of the station
Given Oakervee's interests in model railways it's perhaps unsurprising that he wants to see that work on HS2 is done in models before concrete is poured. He gets most animated when describing how contractors for the project will be procured through a Building Information Modelling [BIM] system, where all parties work from a central computer model of a project.
"Although I'm in my 70s I get quite excited about this and wish I was a graduate again," says the former apprentice joiner. "With BIM you see opportunities you would have never spotted before, which do lead to economies and improvement of design."
All government projects will be procured through BIM from 2016 and the Treasury has already said that it sees HS2 as an exemplar project, which should set a standard for government procurement practice.
Like the Olympics, HS2 will use collaborative contracts, something Oakervee sees as complementary to the BIM process."When you mention the word collaborative contracts, people think it's just a nice cosy arrangement but it isn't," he says. "It allows intellectual challenge to benefit the works but also involves adequate compensation."
All too often he says the industry is adversarial. "[It's a case of] 'we haven't priced this job, boys, how are we going to claim it back?' And the engineers are like, 'How are we going to stop these buggers?'," he says.
BIM will also allow much of the construction to be done off site - a method Oakervee clearly sees as key to the project's success. He has experience of using off-site construction extensively on Hong Kong International Airport, where, he explains, much of the concrete work was made in factories in China and brought in on barges. "Parts of it were built on the barges as it came down," he says. Plus, the steel work for the project was all made off site in Bolton and Singapore.
Oakervee lists a number of advantages connected with off-site construction, including improvements to safety, quality and cost-effectiveness. It also reduces disruption for the public on the route of the railway and cuts the numbers of workers actually needed on site.
He says: "You can plan earlier. If you are pre-manufacturing you can start work earlier and cut out the peaks [of work] that you sometimes get on these projects."
He points out that this also means the construction work can be undertaken by firms all over the country, because they will not need to be in close proximity to the line to have a role to play. Perhaps more importantly, it will create a capability in the industry to build big infrastructure off site, which he says will be the legacy of HS2.
However, Oakervee is clear that off-site construction does not necessarily mean overseas construction. Getting that work into the hands of British people will be a concern for politicians and its one that Oakervee shares saying he intends to make sure local employment is written into procurement contracts "as much as EU regulation will allow". He adds that this may put UK firms at an advantage if they already have a sizeable UK workforce in place.
Oakervee is also confident the UK industry is now much more reliable when it comes to building projects on time and on budget. He says past instances of construction budgets ballooning as projects progress, as happened on the ill-fated Wembley stadium project, are usually because clients don't freeze the scope of the project before construction begins.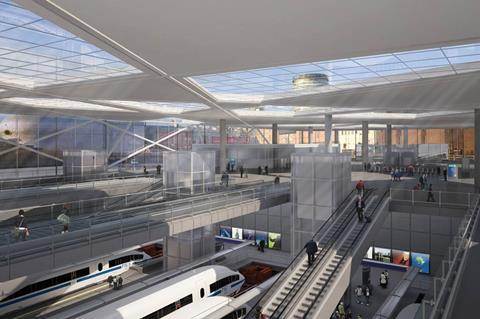 Minor disruptions to service
It then seems a little odd that when asked how much the latest revisions to the design of the route, which added 55% more tunnelling, have added to the budget, Oakervee concedes he doesn't yet know. But he insists it will all be affordable within the overall £32bn envelope. Several times throughout our interview he repeats that there is no way the £32bn budget can be increased, no matter what changes the government makes to the route - including the prospect of a link to Heathrow, to be built during the second phase, which estimates put at £1.9bn.
"All the time we have a high level of value engineering going on," he says. "So it's incumbent upon me to keep this within the originally stated budget and it will be. Hopefully I'll be able to hand back some change at the end of it all." He jokes that he doesn't want to be outdone by Olympic Delivery Authority chair John Armitt who delivered the Games' construction more than £1bn under budget.
HS2 may be a big train set but it's clear Oakervee doesn't think the project is just a game. He passionately believes the project will benefit the nation's economy, the construction industry and the local people along the route. It's that conviction that proved enough to draw him out of retirement. Getting the biggest rail project in Britain built, despite vocal opposition and a disputed business case, is a challenge that Oakervee clearly relishes.
Will this then be his last project? "He'll probably be the determiner of that," he says pointing to the sky. You can't help but think the model steam trains will remain packed in their boxes for some time yet.