The biggest challenge to building capacity is changing the perception of what an engineer does - and building for the future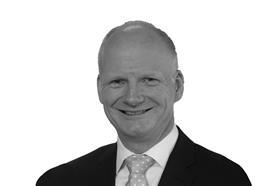 Over the past few years much-needed momentum for infrastructure has gathered pace, with investment plans on a Victorian scale now taking shape. However, given the UK's ambitious pipeline of infrastructure projects, a key issue for industry this year will be to continue to build capacity so there will be enough skilled professionals to deliver the multitude of schemes when they ramp up in 2018 and 2019. National Apprenticeship Week is a prime opportunity to demonstrate the benefits of choosing this career path. This is certainly the case for the engineering and built environment sector, which is currently facing a capacity challenge that apprentices can play an important role in addressing.
Vital projects are likely to apply pressure across the sector for years to come, so government and industry must work together to develop the necessary skills. The National Infrastructure Plan for Skills goes some way towards mapping expertise against pipeline projects, informing companies' recruitment strategies and identifying the gaps that must be addressed. But many of the proposed infrastructure projects are likely to draw on similar areas of the supply chain so this future skills gap must be recognised and planned for. An integrated approach to planning across all sectors involved in the UK's pipeline of major infrastructure programmes is surely needed.
The apprentices Aecom hires this year will be able to play a meaningful role on some of our infrastructure projects, such as HS2, Crossrail and London's Thames Tideway Tunnel. Our apprenticeship development programme includes training for specialist skills that we know will be needed to deliver future projects. We are working closely with the Technician Apprenticeship Consortium (TAC) for example, to develop new apprenticeship programmes for certain in-demand transportation disciplines, such as transport planning and rail.
But apprenticeships are not just for recent school leavers. Many organisations, such as Aecom, are opening up apprenticeship programmes to people who might be looking for a career change or starting their career at a later point in their life, targeting people who have been out of the workplace for some time and want to refocus their career or start a career for the first time.
However, many organisations in our industry have found that attracting high-quality candidates is not always easy. This is partly because of the misperception that apprenticeships are an inferior route into the industry and there is also a lack of awareness about what apprenticeships involve. Events such as National Apprenticeship Week help to eradicate such misperceptions, but industry cannot rely on a single week to achieve this step change.
It takes time to mentor, train and develop apprentices – but employers will reap the rewards. In return it is important employers offer apprentices a meaningful and rewarding career path, including sponsorship for a part-time degree at a later date. For many apprentices who choose the apprenticeship route, on-the-job training is the most important factor. However, there are still some employers who don't train or mentor apprentices properly and the main reason apprenticeships fail is when employers view them as cheap labour.
Apprenticeships are increasingly seen by candidates as a viable alternative to university. In fact, many of our apprentices say that they have developed their life skills more quickly than a degree would have done. Of course, it is important to have a mix of both apprentices and graduates, but it is encouraging to hear this response. But in order to attract more apprentices, it is essential that our industry is able to capture the imagination of young people. This is something our profession does not always do well. Stereotypes about a career in engineering or construction are still rife, but the reality is very different. Young people need to hear about the exciting, intellectually challenging work engineers do to build a better world, from designing sustainable transport and energy infrastructure to protecting people from floods or planning cities of the future.
This should involve better career advice in schools to open young people's eyes to a career in the sector. Problem-solving work, including fun competitions such as building structures using marshmallows and straws, can help pupils see what a career in engineering could involve. Site visits for schools are also a great way to open the sector up to young people. Industry needs to get involved at local schools and help to fill the UK's technical skills gap by encouraging school children, especially girls, to consider engineering as a future career. Perhaps the biggest challenge to building capacity is changing the perception of what an engineer does.
Postscript
David Barwell is chief executive UK and Ireland at Aecom