Our industry is collaborating more, but what's really needed is for clients to drive change in the supply chain, writes Turner & Townsend's Bill McElroy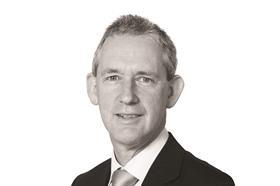 Construction and infrastructure have had a rocky start to 2019. With Brexit uncertainty, political impasse over the Wylfa nuclear plant, and ongoing scrutiny over the state of the industry post-Carillion, we could benefit from some positivity.
There are, though, some reasons to be more optimistic. This year we're expecting an update on the Government Construction Strategy (GCS) – a refreshed version of the government's 2016 plan for improving the productivity and efficiency of its construction projects.
Since the last GCS, we've seen a range of excellent initiatives to improve the way we deliver major projects and programmes – from the IPA's Transforming Infrastructure Performance to the Department for Transport's Transport Infrastructure Efficiency Strategy. The construction sector deal has also delivered the first tranche of funding awards for R&D projects and, importantly, many of the recipients are collaborations between tier one or two suppliers, academic institutions and consultants.
Our industry is rising to the challenge of collaborating more. But to build on this positive note, what's really needed is for clients to respond to these initiatives, and in turn drive change in the supply chain. Which brings us to the importance of the GCS.
Government is the UK's biggest construction client. Unlike some private sector clients, it is also less able to walk away from projects when those include hospitals, schools or roads. It has to deliver these assets at a price it can afford and, through the GCS, also has a responsibility to lead the way to help implement the themes of the construction sector deal.
First, the GCS needs to show how government will demand greater use of data and benchmarking from the supply chain. This will be critical for joined-up decisions in infrastructure at a strategic level, and to improve the performance of individual programmes.
Second, to boost productivity and efficiency, we need to accelerate adoption of modern methods of construction – from modular and prefabrication techniques to design for manufacture and assembly. Adopting BIM was a key tenet of the 2016 GCS; now we need to maximise the potential of digitisation. To reap the full benefits of standardisation, government must actively shape demand, and encourage supply-side investment.
Last month, we responded to the IPA's call for evidence on how to embed a platform approach to manufacture and assembly – P-DfMA –in the industry. We highlighted that to reap the full benefits of standardisation, Government needs to actively shape demand, and encourage supply side investment hand-in-hand with the private sector.
It's not all about reducing costs and boosting productivity. The Government plans to consult on a new regulatory regime for fire safety in the wake of the Grenfell Tower tragedy. Greater standardisation and 'digital twinning' have potential to help ensure the safety of building products and success of quality assurance processes,
More broadly, these tools need to be adopted alongside a mentality change driven at client level around specification and risk. Commercial risk should not simply be passed down the supply chain, but held by those who are most able to manage and mitigate it.
To be a progressive client, Government must emphasise whole-life value. Any major capital programme needs to consider not simply cost, but the outcomes we want to deliver – through construction into operation, maintenance, upgrades and eventual decommissioning.
This is not a new thought but if actually adopted could radically change the way we procure, contract the supply chain, and establish performance assurance systems. It will focus our minds on how data, digitisation and standardisation can maximise benefits not only during the build, but the next 20 or 50 years of operations.
All of these themes are contained in the previous Government Construction Strategy, but in 2019 there's an opportunity for Government to be a more ambitious client.
Bill McElroy is head of industry strategy (programme advisory) at Turner & Townsend