The government's Construction 2025 strategy could revolutionise our industry. But those of us who remember the Egan report will know how easy it is to let a chance for change slip away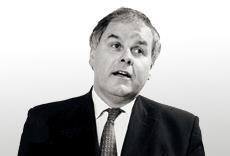 'Construction in 2025 is no longer characterised, as it once was, by late delivery, cost overruns, commercial friction, late payment, accidents … or as an industry slow to embrace change. In short, by 2025 construction has been radically transformed."
This, indeed, is the government's (and industry's) bold vision for construction to be achieved over the next 12 years.
It was 12 years ago Sir John Egan launched a report called Accelerating Change. It was jointly owned by government and industry. Its agenda was not that dissimilar from Construction 2025. Unfortunately, we did not manage to overhaul industry practices, which is why we now have another strategy. So, what do we have to do to achieve the Construction 2025 vision? We have to address three major structural deficiencies in the industry.
First, our business models. Driven, as they are, by under-capitalisation and the need to shed risk, they are unfit to deliver the 2025 vision or, indeed, any other vision. Payment and contractual abuse have become embedded.
An industry that continues to be bottom-up funded is incapable of outperforming anything, let alone other construction industries around the world.
Two things need to be done:
In spite of some expected opposition from the CBI Construction Council, project bank accounts (PBA) should become mandatory for all public sector construction. The government should also invite the industry's top 100 clients from the private sector to use PBAs on all their projects.
We should consider legislation similar to the Groceries Code Adjudicator Act, which came into force in June 2013. The Act provides for an independent adjudicator to investigate retailers who do not deal fairly and ethically with their suppliers (such as imposing lengthy payment periods). The adjudicator can ultimately fine recalcitrant retailers.
Second, we must introduce a system of licensing for entry into construction.
Our business models, driven as they are by under-capitalisation and the need to shed risk, are unfit to deliver the 2025 vision or, indeed, any other vision
As Egan noted in his industry report prior to Accelerating Change, 1998's Rethinking Construction: "The City regards construction as a business that is unpredictable, competitive only on price, not quality, with too few barriers to entry for poor performers."
Construction is an industry open to all comers, many of whom have little interest in investing in quality. Most of the states in the US have a system of licensing for construction. In Australia, the Queensland Building Services Authority Act 1991 requires that, for works over the value of AUD$3,300 (£1,930), firms must hold a licence; otherwise they are fined. To be licensed, businesses must have a certain level of net realisable assets. Not surprisingly there are fewer insolvencies in construction firms in Queensland than in any other Australian state.
Third – and this is the greatest challenge - we must rid ourselves of traditional procurement and JCT-type lump sum contracting, which has more in common with the Victorian age than with the 21st century. The divide between design and construction cannot be sustained – millions of pounds are still being wasted on having to make designs work, as well as on the inevitable disputes.
In the meantime, millions will have already been wasted on negotiating and drafting or amending construction contracts to cater for all those risks and problems that should have been resolved at the planning and design stages. But traditional contracting is driven by vested interests, outdated business models (already referred to) and advice from lawyers, quantity surveyors and insurers - operating within their comfort zones - who continue to develop and refine their mechanisms for risk transfer and individual protectionism. Consequently, the cost of UK construction remains the highest in Europe.
For many years the SEC Group has been resourcing work on integrated project insurance (IPI). This work has now coming to fruition with IPI being piloted on projects as part of trialling new procurement routes under the government's Construction Strategy. An IPI policy is not a liability policy - it underwrites the cost plan, which should have been finalised by agreement of the team delivering the project.
But the overriding aim is to fully integrate the delivery team from the outset so that it can "buy into" the key decisions on design, risk and cost.
Unless these structural deficiencies are confronted and properly addressed, the next 12 years will not bring about any more change than did the last 12 years.
Professor Rudi Klein is a barrister and chief executiveof the Specialist Engineering Contractors' Group